April 2022
Our Morris Tokay Barrel has been awarded the highly coveted Double Gold medal at the 2022 San Francisco World Spirits Competition and won Master at the Spirits Business Luxury Masters 2022. This is a game-changer, unlike anything the country's seen before.
Australia
Nose Concentrated aromas of sweet toffee, malt, butterscotch, and a distinct nuttiness.
Palate Delicate muscadelle, a warm, elegant sweetness with rich, intense mocha, soft caramel, and a touch of oak.
Finish Luxurious and elegant, as creamy malt intertwines with luscious fruits, bringing home a long and velvety finish.
Food Match Goat's cheese and vegetable frittata followed by pecan pie.
Overview
In an almost unheard-of debut, Morris Tokay Barrel has exploded into the global whisky-sphere with a Double Gold medal at the world's most prestigious spirits competition, the 2022 San Francisco World Spirits Competition, sharing top spot with an elite line-up of whisky titans including our very own Glenfiddich Gran Couronne 26 Year Old, Ardbeg 25 Year Old, and 2021's overall winner, the 'Best in Show', Glen Scotia 25 Year Old. It also won Master at the Spirits Business Luxury Masters 2022 - the only World Whisky to do so.
Morris Tokay Barrel is decadent whisky perfection made right here in Australia. It's testament to our amazing local industry, and all the more special because this collector's edition from Morris of Rutherglen, their first ever special release, was created exclusively for us and our fellow Members.
Head Distiller Darren Peck has created a truly special, sticky, and decadent dessert whisky for your sipping pleasure, that not only showcases the distillery's bright, malty, and clean spirit, but their delicate Topaque fortified wine.
Morris Whisky Tokay Barrel was first matured in rejuvenated wine casks before being finished in hand selected fresh Topaque barrels that held Morris' highly esteemed, gold medal winning Cellar Reserve Grand Topaque (Tokay) for more than 15 years.
Non-chill filtered and bottled at 47.8% ABV, the natural golden amber colour hints at what's to come. It's toffee, butterscotch and nutty on the nose, muscadelle grapes with more rich and intense toffee, mocha and soft caramel on the palate before finishing big with a supernova of creamy malt and luscious fruits. You need this sticky deliciousness in your life.
Hopefully, you still have a bottle stashed away! If not, grab yours before they're all gone. Morris Whisky Tokay Barrel is destined to be a hugely sought-after collectors' item in years to come, so log in to your account to get a celebratory bottle now before they're gone for good. Not a Member yet? Join the Club free, right now, and grab a bottle of Morris instead of spending your life hearing how good it was.
THE SPECS
Maturation: Matured in rejuvenated wine casks before finishing in rich Morris Grand Topaque (Tokay) casks
Ready to enjoy a world-class whisky collection?
Your free Club Membership gives access to exclusive single malt from Scotland, Australia and the world's best distilleries. Enjoy the unrivalled buying power of Australia's biggest whisky club.
Morris Whisky's History
North-Eastern Victoria has long been considered Australia's capital of fortified wine. It all started with the influx of people to the banks of the mighty Murray River in the 1850s for the Gold Rush. Gold mining's thirsty work, so it didn't take long for the lush, rolling hills around the town of Rutherglen to be filled with vines, and today there are 17 wineries in the area. One of them, Morris, was started by the eponymous family in 1859, and six generations on it's in the hands of head wine maker David Morris and is one of the world's most acclaimed fortified wine producers.
With a population of just over 2,000, Rutherglen takes its name from a town just outside of Glasgow in Scotland, so it's only fitting that whisky be made there. Of course, it helps that the climate is perfect for aging whisky, with hot summer days and cool nights helping the casks work their magic. The endless supply of pure, filtered water from the Snowy Mountains is also a bonus.
In 2016, Morris of Rutherglen set up their own whisky distillery at the winery. While Morris Whisky is one of the newer kids on the block, the distillery is also one that combines over 160 years of tradition, a unique vintage still, ancient fortified casks and some of the most experienced whisky makers in the country to create a truly Australian whisky.
As luck would have it, Morris just happens to have one of the oldest copper stills in the country. Built in the 1930s by Whitehill Limited in Adelaide it was installed where it sits today in 1941. A copper hybrid pot/column still, it was originally used to distil spirit for the fortified wines but had sat dormant for decades. In 2016, the still was reawakened and modified for whisky production. Following the restoration, it was named Aurora, after the princess in Sleeping Beauty.
Aurora has recently been joined by a sister still, also made in the 1930s and almost an identical twin, just a quarter inch or so smaller in diameter. Found languishing in a sister winery that Morris owns, it's been given the love it needed and aptly been named Ella, after Cinderella.
A pair of Scottish industry legends were brought in to oversee the construction of the distillery, along with Aurora's recommissioning; the late Dr Jim Swan, known as the 'Einstein of Whisky', and John McDougall whose CV shows 25 years' experience at distilleries like Balvenie, Laphroaig and Springbank. Head Distiller is Darren Peck, possibly the most experienced person in the international drinks industry in terms of category and geography. He's done it all, having made liquor on every continent except Antarctica.
The still's filled with wash made in a family-owned brewery from a blend of 100% Australian malted Westminster and Gairdner barley, which is distilled to 78% before being filled into both French and American oak wine barrels, sourced from Morris family-owned wineries in South Australia's Barossa and Coonawarra regions, and prepared to their own spec at the in-house cooperage.
The stars of the show of course are the incredible fortified wine barrels in the Morris of Rutherglen portfolio, many of which have held some of the world's most highly awarded fortified wines for decades.
With Australian whisky fast becoming popular amongst whisky drinkers, Morris is now in contention to be one of the best Single Malts produced in the country, with dedicated focus and a delicious spirit backbone that's further enhanced by the exquisite barrels they have access to from their winery.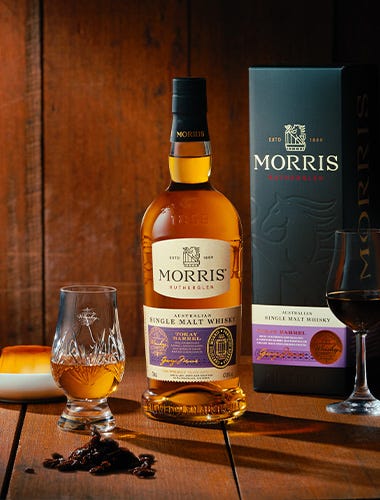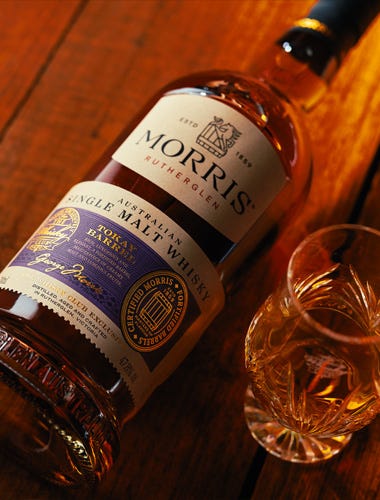 Distillery Facts
Origin: 154 Mia Mia Rd, Rutherglen VIC 3685
Water Source: Snowy Mountains
Stills: 2 (1 wash, 1 spirit)
Stop scrolling. Start dramming.