December 2019
Old Kempton Cask Strength Port Cask
Our Members' Christmas spirits were significantly lifted with a massive cask strength port cask matured single malt in one of Old Kempton Distillery's famous square bottles.
Australia
//= /* @escapeNotVerified */ // __('Tasting notes') ?>
Nose Sweet and thick, toasty, golden syrup drizzled over plums and mixed berries, freshly baked ANZAC biscuits
Palate Viscous and oily, it's intense in the mouth with red pepper spices initially, making way for ripe cherries, apples and cranberries, candy, honey on toast, and distinct cereal notes.
Finish Long and strong, leaves your mouth satisfied and coated with a delicious sweet swirl of fruits and syrup before gently fading, signalling time for another sip
Overview
The Christmas edition in our exclusive range representing the best of local whisky was a superb cask strength port cask matured single malt from Tassie's Old Kempton Distillery.
This showcase Old Kempton bottling was created from hand-selected 20 litre Grand Burge Port barrels which, in a first for the distillery, were then vatted and finished in a single South Australian Port Cask, delivering an indulgently special Festive dram exclusively to our Club Members.
Opening strong with golden syrup, berries, and fresh ANZAC biscuits on the nose, spicy red peppers make way for abundant red fruits, candy and honey on toast. In a line-up with other Old Kempton's expect something smoother, richer and fruiter, with a very oily finish, underpinned by classic Old Kempton spirit.
Bottled at a rock-solid 60% ABV, this exclusive small-batch cask strength was a must-have for collectors and Friday night dram enthusiasts alike. Now sold out - make sure you join the Club now to avoid missing another local whisky exclusive!
WHISKY SPECS
Maturation: 20 litre Grand Burge Port barrels, then finished in a single South Australian Port Cask
Old Kempton's History
Old Kempton Distillery was Tassie's first paddock to bottle distillery. Everything from growing the barley to making the wash was done on its original site on the Plenty Highway. In 2015, the distillery made a move to the historic Dysart House in Kempton, on the road between Launceston and Hobart. The house was originally a coachhouse for weary travellers and their horses, making the long trip between Tasmania's north and south. These days, the stables hold the distillery's Tasmanian-made copper still and also doubles as its bond store.
Everything Old Kempton Distillery makes is small-batch and hand-crafted... and it's not only whisky - they also make gin, apple liqueur and a few other delicious concoctions. The small team is dedicated to their product ,and take pride in their hands on approach to research and development, tasting, distilling, production and selling.
Pristine water, world-class local barley, the sense of community and a hands-on approach all come together to bring nothng short of spectacular whisky to the bottle.
Work is currently underway on significant upgrades to the distillery, so expect to see more from Old Kempton Distillery in the years to come!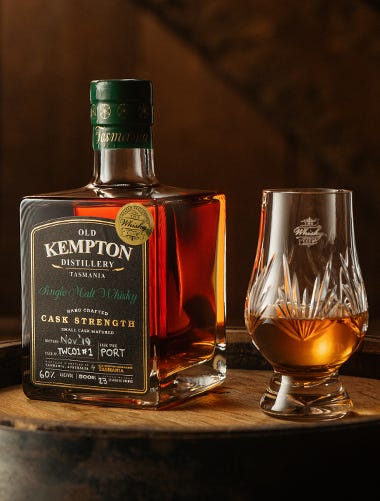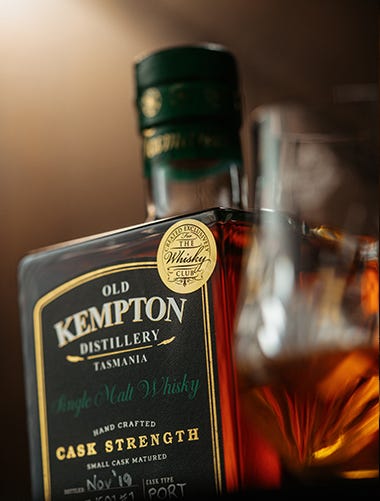 Distillery Facts
Origin: Old Kempton Distillery, 26 Main St, Kempton TAS 7030
Stop scrolling. Start dramming.