May 2022
Old Pulteney 14 Year Old Single Cask
Waves of juicy fruit, mandarin, peach, and bursts of salted caramel — don't miss this chance to get the incredibly rare and extremely delicious Old Pulteney 14 Year Old Single Cask, the oldest Old Pulteney Single Cask ever in Australia.
United Kingdom
Nose Citrus, vanilla, and apple tea cake dripping with salted butter.
Palate Viscous waves of juicy fruits, mandarin and peach. Light spices and a burst of salted caramel.
Finish Lingering hints of dried banana and salted caramel.
Overview
It's rare that you'll see any Old Pulteney Single Cask outside of the U.K. or Europe, so when the Club delivers the oldest one Australia's ever seen, you know it's something to get excited about.
After slowly maturing in the sea-sprayed warehouses of Old Pulteney Distillery in Wick, this 14 Year Old Single Cask is ready to wash over your palate and show you what really good whisky's all about. Having spent 14 years softly maturing in a first-fill American oak ex-Bourbon cask, this whisky shows off the delicate, robust Old Pulteney spirit, along with its strong maritime influence.
Non-chill filtered, natural in colour, and bottled at 52.3% ABV, it's delightfully bright on the nose, with citrus, a hint of apple and vanilla, and apple tea cake with salted butter. The first sip brings viscous waves of juicy fruits like mandarin and peach, and a burst of salted caramel, before finishing with subtle hints of banana and even more salted caramel.
This is an unprecedented chance to get a taste of Old Pulteney's highly coveted and limited single cask release program. But only a handful of you will be able to try it — it's just that limited.
Limited stocks remain, so don't miss out. Not yet a Member? Sign Up Free now to get your hands on a bottle while stocks last.
THE SPECS
Maturation: Hand selected single American oak ex-Bourbon cask
Ready to enjoy a world-class whisky collection?
Your free Club Membership gives access to exclusive single malt from Scotland, Australia and the world's best distilleries. Enjoy the unrivalled buying power of Australia's biggest whisky club.
Pulteney Distillery's History
In the 1800s, the port town of Wick in the far north of Scotland was a bustling fishing harbour and the epicentre for the country's herring trade. With the influx of keen fishermen to the area, Sir William Pulteney of the British Fisheries Society commissioned civil engineer Thomas Telford to build not only a new harbour on the Wick River, but a new fishing town as well. The sailors soon had somewhere to rest their weary bodies when they came ashore; by 1810 Pulteneytown was established on the southern banks of the river, a close neighbour to Wick, but remaining under its own administration until the two towns merged in 1902.
Sailors, as we know, tend to be a thirsty bunch. So, it wasn't long before local distiller James Henderson saw the opportunity to move on from his distillery on his family farm in Stemster, around 25km from Pulteney, and establish a distillery in the town. As a result, in 1826, the Pulteney Distillery, one of the northernmost distilleries on the UK mainland, was established.
During Pulteney's formative decades, the ships returning to port adorned with their sparkling silver hauls of herring and carrying exhausted, thirsty fishermen in their droves, supplied the Pulteney Distillery with plenty of customers for their liquid gold. This trade earned Wick its reputation as the town of silver and gold – herring and whisky. During this time, the maritime character of the whisky was moulded; transport of barley and finished whisky on the sea was not a mere romantic notion, it was a necessity, as road links were non-existent.
While Wick and Pulteney had a population of just a few thousand, come summer and peak fishing season, the numbers could be three or four times as many. Legend has it that the town of Pulteney could consume some 500 gallons (that's over 2,200 litres) of whisky a day during peak times. Serving that many sailors required multiple pubs; 23 in fact, which gave Pulteney bragging rights over the mere 22 in Wick.
Pulteney Distillery remained in the Henderson family's hands until 1920 when it was sold to blender John Watson & Co. Just two years later, the town of Wick was declared 'dry', and no sales of alcohol were permitted. The temperance movement had moved into town from American origins and managed to convince the local council to take a vote on becoming a dry town. It turned out that the drinking public sealed their own fate when only 40 of the 600 townsfolk bothered to turn up to vote - they didn't want to leave the pub - and sent the town dry with a prohibition period that lasted until 1947- twice as long as prohibition in the USA.
Of course, the consumption of alcohol did not cease in Wick; it went underground, or drinkers just moved outside the 3-mile restricted zone around the town There are stories from those years of big burly farmers enjoying tea poured from big silver pots into dainty china cups well into the evening and being quite merry upon exiting the "tea shop".
In 1924, the distillery was sold once again, this time to John Dewar & Sons, then brought under the DCL fold, but they were unable to recover from the market downturn due to the introduction of the prohibition law and closed the doors were closed in 1926, and a restrictive covenant placed on the use of the building, meaning they could not be used for production or maturation of spirits.
Pulteney Distillery lay dormant for two decades, the buildings owned by various people who used them for various purposes. They were even used as the town morgue for some time – you could say there's more than one kind of spirit in Old Pulteney!
In 1951 the Pulteney Distillery was sold to another new owner, Bertie Cumming, who also owned Balblair. With the prohibition law being repealed and demand for whisky in post-war Europe rising, he saw an opportunity to fire up the stills once more. He had the covenant lifted and spent over £5000 to restore the Pulteney Distillery to its former glory. However, his excitement was short-lived, and he sold both distilleries to the Canadian distilling giant Hiram Walker & Sons in 1955.
Hiram Walker & Sons injected some much-needed funds into the distillery, allowing them to undergo a significant renovation in 1958, but this came at the cost of in-house floor maltings. Once again, their ownership was short-lived; they moved the distillery on to its seventh owner, Allied Breweries, in 1961.
For its near 40-year ownership period, Allied Breweries sent the majority of the liquid from the Pulteney Distillery to blending vats, though Gordon & MacPhail released a small amount of 8 Year Old Single Malt. By the time they sold to Inver House Distillers in 1995, the distillery was again severely needing repairs.
Inver House gave the distillery the love it deserved, and finally the Old Pulteney brand was born. Old Pulteney 12 Year Old was released in 1997. This was followed by a succession of increasingly older releases over the coming years, with Old Pulteney 17 Year Old in 2004, a 21 Year Old the year after, the 30 Year Old in 2009 (which was replaced by a 35 Year Old in 2014) and a 40 Year Old in 2021.
The modern era of Pulteney Distillery, and the Old Pulteney whisky brand, focuses on celebrating the unique character of the distillery and how its location influences the whisky it produces.
The finest barley is milled on-site with a classic Portius Mill that's over 100 years old. Enough is kept on hand to keep production going throughout the winter months when the roads close. The barley is combined with pure, soft water sourced from Loch Hempriggs, a few miles from the distillery, and a dried yeast rather than the usual wet yeast. The fermentation tanks are split between 60-62 hours and 115 hours which creates two different styles that come together to create the signature Old Pulteney style.
The spirit is distilled in uniquely shaped pot stills. The pot stills feature large boil bulbs that are nearly the size of the base of the still and have a flat top to increase reflux. Additionally, the spirit still features a purifier pipe and coiled lyne arm. The result? A deliciously oily and fragrant spirit. The boil bulbs also inspired the bulbous neck in the Old Pulteney bottle design.
Pulteney is also one of only a handful of distilleries in Scotland that still use worm tub condensers. There is much work required to maintain them, but they add significant body and depth to the whisky. Constant rainfall and cooler temperatures also allow for more control over the spirit temperature, which can affect the character of the final product.
Around 60% of the distillery's output is reserved for Single Malt release, and 95% of this is matured in American oak ex-Bourbon casks. But there's something magical about the maturation process at Pulteney. The low-temperature amplitudes and high humidity affect maturation in the five seaside warehouses. The casks are meticulously rotated throughout the buildings by the distillery manager Malcolm Waring as they age. They breathe slowly, allowing for the natural character of the spirit to develop over many years without being overpowered by the wood. Knowing when to rotate and move the casks is an art, as each sub-climate within the warehouses ages the spirit differently. Waring says "It takes a long time to get to know how your warehouses are performing and what they can do and what they bring to whisky. And it's all about the play of the warehouses for me and how that's done."
With nearly 200 years of history in Wick Harbour, it is hard to imagine the seaside town without its beloved distillery. It truly is the Maritime Malt.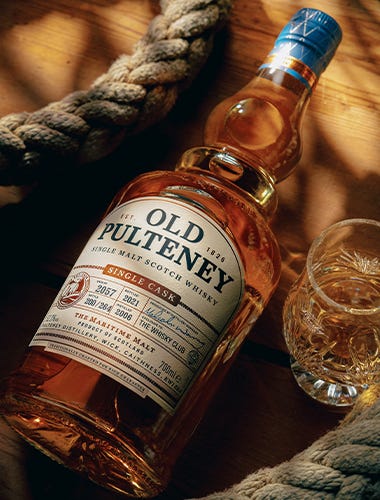 Distillery Facts
Origin: Pulteney Distillery, Huddart St, Wick KW1 5BA, United Kingdom
Water Source: Loch Hempriggs via The Lade
Washbacks: 6 x 35,000 litres (5 corten steel, 1 stainless steel)
Stills: 2 (1 wash, 1 spirit)
Capacity: 1,800,000 litres per annum
Stop scrolling. Start dramming.