May 2023
Jammed with juicy orange, Jersey caramel and milk chocolate this is simply stunning single malt from one of Tasmania's craft whisky pioneers. Matured in Port and Sherry casks before a second maturation in rich, South Australian Tokay casks, this distillery-first was created exclusively for The Whisky Club.
Australia
Nose Juicy orange and fresh pineapple, treacle intertwined with rich dried fruits and caramelised oak.
Palate Baked tropical fruits and Jersey caramel meld with chocolate powder and sweet spices.
Finish Long and viscous. Figs and raisins with hazelnuts, chewy fruit cake and milk chocolate.
Overview
This a stunning example of why Overeem, one of the founding whisky families of Aussie craft distilling, is an absolute tried-and-true favourite.
In our quest to deliver the absolute cream of the crop in local whisky, we tasked Tassie whisky royalty, Overeem, to create a whisky that'll make our Members melt.
And they knocked it out of the park.
Matured in Port and Sherry casks before a second maturation in South Australian Tokay casks, this single malt will have you coming back for more and more. Because we know everyone loves a Tokay Cask.
In fact, Members voted our Morris Tokay Barrel their second favourite Club whisky of 2022.
At $195, this is incredible value for limited-release Overeem. And it's all thanks to the Club's unbelievable buying power.
With a perfectly balanced ABV of 45.5%, each sip is jam-packed with juicy orange, baked tropical fruits, Jersey caramel, milk chocolate and caramelised oak.
Orders for Overeem Tokay Cask have now closed. Join the Club free now for exclusive whisky from all the best local and international whisky makers.
THE SPECS
Maturation: Matured in a combination of Port and Sherry casks before undertaking a second maturation in South Australian Tokay casks
Ready to enjoy a world-class whisky collection?
Your free Club Membership gives access to exclusive single malt from Scotland, Australia and the world's best distilleries. Enjoy the unrivalled buying power of Australia's biggest whisky club.
Overeem's History
Recognised as one of the 'original' Tasmanian single malts, the Overeem whisky journey began in 2007 when local whisky enthusiast Casey Overeem was seeking a hobby to occupy his time in retirement. Casey's interest in whisky was sparked back in the early 1980s when he had his first distilling experience in a relative's basement in Norway, an experience that stayed with him for decades and eventually inspired him to make his own malt whisky. Following years of research and experimentation, he secured his distiller's license in 2005 and constructed a purpose-built operation in his front yard, overlooking the Derwent River in Hobart.
Casey was joined five years later by his youngest daughter, Jane, a sales and marketing professional with an equally keen interest in whisky, and together the pair became a much-loved and formidable force for the fledgling Australian whisky industry. After launching its first releases in 2012, the Overeem brand quickly gained popularity. Within two years, it had built a cult-like following with entire barrels regularly selling out within minutes online.
In 2014, the business had grown well beyond Casey's original intention and when a group of local investors who had recently purchased Lark Distillery approached him, Casey reluctantly decided it was time to officially enter retirement, while Jane stayed with Overeem under the new ownership.
After two years working within the new corporate structure, Jane left to realise her own whisky dream with her husband Mark and in 2016 they founded their own family distillery, Sawford Distillery, operating at the same location where Casey's dream had begun almost a decade earlier.
The Overeem and Lark whisky businesses meanwhile continued to flourish under the ownership of Australian Whisky Holdings. As we've seen happen countless times in Scotch, a change of focus at the corporate level lead to a very timely and fortuitous opportunity for Jane and Mark when, after almost three years of crafting whisky at Sawford Distillery, they were offered the chance to regain ownership of Overeem, effectively returning the brand to its founding family. A delighted and emotional Casey made the announcement to the family on New Year's Eve 2019 and as of June 30th 2020, the brand was officially back to the family. Never at ease with full retirement, Casey returned in a 'casual' brand ambassador role, joining Jane and Mark in their Huntingfield distillery.
On the neck of each bottle of Overeem are the words "Born of Promise". Casey Overeem made a promise to himself in the late 1980s that one day he would make a premium whisky that would stand alongside the best whiskies in the world. That promise was fulfilled and has now been passed on to his children.
Mark and Jane intend to keep that promise for their children.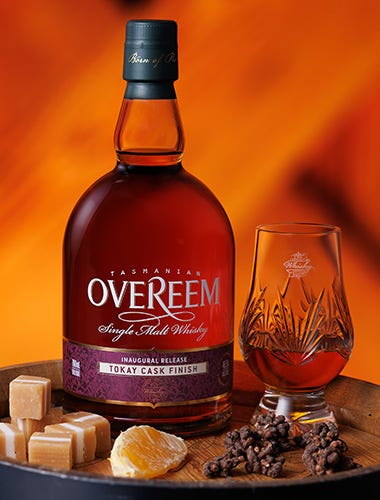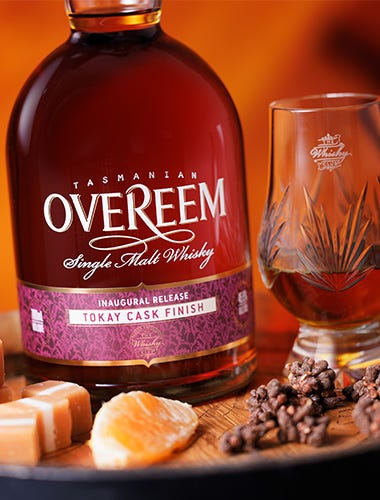 Distillery Facts
Origin: 4/30 Patriarch Dr, Huntingfield TAS 7055
Stills: 1 x 1800 litre wash still and 1 x 600 litre spirit still
Capacity: Currently approx. 40,000 litres per annum
Stop scrolling. Start dramming.