August 2022
Pappy Van Winkle's Family Reserve 20 Year Old
Voted the world's best bourbon, Pappy Van Winkle's Family Reserve 20 Year Old is the bottle billionaires can't buy.
United States
Nose Maple syrup, light sawdust, vanilla, coconut, candied pecans and praline-caramel ice cream.
Palate Medium body, initial entry is sweet with more vanilla, honey, and maple syrup. Moderate oak, but not pressing or overly tannic. Candied roasted nuts with salt on top, and a little bit of fairy floss.
Finish A little peppery and spicy, but always very soft. General sweetness and vanilla bourbon with a bit more oak on the tail.
Overview
Imagine a bourbon so rare that it's rarely in the shops, almost never makes it to a bar and changes hands under the counter for thousands of dollars. That's right, we're talking whiskey with an 'e' here and Pappy are the folk who have singlehandedly brought about bourbon's global resurgence.
Aficionados have called Pappy Van Winkle's Family Reserve 20 Year Old the Rolex of bourbons, but that would only be true if Rolex released ultra-rare limited editions. Jonnie, our whisky specialist at the Club tells us "this really is the holy grail of bourbons."
Celebrity chef Anthony Bourdain was also left salivating: "If God made bourbon, this is what he'd make."
So let's get under the hood to take a better look at what's in the bottle.
We know you're not snobs when it comes to good bourbon, and whiskey doesn't come much more lauded than Pappy Van Winkle. The 20 Year Old beat all other bourbons in the world with a staggering 99/100 rating by the World Spirits Championship.
Intense and tantalising to both the nose and palate, this Kentucky Straight has a smooth nature with rich, sweet vanilla notes dancing with dried fruits, zippy oak and baking spices.
Snagging this piece of bourbon Americana really is about who you know and we're beyond proud that we at The Whisky Club are among the few people in the world to ever see any.
Our bottle of Pappy Van Winkle's Family Reserve 20 Year Old is now sold. Not yet a Member? Sign Up free to get your hands on our upcoming releases.
THE SPECS
Maturation: Charred New American Oak
Ready to enjoy a world-class whisky collection?
Your free Club Membership gives access to exclusive single malt from Scotland, Australia and the world's best distilleries. Enjoy the unrivalled buying power of Australia's biggest whisky club.
Old Rip Van Winkle Distillery's History
Just so we're clear — it doesn't get better than Pappy Van Winkle. This is eyes-roll-back-in-your-head good and as close to perfection as you can get. People have been known to camp outside of bottle shops for the opportunity to try and snag a bottle. In fact, the late celebrity chef Anthony Bourdain once declared: "If God made bourbon, this is what he'd make."
Holding a bottle of Pappy Van Winkle Family Reserve in your hands is almost unheard of. People would trade trade in their entire World Cup 1986 Panini collection just to get hold of a bottle.
Pappy Van Winkle's Family Reserve is the flagship brand of bourbon whiskey owned by the Old Rip Van Winkle Distillery company. These days, it's distilled and bottled by the Sazerac Company at its Buffalo Trace Distillery in Frankfort, Kentucky.
Like we said, Pappy Van Winkle's Family Reserve is regarded by many as one of the finest bourbons in the world, and because they don't make very many bottles of the stuff, it's extremely difficult to find.
So, with everyone who has a hankering for whiskey with an 'e' aching to get their hands on a bottle, the question has to be: "Who is Pappy?" The Van Winkle family's involvement in the bourbon industry kicked off in the mid 1800s when Julian P. "Pappy" Van Winkle Sr. was just 18. Julian was a travelling salesman for the W.L. Weller and Sons wholesale house in Louisville, hightailing around the state by horse and buggy.
Ever the go-getter, Pappy eventually bought the wholesale house aged just 33, in partnership with his mate Alex Farnsley. In 1911, the pair also bought the A. Ph. Stitzel Distillery which made bourbon for Weller. The two companies merged to became the Stitzel-Weller Distillery, producing prominent brands W.L. Weller, Old Fitzgerald, Rebel Yell, and Cabin Still.
Like we said, the Stitzel Distillery supplied much of the whiskey sold by the Weller wholesale firm. The consolidation of these two companies coincided with prohibition and during this time, Stitzel-Weller was licensed by the government to produce whiskey for "medicinal purposes." One of the labels the produced just before Prohibition was Old Rip Van Winkle. Remember that name, we'll get back to it.
In May 1935 aged 61, Pappy opened the Stitzel-Weller Distillery in South Louisville. He remained active in the distillery's ops until his death at a legendary 91 years of age. Pappy's son Julian Jr. took over the reins until stockholders forced him to sell the distillery in 1972. And sadly, the rights to all of its brands were either sold with the distillery or to other distilleries.
But… drumroll and fanfare… that wasn't the end of the Van Winkles. There's a whiskey twist to this tale. Julian Jr clearly inherited the Van Winkle spirit and resurrected a pre-prohibition label, the only one to which the Van Winkles kept the rights. This, as you no doubt have guessed was Old Rip Van Winkle. Julian Jr. used whiskey stocks he'd made all those years before at the old distillery.
After Julian Jr.'s death in 1981, his son Julian III took over the business. The quality of spirit has never diminished and Old Rip Van Winkle continues to remain a true family tradition: Julian III's son Preston joined the company in 2001. Recently, the Van Winkles joined forces with the legendary Buffalo Trace Distillery in Frankfort, KY. Here, all Van Winkle whiskey production now takes place under the same strict guidelines the family has always followed.
The Van Winkles wrote the book on bourbon, and the spirit has become iconic in the US, gaining a cult following. Both revered and romanticised, it has been called "the bourbon everyone wants but no one can get." An article in The Atlantic described bourbon lovers figuratively battling it out and camping in front of liquor stores to try and get hold of a bottle.
Pappy Van Winkle also showed the whisky world that bourbon can compete with the world's best single malt whiskies, and can also taste incredible at older ages. Over the course of generations, the Van Winkles single-handedly caused a boom in bourbon production. Their legendary releases have inspired many imitators, but nobody has ever come close to dethroning the distillers who have become known as the beasts of bourbon.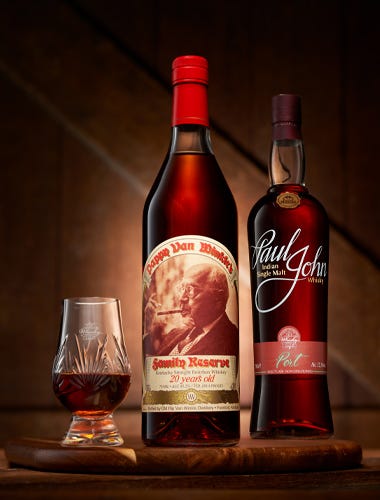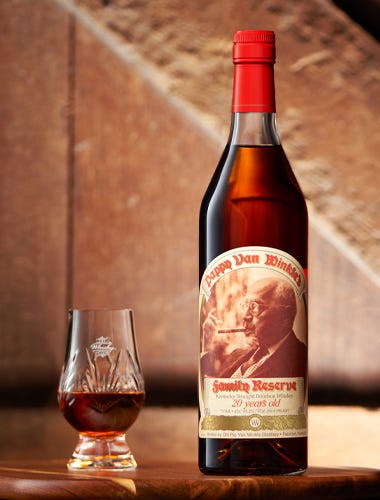 Distillery Facts
Origin: 113 Great Buffalo Trace, Frankfort, Kentucky 40601 USA
Stop scrolling. Start dramming.