July 2023
This is a Bourbon fanatic's dream: the first-ever Stagg Single Barrel in Australia and only one of a handful of single barrels ever released. And it was hand-selected exclusively for The Whisky Club.
United States
Nose Charred orange, gooey marshmallow and musk sticks. Creamy caramel and brandy fruits.
Palate Rich tropical fruits and mandarin, chewy butterscotch, spiced vanilla cream and caramelised oak.
Finish Roasted pineapple and sticky toffee with milk chocolate and baking spices.
Overview
You rarely get a chance to get your hands on something like this. Hand-selected exclusively for The Whisky Club, the first-ever Stagg Single Barrel in Australia and only one of a handful of single barrels ever released.
Coming from the illustrious Sazerac stable, home to some of the most prestigious and highly sought-after Bourbon brands in the world including Pappy Van Winkle and W.L. Weller, Stagg has some serious pedigree.
And some big flavour. Not only is it one of only six single barrels ever released, at 70.2% it's also the highest-ever ABV of any Stagg or Stagg Jr.
Get set for charred orange, gooey marshmallow and creamy caramel on the nose, a gorgeously rich palate bursting with tropical fruits, chewy butterscotch and caramelised and sticky toffee, milk chocolate and baking spices to finish.
There's more than 50,000 places selling liquor in Australia, but you'll only find a bottle of this incredible release here at the Club.
Although, a word of warning: you'll need to be quick.
Orders for the Stag Single Barrel have now closed, and only a handful of Members will get to taste it. Fewer than 100 bottles came from this 200-litre barrel.
Not yet a Member? Sign up free now.
Ready to enjoy a world-class whisky collection?
Your free Club Membership gives access to exclusive single malt from Scotland, Australia and the world's best distilleries. Enjoy the unrivalled buying power of Australia's biggest whisky club.
George T. Stagg's History
Born in Garrard County Kentucky, just before Christmas 1835, George T. Stagg joined the U.S. Civil War in November 1861 where he received a field commission to first lieutenant in January 1862, before being promoted to Captain in 1863.
Following the war, he took up a job as a whiskey salesman and moved his family to St. Louis, Missouri. During this time, he started purchasing barrels of whiskey from E.H. Taylor Jr's O.F.C. (Old Fashioned Copper) Distillery in Frankfort, Kentucky, cementing the relationship that would see Stagg buying into O.F.C. in1878, with the two new partners forming E.H. Taylor, Jr. & Co. and Stagg taking the President's seat.
The distillery flourished, going on to become America's dominant distillery in the 19th century, with a leading industry expert of the day calling it "one plus ultra of its class," or the best of the best. They were at the forefront of technology too, with Stagg installing steam heating in the storage warehouses in 1886, making it the first climate-controlled whiskey ageing warehouse in the States.
But as is so often the case, Taylor and Stagg started disagreeing on how the distillery should be run, resulting in the former parting ways with O.F.C. Distillery, leaving Stagg to grow the distillery to become one of the world's leading Bourbon producers, and in 1904 this success was celebrated by renaming the distillery George T. Stagg Distillery.
Prohibition caused little trouble for the distillery as it was one of a handful to be issued a federal permit to make 'medicinal whiskey' (thanks for that prescription, Doc!), and underwent serious expansion and modernisation in the 1930s after it was purchased by Schenley.
George T. Stagg Distillery was purchased by drinks giant Sazerac Company in 1992 and renamed Buffalo Trace Distillery, after an ancient buffalo crossing thought to have been on the banks of the Kentucky River where the distillery is built.
Said to be the oldest continuously operating distillery in the United States, Buffalo Trace Distillery has a list of awards longer than your arm to its name and continues producing a slew of brands including Buffalo Trace Bourbon, Eagle Rare Bourbon, E.H. Taylor, Jr, Pappy Van Winkle, W.L. Weller, and of course, George T. Stagg.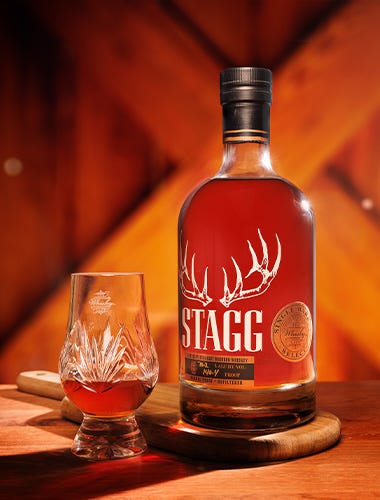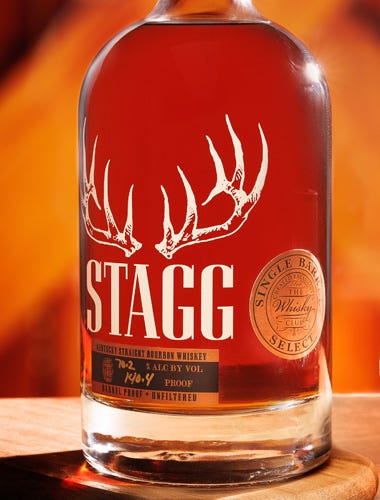 Distillery Facts
Origin: 113 Great Buffalo Trace, Frankfort, Kentucky 40601 USA
Stop scrolling. Start dramming.