November 2022
The Dalmore Luminary No.1
The Masterpiece has arrived. We've landed the first in The Dalmore Luminary series. For the first time, whisky lovers in Australia had the chance to enjoy a luxury Dalmore first edition, and the entire allocation was exclusively through The Whisky Club.
United Kingdom
Nose Warm and welcoming rich fruits, panna cotta, honey-roasted almonds and citrus oils.
Palate Multi layers of rich and uplifting citrus, milky chocolate, ripe cherries, dried figs, fresh brioche, and moist ginger cake.
Finish Waves of dried fruits and honey entwine with balanced wood spice and decadent cacao.
Overview
The Masterpiece has arrived.
Sit down, this is massive.
We've landed the first in The Dalmore Luminary series. It's here, exclusive to the Club, and it's the first time ever that whisky lovers in Australia have the chance to enjoy a luxury Dalmore first edition.
The Dalmore Luminary No.1 follows Dalmore's record-breaking Decades Collection which reached $1,500,000 at auction - and never came anywhere near Australia.
Hands down the biggest whisky to hit the nation this year, the Luminary series brings together Scotland, Japan – and Italy in a masterpiece of whisky making from the world's most renowned whisky maker, Richard "the Nose" Patterson.
An homage to Scotland's new landmark art museum, Dundee's V&A designed by Japan's Kenzo Kuma and Italy's Maurizio Muccicola, this exceptional single malt has been matured in hand-selected Italian Amarone casks and a world first: virgin "Kintsugi" casks.
Commissioned exclusively for this masterpiece release, these casks are crafted from Japanese Mizunara, Scottish Tay and American white oak to make a whisky that emulates the intricate design of the museum - and encapsulates the perfection of Dalmore.
Decadently rich and deeply complex with layer upon layer of creamy panna cotta, chocolate and moist ginger cake, this piece of non-chill-filtered whisky artistry comes in at 46.8% ABV and has no added colour.
Orders for The Dalmore Luminary No1 have now closed, but there's plenty more to come! If you're not a Member of our Club yet, now is the time to join!
THE SPECS
Maturation: Brings together whisky finished in first fill American oak, Italian Amarone wine casks, and bespoke "Kintsugi" casks made up of 1/3 American White oak, 1/3 Scottish Tay oak, 1/3 Japanese Mizunara.
Ready to enjoy a world-class whisky collection?
Your free Club Membership gives access to exclusive single malt from Scotland, Australia and the world's best distilleries. Enjoy the unrivalled buying power of Australia's biggest whisky club.
The Dalmore's History
Located in Alness, just north of Inverness on the shores of Cromarty Firth in the Scottish Highlands, The Dalmore Distillery has been crafting whisky since 1839 when it was founded by well-to-do businessman Alexander Matheson. Matheson was a partner in Jardine, Matheson & Co, a Hong Kong headquartered firm that at the time was trading in smuggled opium, tea, and cotton. As the Jardine empire was well on its way to massive success (it's now one of the 300 largest public companies in the world), Matheson let others do the hard work and leased Dalmore out to a number of families, sadly with little success.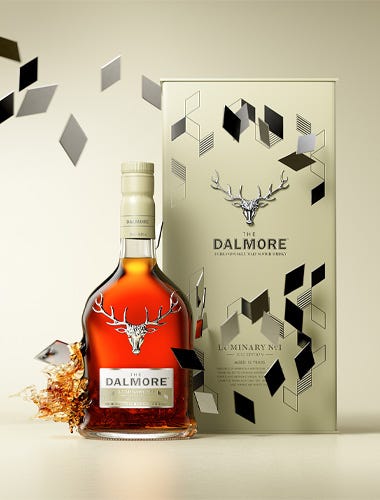 Distillery Facts
Origin: Dalmore Distillery, Alness, Ross-shire, IV170UT, United Kingdom
Stills: 4 wash and 4 spirit
Capacity: 4,200,000 litres per annum
Stop scrolling. Start dramming.