May 2020
The GlenAllachie 15 Year Old
An essay in sherry matured whisky and fresh from taking Double Gold at the San Francisco World Sprits Competition, the brand new GlenAllachie 15 Year Old is finally here - exclusive to the Club!
United Kingdom
//= /* @escapeNotVerified */ // __('Tasting notes') ?>
Nose Overflowing with raisins, butterscotch and sweet spices
Palate The rainbow of sweet spices, raisins and butterscotch develops into banana, orange peel and dark chocolate
Finish Medium length and slightly dry and nutty, like peanut brittle with chocolate and fresh sweet fruitiness
Food Match Keep it simple, delicious with mature cheddar
Overview
We're in for a treat because Billy Walker, the Icons of Whisky 2020 Master Distiller of the Year, is renowned for over delivering to the whisky lover and we've brought his long-awaited and hugely anticipated GlenAllachie 15 Year Old to Australia, exclusive to the Club!
An essay in sherry matured whisky and fresh from taking Double Gold at the San Francisco World Sprits Competition, the brand new GlenAllachie 15 Year Old has been somewhat of a pet project for him.
"I've been working on our 15 Year Old since we  acquired GlenAllachie back in October 2017. In that time, I've been intimately following the development of the various casks and I believe the 15 Year Old is the perfect balance of distillery and cask influence. This whisky is rich in sweet spices, raisins and butterscotch, with waves of banana, orange peel and dark chocolate. The extra years the whisky spent maturing in the sherry wood casks extends the flavour further. It absolutely represents the DNA and personality of  GlenAllachie  now and going forward."
As good as it gets from the man who brought us GlenDronach, this is unquestionably another Billy Walker masterclass.
Orders for The GlenAllachie have closed. Join Australia's biggest whisky community now to receive incredible malt whiskies delivered to your door.
WHISKY SPECS
Maturation: A vatting of whisky matured in 100% first-fill Oloroso and PX puncheons with whisky initially matured in first-fill American oak then finished for around 20 months in PX and Oloroso puncheons
GlenAllachie's History
For the first 50 years of its existence, GlenAllachie was just another workhorse distillery, spending the majority of its production life under the stewardship of Pernod Ricard who used the spirit in world famous brands such as White Heather, 100 Pipers, Passport, and of course, Chivas Regal. A recent turn of events means its fortunes have changed and the distillery's malts are finally getting their time in the sun, but more on that in a moment…
Glenallachie is somewhat of a young distillery by Scottish standards, having only been constructed in 1967 on the back of the 1960s US whisky boom. MacKinley McPherson - Scottish & Newcastle Breweries' distilling arm, who were keen to make the most of said boom, charged William Delmé-Evans - the man behind Macduff, Tullibardine and Jura - with the task of designing the new distillery. Almost fully gravity fed, the distillery was designed with efficient energy use in mind. The first spirit flowed through the stills in February 1968, and within six months, the two still setup got an upgrade to four.
It was business as usual at Glenallachie until Invergordon Distillers' takeover of MacKinley's in 1985, at which point the distillery was mothballed and eventually sold to Campbell Distillers, now part of Pernod Ricard, in 1989. Thankfully, production started back up on April 24, the date marking the start of some 29 years of uninterrupted production during which time, the distillery became the heart of Clan Campbell Whisky, the No. 1 premium Scotch whisky in France.
With a thumping output capacity of 4 million litres and holding warehouses capable of more than 60,000 casks, it's perhaps baffling why we've seen so little of this Speysider released as single malt other than the odd coveted independent bottling and a 15 year old official bottling released in 2005 as part of Chivas Brothers' Cask Edition Series, matured in sherry casks and from some of the first spirit distilled after reopening.
This is set to change, and change in a big way. Enter the 2020 Master Distiller & Blender of the Year, Billy Walker, and his whopping 40 years of whisky heritage. In July 2017, Chivas Brothers sold GlenAllachie to The GlenAllachie Distillers Company, a new consortium consisting of Billy Walker of BenRiach and GlenDronnach fame, ex-Inver House Distillers MD Graham Stevenson and Trisha Savage. Just like he did with BenRiach and GlenDronach, Walker added the capital 'A' to the name, but that was just the beginning of the changes in store.
GlenAllachie was soon refurbished and relaunched, with an aim to be a 'truly independent, Scottish-owned and managed' whisky company, producing a big, fruity malt whisky. Six single cask bottlings made an appearance in April 2018 and were soon followed by GlenAllachie's first ever core range of single malts in June of that year.
A lot has changed in a short period at The GlenAllachie. Two new warehouses have been added, they've grown from seven to 21 employees, and a visitor centre was opened in 2019, the first time there's ever been one at the distillery, Most notably though, is the release of a dedicated range of core expressions along with some seriously good Single Cask releases and wood finishes. A position of restraint and single malt dedication now is the program at GlenAllachie. For a whisky making perspective the most significant chance is a lengthening of fermentation times. Distilleries from the 1960s are known for the lightness of their spirit, thanks in no small part to the shortness of the fermentation. This makes for a malty, textural spirit with delicate fruit notes. GlenAllachie of the future is set to change though, as fermentation has been dramatically extended, going from around 48 hours up to 160 hours. This will add to the fruitiness and muscularity of the spirit, plus they team have brought in the use of peat with around 20% of current production now peated.
Their wood program is as exotic as it is uncompromising, we see almost an amalgamation of Billy's previous successes in GlenDronach's rich spirit and BenRiach's exotic cask program at play here. It's possibly the perfect storm.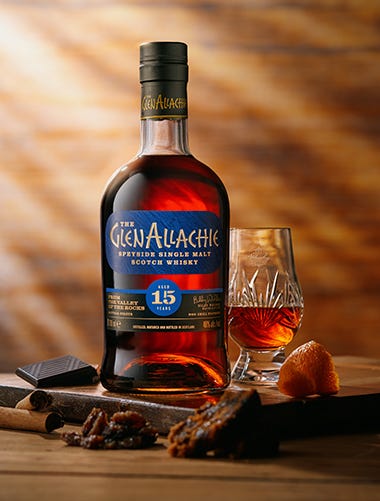 Distillery Facts
Origin: Glenallachie Distillery, Glenallachie, Moray, AB38 9LR, United Kingdom
Water Source: Ben Rinnes Springs
Stills: 4 (2 wash, 2 spirit)
Capacity: 3,900,000 litres per annum
Stop scrolling. Start dramming.