January 2022
Tullibardine The Murray 2008
Tullibardine is back. Created exclusively for the Club, this 2008 Vintage 12 Year Old is bottled at Natural Cask Strength, 54.6% ABV, and simply bursting with zesty flavours, tropical fruits, orange liqueur, and creamy caramel - just perfect for summer.
United Kingdom
Nose Bursts of orange liqueur and tropical fruits. Find lychee and sweet pineapple alongside malted biscuits and lemon sponge coated with vanilla.
Palate Zesty sweet lemon fills the mouth, backed up by fleshy melon, creamy caramel malt, and a touch of baking spice.
Finish Long and chewy with white chocolate, a dusting of cinnamon over baked apple and tantalising rich caramelised oak sugars.
Food Match Chicken & mushroom fettuccine followed by white chocolate mudcake
Overview
The latest in the line of Club Exclusives from Tullibardine's The  Marquess  Collection is here. Named after Sir William Murray, The Second Marquess  of  Tullibardine, the limited-edition luxury collection showcases the distillery's best casks.
Fully matured in American oak casks, Tullibardine The Murray Cask Strength 2008 Vintage really shows off the fruity and biscuity spirit character of the distillery. General Manager of Tullibardine, Michael Elliot, remembers his first time trying the whisky well: "…half a dozen samples were taken, we nosed them, we tasted them. There was then a composite done and right from day one it was like, yeah, we've got a nice 2008 distilled year here, so with that, then you know you're onto a winner."
And what a winner it is, the nose offering up succulent notes of orange liqueur, tropical fruits and malted biscuits on the nose, melon, creamy caramel, and baking spice on the palate and a deliciously long finish of white chocolate, baked apple and caramelised oak sugars.
Created exclusively for the Club, this full flavoured cask strength bonanza is delicious from start to finish. Limited stocks remain, so be very quick: Sign Up Free now to get your hands on one before they're gone for good.
Ready to enjoy a world-class whisky collection?
Your free Club Membership gives access to exclusive single malt from Scotland, Australia and the world's best distilleries. Enjoy the unrivalled buying power of Australia's biggest whisky club.
Tullibardine's History
There's gold in them hills! Formed over 400 million years ago, the basalt and red sandstone Ochil Hills surrounding the Tullibardine Distillery are as well-known for the gold that was mined from them as for the liquid gold their waters become. It takes 15 years for water to permeate through the layers of stone to reach the pristine Danny Burn, the spring from which the distillery takes its water, and the same source for the famous Highland Spring mineral water.
Located in Blackford, the gateway to the Highlands, and next to the Gleneagles Golf Course, Tullibardine is one of the oldest locations for brewing and distilling in Scotland. It was here that in 1488, the young King James IV of Scotland stopped by before his coronation to purchase beer from the local brewery. This significant action has gone down in history as the first public purchase of beer, though you can only imagine how different the transaction may have looked compared to how we purchase beer today!
Still going strong in 1503, the brewery received the first Royal Charter issued by James IV in recognition of the fine beer produced at Tullibardine, and there's been breweries and distilleries operating at the location ever since.
Whisky production started at Tullibardine in 1947 when industry legend William Delm-Evans visited the area to investigate the fresh spring water. Delm-Evans is one the 20th Century's leading distillery designers and his focus on energy efficiency and his mission to create an up to date 'gravity-flow distillery' put him many years ahead of his peers. Unsurprisingly when he discovered just how good the water was, William immediately realised he'd found the perfect location for distilling whisky and began converting the brewery buildings accordingly. The first spirit was distilled in 1949 and signified a new chapter in Scotch whisky history as this was the first distillery to be built in the 20th Century, and the first since the Pattinson Crisis. He saw excellent returns on his investment thanks to the 1950s whisky boom and sold to Brodie Hepburn in 1953 before going on to design and build both the Jura and GlenAllachie distilleries.
Brodie Hepburn continued production for the next few decades using the original two stills and maturing in sherry casks before they were bought by Invergordon Distillers in 1973 who increased capacity to three million litres with the addition of two more stills.
Tullibardine Distillery was originally set up to produce malt whisky for use by blenders. It produced a light, nutty spirit and while the main focus was on blending, a few single malt releases came to market, most notably a 10 Year Old during the 1990s – which is highly collectable, so snap it up if you ever come across one!
Sadly, the distillery was mothballed in 1994 when Whyte & Mackay bought Invergordon, and lay silent until 2003 when it was purchased and revived by local business partners Michael Beamish and Douglas Ross who did an excellent job reviving the distillery and laying the groundwork for developing Tullibardine into a leading single malt house. Initially a few adjustments were required to get the flavour profile just right; the spirit run was tweaked to introduce more high-toned floral notes and the nutty notes were reduced, but the biggest challenge by far was an extensive re-casking operation to move much of the whisky from old, tired casks into fresh casks that would bring out the best in the spirit.
Their efforts didn't go unnoticed, and in 2011 Tullibardine was purchased by a family company, Picard Vins & Spiritueux, who were already heavily involved in the whisky industry in France. Since taking over, Picard has invested significantly in further developing Tullibardine's single malt releases. The well-funded family owners brought an influx of cash and crucial access to a huge variety of excellent casks thanks to their wine connections in France, which were used to great effect in popular releases like the Sauternes Finish, Burgundy Finish and the Châteauneuf-du-Pape.
Tullibardine Distillery is only one of six left in Scotland to do everything on-site, from the milling of the barley, right up to decanting the casks and bottling the whisky in-house. There's something special about having the extra bit of control over everything during the production process. They even have an on-site cooperage to take care of any repairs to the casks which may spring up at any given time.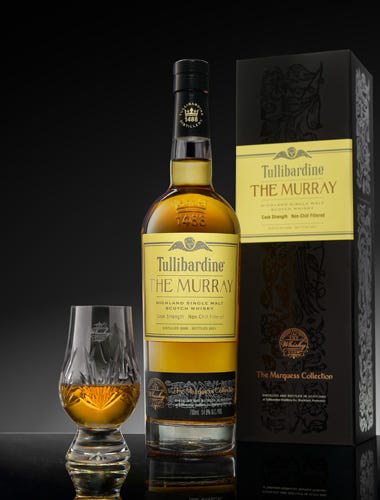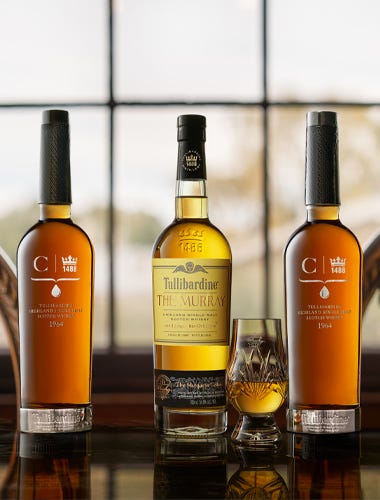 Distillery Facts
Origin: Tullibardine Distillery, Blackford, Perthshire, PH4 1QG, Scotland
Stills: 2 wash and 2 spirit
Capacity: 3,000,000 litres per annum
Stop scrolling. Start dramming.