November 2020
Whisky Club Santa and the Dram Elves have rescued the year! Get the Whisky Club Advent Calendar now. Created Exclusively for the Club, and with 24 naughty but nice drams it sure beats frankincense and myrrh.
World
Overview
The wise men (and women) at That Boutique-y Whisky Company have made the list, and we've checked it twice (at least - trust us…) to come up with The Whisky Club Advent Calendar.
Yule be counting down the days to Christmas when you unwrap 24 naughty-but-nice nips, including rare drams from Ardmore, Bunnahabhain, GlenAllachie, Longmorn and Aberlour.
There's 15 single malt Scotches, four American whiskeys (including malt, rye, and corn), two 27 Year Old single grain Scotches, two Irish single malts and an English single malt. Every 30ml dram is non-chill filtered and natural in colour, and ranges from 45.7% to 52.0% ABV – absolutely 100% what you want to be caught putting your lips on under the mistletoe this Christmas.
So, what exactly is inside? Feast your eyes upon this list:
Benrinnes
Batch 11, 11 Year Old, 49.0%, Speyside
Nose: Highland toffee sweets, ripe fruits and vanilla custard.
Palate: Dried apricot and oaky, pepperiness with a whisper of smoke.
Finish: Smooth citrus punctuated with a peppery savouriness.
Aberlour
Batch 6, 9 Year Old, 49.7%, Speyside
Nose: A touch of smoky rubber to start before juicy fruit aromas emerge. There's also bramble jelly coming through.
Palate: Initially sweet with more of those smoky flavours cutting through. There's more of the black fruits too.
Finish: A fresh finish with a suggestion of citrus, before those smoky rubber flavours re-emerge.
Balcones
Single Malt, Batch 1, 2 Year Old, 51.1%, USA
Nose: Vegetal and fresh grassy aromas are immediately apparent, mixed with a creamy vanilla sweetness and a touch of citrus.
Palate: Smooth and rich with plum jam, raisins and a touch of smoky wood at first before a citrusy tingle comes through, bringing with it more of those vegetal notes.
Finish: The smoky, woody aromas develop along with warming spices and more fruity jam until the end.
Reservoir Distillery
Corn, Batch 1, 2 Year Old, 47.5%, USA
Nose: Very pleasant notes of fluffy pancakes covered in maple syrup and chocolate ice-cream rise through peppered steak and oak char aromas. Sour red berries and sawdust reveal as the nose progresses.
Palate: Toffee sauce and vanilla buttercream lead in a rich, creamy palate before raspberry and clove add depth.
Finish: Vegetal smoke lingers among heaps of Galaxy milk chocolate.
Dufftown
Batch 5, 16 Year Old, 50.9%, Highlands
Nose: biscuity sweetness, bright fruit bowl of freshness.
Palate: More sweetness on the palate, the freshness fades to reveal a whole second experience of toffee, almost chocolate like sensation that goes on and on and on.
Finish: lingering long in to the finish are those big, rich flavours with a whole additional layer of fresh fruit.
Glen Spey
Batch 1, 21 Year Old, 49.7%, Speyside
Nose: Peppery and earthy with a touch of worn leather and liquorice coming through.
Palate: Lots of juicy fruits emerging - apples, pears, plums and a hint of citrus too, before pepper prickles the tongue.
Finish: More spicy pepper at first, before rosy apple sweets and caramel flavours come through and linger on.
Craigellachie
Batch 7, 10 Year Old, 50.3%, Speyside
Nose: Honey and floral opening with a hint of cocoa.
Palate: A sweet and smooth mouth feel with lots more honey, almonds, vanilla and an underlying earthiness.
Finish: Almondy frangipane, a pinch of nutmeg and a lingering sweetness.
Glengoyne
Batch 4, 9 Year Old, 51.1%, Highlands
Nose: Brown sugar, scones with jam and cream, a touch of heather honey.
Palate: Cloudy lemonade, perfumed malt, almond and yellow plum.
Finish: White pepper and cinnamon slowly develop on the finish.
Longmorn
Batch 3, 10 Year Old, 48.3%, Speyside
Nose: Chocolate orange and buttered brioche.
Palate: Rich and full bodied with raisins, stewed fruits and butterscotch.
Finish: Buttery, velvety mouthfeel, lasting warming finish.
Islay #3
Batch 4, 13 Year Old, 48.6%, Islay
Nose: Lots of smoky aromas to start with a tinge of metal. There's also an underlying fruity sweetness - peaches and pineapple come through.
Palate: Sweet and smoky flavours fill the mouth but there's also a lot of fruit too - those tropical fruits make themselves known while honey also enters.
Finish: A dry finish but with more sweet fruits emerging and lasting - there's a final touch of that rich smoke too.
James E. Pepper
Rye, Batch 1, 3 Year Old, 50.0%, USA
Nose: Toasted oats, barley and sticky dates lead with a vanilla sweetness following.
Palate: An initial flood of sweetness, followed by cinnamon, cloves and other warming spices.
Finish: Spices fade away to leave a buttery, creamy flavour.
Irish Single Malt #2
Batch 2, 12 Year Old, 48.6%, Ireland
Nose: Rich vanilla and toffee rise through menthol thyme and candied apples. A little oak char lingers.
Palate: As ginger and nutmeg build against ripe red apples, notes of hazelnut and more toffee develop. A touch of black peppercorn crackles away underneath.
Finish: A hint of white chocolate is present is a smooth and supple finish.
Overall: A delightful Irish single malt with plenty of character and a range of flavours.
Macduff
Batch 10, 10 Year Old, 52.0%, Highlands
Nose: Immediate caramel sweetness and melted milk chocolate fade into gentle mineral notes, pencil sharpenings, sultanas and distinct maritime aromas of sea water.
Palate: Fruity notes of fresh apples alongside dried raisins, apricot and sultanas, with a dash more chocolate.
Finish: Herby notes contrast the sweetness, followed by a sprinkle of allspice over porridge.
New York Distilling Company
Rye, Batch 2,2 Year Old, 50.0%, USA
Nose: Soft cherry and vanilla with almonds too.
Palate: A smooth and sweet mouth feel with more cherry coming through.
Finish: A creamy finish with a final sour cherry sharpness.
Royal Brackla
Batch 1, 12 Year Old, 47.9%, Highlands
Nose: A burst of berries with cherries, strawberries and a cranberry sharpness. Very soft wafts honeydew melon also come through.
Taste: Floral honey to start, a prickle of pepper and more of those juicy fruit flavours.
Finish: Stronger peppercorn flavours emerge, before a final hit of melon.
Speyside #3
Batch 2, 6 Year Old, 49.3%, Speyside
Nose: Clementine, caraway and a hint of baked bread with butter.
Palate: Waves of runny toffee and honey, alongside some crunchy brown sugar and flaky filo pastry.
Finish: Lingering kitchen herb savoury notes remain.
Cotswolds
Batch 1, 3 Year Old, 50.4%, UK
Nose: Sweet and rich on the nose - there's caramelised almonds, sweet pineapple and cherries with a hint of vanilla too.
Palate: The sweetness continues, but citrusy warmth interjects - there's lemon, orange and grapefruit.
Finish: Quite a leafy, fresh finish with green grapes, freshly cut grass and a dash of lemon.
Glentauchers
Batch 6, 10 Year Old, 47.9%, Speyside
Nose: Very subtle fruity notes - there's hints of pears and apples mixed with a treacle sweetness.
Palate: Smooth and creamy at first with burnt toffee flavours and more of that apple coming through. Eventually spices begin to prickle the tongue.
Finish: More of the toffee followed by liquorice to the end.
Ardmore
Batch 5, 10 Year Old, 48.0%, Highlands
Nose: Earthy peat initially, followed by porridge topped with honey and a red berry fruitiness.
Palate: More of those smoky notes come through, but there's a floral quality too, and the honey sweetness continues.
Finish: A long, dry finish with a peppery warmth and lingering smoke.
Cameronbridge
Single Grain, Batch 3, 27 Year Old, 48.9%, Highlands
Nose: Warming on the nose with stewed orchard fruits, peppery spices and just a hint of vanilla sweetness.
Palate: Sweet cherries and vanilla give way to more of the peppery spices and there's a touch of woodiness too.
Finish: Pepper at first before more of those creamy vanilla flavours come through and linger on.
Cambus
Single Grain, Batch 10, 27 Year Old, 50.7%, Lowlands
Nose: Fresh paint, ginger biscuits and wafts of brown sugar, mixed with a redcurrant bitterness.
Palate: A smooth mouthfeel with the brown sugar re-emerging, along with pear drop sweets, syrupy ginger and a cinnamon heat.
Finish: A fruity finish with apples, pears and a final sprinkle of that brown sugar.
Bunnahabhain
Batch 22, 10 Year Old, 50.1%, Islay
Nose: Grassy and bright with only the faintest whiff of smoke on the nose.
Palate: Soft, buttery mouthfeel - this is Islay in full bloom on a summer's day. A slight minerality pertaining to waxiness at times. This is delicate and fresh.
Finish: The smoke sneaks up on you, malt is kept under wraps until the last moments. Herbal in its core - this is an alluring and fresh dram.
Single Malt Irish Whiskey
Batch 2, 8 Year Old, 45.7%, Ireland
Nose: Deep, thick caramel coats a bounty of orchard fruits and buttered toast. Rich chocolate lingers in the backdrop with a little cigar box note.
Palate: Through bright golden barley comes blackberry jam and toffee apples. A light floral vanilla aspect is present among woody tannins and a flicker of ginger.
Finish: Orchard fruits dominate a brilliantly lengthy finish.
Overall: Plenty of character and oodles of flavour – a cracker!
Glenallachie
Batch 3, 10 Year Old, 49.9%, Speyside
Nose: Toasty aromas at first, followed by the marzipan and fruity notes of cherry bakewells and a chocolatey richness.
Taste: A smooth, sweet opening with more marzipan. Pear and apple flavours come through, with a touch of cinnamon warmth too.
Finish: an earthy, mineral finish with just a hint of spice at the death.
Orders for the Whisky Club Advent Calendar have closed. Sign Up Free to Australia's biggest whisky community now to get incredible single malt whiskies delivered straight to your door.
Ready to enjoy a world-class whisky collection?
Your free Club Membership gives access to exclusive single malt from Scotland, Australia and the world's best distilleries. Enjoy the unrivalled buying power of Australia's biggest whisky club.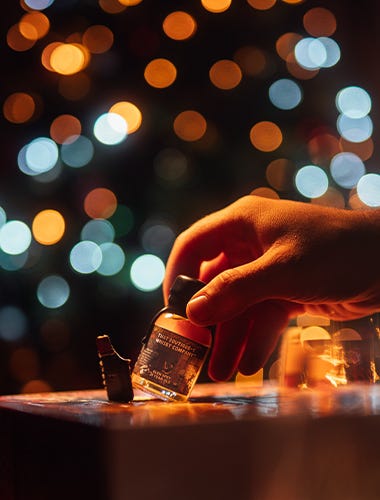 Ready to enjoy a world-class whisky collection?
Your free Club Membership gives access to exclusive single malt from Scotland, Australia and the world's best distilleries. Enjoy the unrivalled buying power of Australia's biggest whisky club.
Stop scrolling. Start dramming.