March 2022
Westward Whiskey Single Malt Rum Cask Batch 2
Westward Whiskey Single Malt Rum Cask was voted Club Members' 2021 Whisky of the Year. And now it's back, even bigger than before! Matured in Guatemalan rum casks, it's dripping with tangy tangerine, crunchy sugar cane and rich Banoffee pie.
United States
Nose Bright notes of tangy tangerine and the tropics.
Palate Crunchy sugar cane and vanilla bean custard.
Finish Grapefruit, deliciously creamy banoffee pie followed by richly toasted spiced oak.
Food Match Thai Green Curry Chicken with Coconut Rice
Overview
Our third collaboration with this Member-favourite craft distillery took us on a taste adventure from the home of Westward Whiskey in Portland, Oregon to Escuintla, Guatemala, home to the all-natural cane-to-glass Casa Magdalena Rum Distillery, and back again.
And now, you can take the journey once more.
Westward Whiskey Single Malt Rum Cask was made in the classic Westward style with Pacific Northwest grown malted barley, malted just a few miles from the distillery, and fermented with ale yeast, but they took this single malt one step further by partnering with their friends, the Leal family of Casa Magdalena Rum in Guatemala.
The Leal's use only the highest-grade molasses you can get to produce an absolutely delicious and characterful rum, and send their rum make to Portland to be aged under Westward's eye in the Pacific Northwest. Westward saw a massive opportunity and have used some of these barrels to finish their whiskey for an additional year for our Whisky of the Month in August 2021.
But Head Distiller Miles Munroe had an ace up his sleeve – to make the best even better, he set aside a number of casks for an extra six months bringing the total time in the rum casks to 18 months.
The result? Westward Whiskey Single Malt Rum Cask Batch 2 brings even more of those rich brown sugar notes that we saw in the first release. It's like everything's been cranked up to 11. Bright notes of tangy tangerine and the tropics lead to crunchy sugar cane and vanilla bean custard on the palate before a massive finish of Banoffee pie and richly toasted spiced oak rolls in and lingers on the tongue forever. And like the original, it's at a whopping 62.5%.
No wonder the first release was voted the Club's 2021 Whisky of the Year. Quite simply, this is excellent whiskey from an emerging global powerhouse (think Japanese whisky 20 years ago) and all for the very special Member price of only $135.
Orders for Westward Whiskey Rum Cask Batch 2 have now closed. Sign Up Free now to get your hands on our upcoming releases.
THE SPECS
Maturation: Virgin American oak, finished for 18 months in Casa Magdalena Guatemalan Rum casks
Ready to enjoy a world-class whisky collection?
Your free Club Membership gives access to exclusive single malt from Scotland, Australia and the world's best distilleries. Enjoy the unrivalled buying power of Australia's biggest whisky club.
Westward's History
Our Whisky Club journey has taken us all around the world, with distilleries in Scotland, Ireland, Japan, Australia, India and even Canada having been featured. But there's a rapidly emerging single malt scene in the USA, and the leader of America's craft distilling resurgence must be Westward Whiskey, hailing from Portland Oregon.
When you think about Portland these days, you probably think about it as being a bit left-field, somewhat of an alternative town with a huge culture for coffee, beards, fixed gear bikes and craft beer. And you'd be right. If you've ever watched Portlandia, you'd know where we're coming from.
Tech giant Intel established itself in Portland in the 90s, injecting billions of dollars into the local economy. This saw a massive spike to the population as young tech-heads moved to the city for work. Portland grew in numbers by over 90,000 between 2000 and 2014. This combined with its comparatively low cost of living and the unofficial "Keep Portland Weird" mantra has seen the hipster culture flourish. Hipsters lead to craft beer, which naturally leads to distilling spirits, so not only has the city seen the establishment of a multitude of craft breweries, but a growing number of distilleries producing a wide range of spirits, collectively known as Portland's Distillery Row, who have teamed together to promote the Portland spirit scene to locals and visitors alike.
The anchor of Distillery Row, Westward Distillery was founded in 2004 as "House Spirits Distillery" by former brewer and winemaker, and now Master Distiller Christian Krogstad, who had a vision: to make a distinctive Single Malt inspired by the American Northwest. Krogstad jokes that single malt whiskey is beer that's finally achieved its higher purpose and that as a brewer, that was what he needed to do to achieve his higher purpose. Who are we to argue with that?
Along with investment from American football legend Joe Montana, Krogstad partnered with CEO and co-owner Thomas Mooney in 2011 to grow the brand to become the largest independent distiller of American single malt whiskey. Initially, the spirit was distilled with wash from local breweries, as they didn't have fermentation capacity, but since Krogstad was a brewer, this was never going to last, with brewing going inhouse in 2015 when Westward built its new, bigger home in Southeast Portland. The new facility is the largest in the Pacific Northwest and allows for far greater production, with half the building dedicated to fermentation. The team brew over 11,000 litres of pale ale whiskey wash on a typical day, which is then double-pot distilled resulting in enough spirit to fill five or six barrels a day.
There's no sign of things slowing down at Westward either, with recent expansions allowing a huge increase in production. This was made possible by investment in the company by Distill Ventures, Diageo's craft spirits accelerator who've also invested in Australia's Starward Whisky. They've invested in not only the facility and inventory, but the Westward brand itself too, but as always, majority ownership and independent control remains in the hands of Westward's founders and existing investors, and all existing staff were kept on board. This win-win deal provided the Westward team with capital, mentorship, and secured a bright future for the distillery.
Taking inspiration from the thriving local brewing culture, Westward Whiskey is distinct, rich, brazen and full of flavour. Balanced and bold, it's brewed and distilled from scratch on-site at the Portland distillery, their grain-to-glass operation giving Master Distiller Christian Krogstad and Head Distiller Miles Munroe complete control over the production process, and a provenance that truly reflects where it was made.
You can't expect a distillery run by a brewer to use just any old wash, and to that end, all Westward Whiskey is made from 100% Northwest two-row pale malted barley and ale yeast. In the early days, before the new distillery was built, washes were brewed in collaboration with a number of iconic Portland breweries, such as Breakside, Alameda, and Rogue, but since November 2015 every single wash used has been brewed inhouse, with a true craft beer philosophy, fermentation taking place over a long time at a low temperature. The result, a spicy wash with bright and fruity notes.
The wash is then double pot-distilled, first up in the 11,350 litre pot still that was handcrafted for Westward by Vendome Copper & Brassworks in Louisville, KY. This is one of the largest of its type in the country. From there to the 2,650 litre spirit still of Westward's own design, and built by Global Stainless in Canby, Oregon. Both stills were custom designed for low reflux, ensuring the distillate is rich and robust.
The new make is then filled in newly charred virgin American oak barrels, the majority with #2 char. This lower char amount allows the rich esters created by the fermentation process to remain present, contributing to the bold, full-flavoured palate. When asked why they use lightly charred virgin American oak casks, Munroe said "We wanted to make a style of whisky that really speaks of its origins", and to "make single malt our own".
Because the distillery is situated between a river, a highway, and a railway line, it's not considered the ideal location for maturing whiskey. The temperature and pressure swings considered far too much. Rather, the barrels are matured in a 28,000 square foot, barometrically monitored rackhouse facility in nearby Clackamas County, Oregon, just out of town. The barrels still experience Oregon's seasons, but it provides a far more stable environment for maturation. Well, it's usually stable… the area is prone to earthquakes, so to keep the precious contents safe the barrels are palletised, standing upright, four to a pallet and never more than four high. Perhaps not the most efficient use of the warehouse space, but at least nothing has too far to fall if ever there is a quake.
After safely resting for four to five years, the casks are selected when ready and brought together and bottled, creating a whiskey that is distinct, brazen, rich in character, and full of flavour.
Westward's whiskeys have caught the attention of judges around the world, having picked up a Double Gold medal at the San Francisco World Spirits Competition, a 93-point/excellent rating at the Ultimate Spirits Challenge, a 94-point rating from Wine Enthusiast, as well as topping the list of the Wall Street Journal's Singular Single Malts Born in the USA. Way to go, Westward!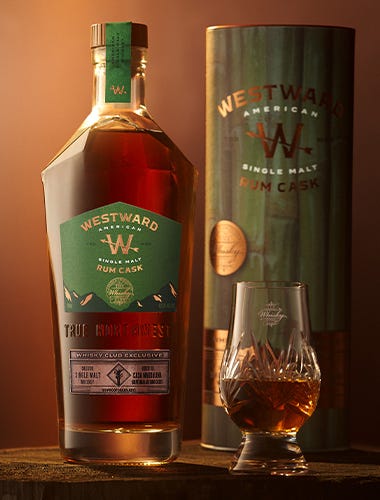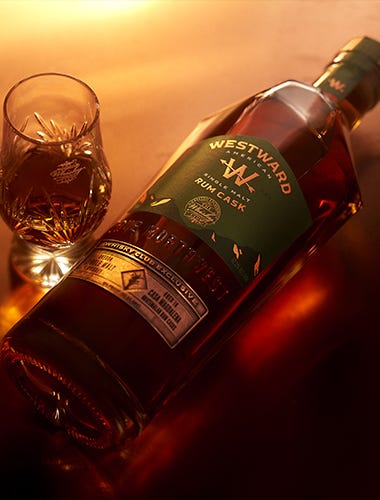 Distillery Facts
Origin: House Spirits Distillery, 65 SE Washington St., Portland, Oregon USA 97214
Water Source: Bull Run Watershed. Located 30 miles from Portland, Oregon
Washbacks: Hydroconical glycol-jacketed closed fermenters. Stainless and 11,350 Litres
Stills: 2 Pot Stills. 1 x 11,350 Litre wash still – stainless with large copper coils, copper neck and descending lyne arm. 1 x 2,650 Litre spirit still – stainless with a copper shotgun column.
Capacity: 240,000 litres per annum
Stop scrolling. Start dramming.