A Dram with Bushmills Master Blender, Alex Thomas
September 28, 2022
/ 4 mins
As a youngster, Master Blender Alex Thomas lived a stone's throw from Bushmills and dreamed of one day working at the distillery. Flashforward, and Alex is in her eighteenth year of perfecting her craft at the world's oldest licensed distillery.
It's no surprise then, that the distillery, with its 400 years of whisky-making history, is particularly close to Alex's heart.
Our latest collaboration with the Irish superstars, the Bushmills 2012 Burgundy Cask, also marks another significant moment with her almost two-decades-long involvement with the distillery: it's the first whiskey she oversaw from the moment the spirit was laid down and then finished in Burgundy casks.
So, sit back and pour yourself a dram and get to know the person behind your whisky. And remember, Alex will be joining us live on 3 November to share a dram of this special spirit.
Over to you, Alex.
When and where did you start your whisky journey?
Alex: I was born in Ballymoney, just 15 minutes from The Old Bushmills Distillery. It was always a dream of mine to work with the world's oldest licensed whiskey distillery that was almost on my doorstep.
I joined the Bushmills team in 2004 and since then have spent over 18 years honing my craft, fascinated by the maturation phase of the whiskey-making process. This is when the spirit goes through a complex interaction between the wood and the conditions outside the cask.
How did you come to be a Master Blender?
It was such a privilege to be appointed as Master Blender for Bushmills Irish Whiskey in 2021. The craftsmanship and passion that goes into Bushmills is something that has truly captured my imagination. Whiskey fans know Bushmills Irish Whiskey for the brand's 400 years of quality and taste, and part of my job is ensuring that we continue to meet that high standard.
If you weren't a master blender, what would you be?
I love the drinks industry and I could never see myself straying from that. If I wasn't in my role in Bushmills, I truly believe I would be involved in barrelling in some form. Whether that be in a winery in France or a Tequila distillery in Jalisco.
What makes Bushmills Distillery special?
The distillery is situated on the rugged and beautiful north coast of Ireland in the village of Bushmills - from which we take our name - not far from the world-famous UNESCO World Heritage Site, The Giant's Causeway.
The River Bush, which runs from the Antrim Hills through the same type of basalt rock that makes up the Giant's Causeway, passes through Bushmills before reaching the sea at Portballintrae on the north Antrim coast.
The quality of our ingredients is vital to the quality of the final whiskey and water is critical to the process of creating Bushmills Irish whiskey. Ours is drawn from Saint Columb's Rill, which is a tributary of the River Bush.
The Old Bushmills Distillery is one of the few 'grain to glass' distilleries in Ireland, which means our whiskey is crafted with care in small batches on one site. This process includes all the critical stages of production – malt distilling, maturing, blending, and bottling.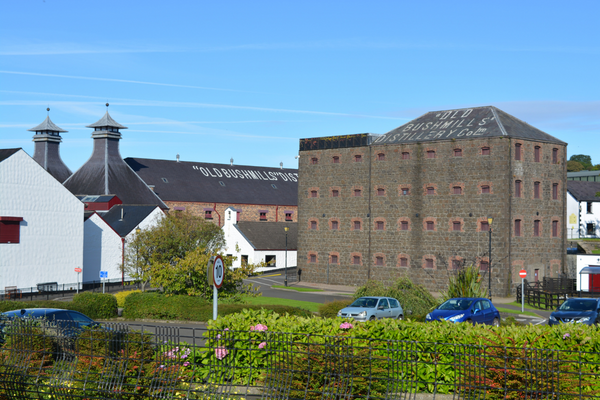 What makes the Bushmills 2012 Burgundy Cask Cask so special?
The Causeway Collection is a celebration of our passion for single malts and these special single malt whiskeys are our greatest treasures. It is truly a privilege to work with such rare whiskeys, as they are the fruits of over 400 years of Bushmills whiskey-making tradition, each expertly created and nurtured over decades.
The 2012 Burgundy Cask is a sensational liquid, I honestly think that this is one of the best whiskeys that Bushmills have produced to date, and I can't wait to share it with Australia's biggest community of whiskey lovers!
What is your favourite thing about the Bushmills 2012 Burgundy Cask?
This whiskey is particularly close to my heart because not only is it part of my first Causeway Collection, but it's also one that I have overseen from its inception.
I completed my Master Blender qualification here at Bushmills in 2012, only months before this spirit was put down in Oloroso Sherry and Bourbon casks. Then in August 2018, I oversaw the transfer to hand-selected Burgundy wine casks where the whiskey has rested since, in anticipation of this release.
I have been lucky enough to see it develop and mature, and I am so proud of the result. In fact, I made sure I nabbed the first bottle off the line for my dad, officially securing my spot as the favourite child!
How do you want people to feel when they drink this whisky?
At Bushmills, we have continued to innovate in the pursuit of perfection for over 400 years, and I am sure this 2012 Burgundy Cask is sure to excite every whiskey fan! For me, there's nothing more exciting than introducing a new Irish whiskey to the market and seeing people truly enjoy what we have created here at Bushmills.
The 2012 Burgundy Cask is a beautiful whiskey and I hope you love it as much as I do!
Ready to receive world exclusive whisky?