October 2022
Bushmills 2012 Burgundy Cask
Our Members' 2022 Whisky of the Year and the third and final release in our world-exclusive series with the world's oldest distillery, Bushmills 2012 Burgundy Cask created exclusively for The Whisky Club, was awarded 96 pts and won gold at the world's most prestigious international drinks competition.
Ireland
Nose Wonderfully fragrant, sweet vanilla and classic tropical fruits melds with stewed orchard fruits and cooked spices of clove, cinnamon & nutmeg.
Palate Ripe red apples, fresh raspberry sweetness and strawberry jam develop into rich black cherries and sticky butterscotch.
Finish Rich and juicy, vanilla truffle with aging leather opens into Neapolitan ice-cream, rocky road and a touch of almond.
Food Match Rack of lamb with herb crust followed by Black Forest cake
Overview
We've reached the season finale of one of the most significant series of Irish whiskey ever released, our world-exclusive Heritage Casks series created exclusively for The Whisky Club by Bushmills, the world's oldest whiskey distillery.
First Marsala casks, then Banyuls casks, now our world-exclusive Heritage Casks series from the Bushmills Causeway Collection finally reaches its epic crescendo.
The series takes three of Europe's most interesting and historic wines and kicked off in 2020 with our Bushmills Causeway Collection 2006 Vintage Marsala Cask. Distilled in 2006 and initially matured in Bushmills' trademark Oloroso Sherry and Bourbon casks, it spent a further 18 months maturing in heritage Marsala casks, aka "Italian Sherry".
We followed this runaway success a year later with our second Heritage Cask release, our Bushmills Causeway Collection 2011 Vintage Banyuls Cask. This "French Port"-matured beauty was another huge hit with Club Members. Demand exceeded our wildest expectations, and you will have seen the silly prices these bottles have reached on European auction sites.
And now this. Behold the Bushmills Causeway Collection 2012 Burgundy Cask, one of the greatest whiskeys from the world's oldest licensed whiskey distillery. As you can probably guess, this is not just any old Burgundy, this is Burgundy from a winery dating back to the 1400s.
Distilled in 2012, the spirit was first laid down in Bushmills' trademark Oloroso Sherry and Bourbon casks before a luxurious three-and-a-half-year maturation in Burgundy red wine casks. Then bottled this year, non-chill filtered and non-coloured, natural cask strength, 51.8% ABV.
And as for the experience, heavenly…starting with sweet, spiced stewed fruits with vanilla custard on the nose, leading into a deep, velvety palate with indulgent dark cherries, strawberry jam and sticky butterscotch, and a long, rich, juicy finish of vanilla truffle opening into creamy Neapolitan ice-cream, rocky road and a hint of almond.
We're honoured to bring you these truly historic whiskeys; our 2006 Marsala Cask marked the launch and first release of their historic prestige series, The Causeway Collection, and now the Burgundy Cask is the first release with the distillery's new Master Blender, Alex Thomas' name on it, or as Alex herself describes it: "one of the best whiskeys that Bushmills have produced to date."
Join the Club, don't miss out.
THE SPECS
Maturation: Six and a half years in Sherry and ex-Bourbon casks, then finished in Burgundy casks for a further three and a half years
Ready to enjoy a world-class whisky collection?
Your free Club Membership gives access to exclusive single malt from Scotland, Australia and the world's best distilleries. Enjoy the unrivalled buying power of Australia's biggest whisky club.
Old Bushmill Distillery's History
Whiskey making has long been an Irish tradition, with monks known to have been distilling it as far back as the 11th Century. In fact, Ireland is believed to be the birthplace of whisk(e)y itself, the name coming from the Irish word 'uisce', meaning water. The spirit was often referred to as 'uisce-breatha', or 'water of life' (the Scottish equivalent is uisge-beatha). So now you know.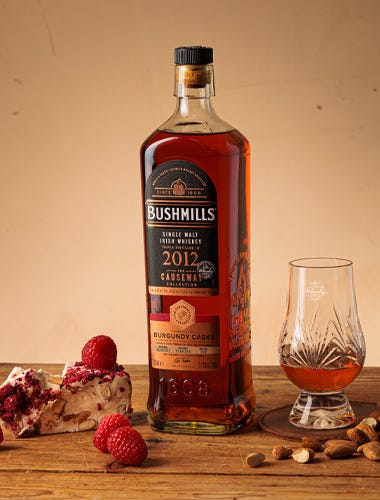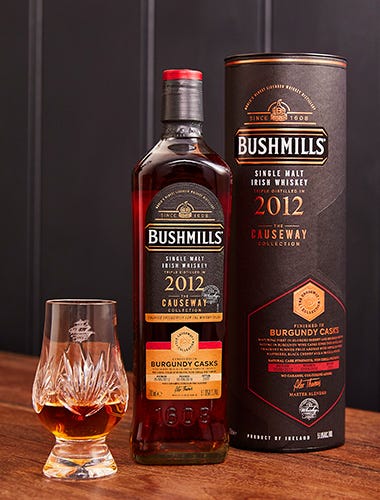 Distillery Facts
Origin: 2 Distillery Rd, Bushmills, County Antrim BT57 8XH, United Kingdom
Water Source: Saint Columb's Rill (a tributary of the River Bush)
Washbacks: Stainless Steel
Stills: Ten copper pot stills
Capacity: 4,500,000 litres per annum
Stop scrolling. Start dramming.