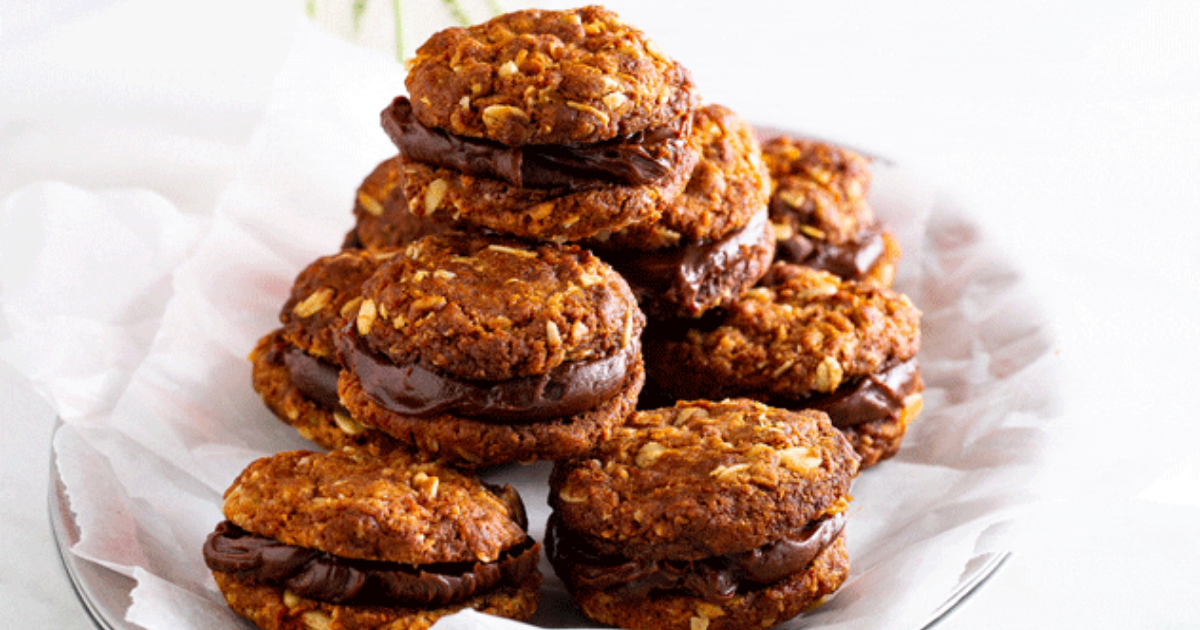 Anzac Biscuits with Chocolate Whisky Ganache
These tasty treats are a decadent whisky twist on the classic Aussie favourite. They're pretty simple to make, but you'll need a food processor to blitz all the deliciousness together.
This recipe makes 24 biscuits. But don't eat them all at once! Save some for our Morris virtual tasting on Wednesday as we sip on the decadent whisky perfection that is the Morris Tokay Barrel with the legends from the distillery.
What could be better than eating sweet treats and sipping on amazing whisky in good company?
Check out the event here and let us know you're coming. We'd love to see you there.
Ingredients:
450g plain flour
400g caster sugar
200g desiccated coconut
200g rolled oats
130g sunflower seeds
400g butter at room temperature
¼ cup golden syrup
4 teaspoons baking soda
4 tablespoons hot water
Method:
1. Fire up that oven to 180 degrees or 160 if it's fan-forced.
2. Fetch a baking tray, grease and line it with baking paper
3. Mix together the flour, sugar, coconut, rolled oats and the sunflower seed in a large bowl and combine well.
4. Now melt the butter and golden syrup together in a saucepan.
5. Dissolve the baking soda in the boiling water and add it to the butter and golden syrup.
6. Stir the butter mixture into the dry ingredients.
7. Place a small teaspoon full of mixture onto the prepared trays and bake in the oven for 12-15 minutes.
8. Take them out and allow them to cool on a wire rack.
9. When they've cooled down (make sure they're completely cool) sandwich them together with the chocolate ganache.
Alright, now for the gooey ganache.
Chocolate Ganache:
Ingredients:
100g dark chocolate with at least 70% cocoa solids chopped up into 2cm pieces
100 mls double cream
1 ½ tsp golden syrup
2 tbsp whisky
1 ½ tsp unsalted butter, softened
Method:
1. Place the choccy pieces in your food processor. Blitz them until they're chopped finely and then set aside.
2. Put the cream and golden syrup in a small pan and place it over a medium-high heat. As soon as it starts bubbling, right before it comes to the boil, remove it from the heat.
3. Fire up that food processor again and pour in the hot cream over the chocolate. Then add the whiskey and process for about 10 seconds then add the butter.
4. Continue to process until the mixture is shiny and smooth. Allow the mixture to cool before spooning it between the biscuits to sandwich the biscuits together.
5. Pour yourself a dram and enjoy!
Gave it a go? Don't forget to share your picture on Facebook and Instagram.
Not a Member yet? Join Australia's biggest community of whisky lovers free today.


We've adapted this recipe from MiNDFOOD
Image: MiNDFOOD
Ready to receive world exclusive whisky?