Bacon-Wrapped Scallops with Whisky-Honey Glaze. On Steak. Oh my!
It's no secret that mixing sweet with savoury is good. If you've ever tried bacon pancakes with maple syrup, you'll know where we're coming from. Today we're taking this idea to the next level, by adding seafood and whisky and serving it on a succulent piece of steak. This is your new favourite meal, and best of all, it's super easy to make. Vegetarians, you might want to look away…
Cooking for two? Here's your list of ingredients:
Bacon, cut into strips wide enough and long enough to wrap the scallops. We used streaky bacon.
A dozen scallops. No, not potato cakes!
2 steaks. We used Scotch fillet, of course.
A dash of whisky – around 15ml. We used Tullibardine The Murray Quinterris.
More whisky, to drink with your dinner.
1 teaspoon of vanilla extract.
1/4 cup of raw honey.
2 tablespoons of butter.
2 tablespoons of brown sugar.
A splash of olive oil.
Vegetables of your choice.
Equipment you'll need:
Chopping board
Knife
Small saucepan.
Cooking spoon
Tongs
Large flat bottomed frying pan.
BBQ or grille.
Toothpicks – one per scallop.
A bowl of water.
Plates.
Paper towel.
A whisky glass – recommend a Glencairn.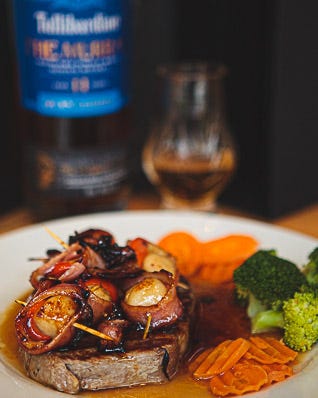 First up, we don't want the toothpicks to burn, so drop them into a bowl of water to soak for a while before you start cooking.
Cut the bacon into strips, remembering the bacon will shrink a bit when it cooks, so be sure to allow for this. Add oil to your frypan and cook the bacon. Don't over cook it, you need it to remain flexible so you can wrap it around the scallops, and it will be on the heat again anyhow. Don't let it go crispy. (Unless you want to eat it now and cook another batch. Can't blame you.)
Once the bacon is cooked, place it on a piece of paper towel on a plate to drain. Leave the oil and bacon grease in the frypan.
Next, we need to make the glaze. Grab your small saucepan and sit it on the stove over a medium heat. Add the butter and brown sugar, and gently melt. Give it a good stir while it melts. Pour in the whisky and continue to stir – you need to let the alcohol cook away. Give it around a minute for this to happen. Add the vanilla and stir that through, then pour in the honey. Keep stirring while this heats through.
We're not going to lie, we made double of this mixture…
Wrap the bacon strips around the scallops, and secure with a toothpick. Then brush the glaze over the scallops. Turn the heat up on the frying pan and place the scallops in the pan. Try not to let those toothpicks touch the pan. If, like us, you made double of the glaze mixture, you might want to pour a little over the scallops in the pan. Be sure to save some though, you'll need it for when you serve it up. The scallops shouldn't take too long to cook, but be sure to turn them over so they get a go on both sides.
Meanwhile, you'll want your steak and veggies to be underway. We shouldn't need to be teaching you how to cook veggies by now, but we just had some steamed broccoli and carrot. This would go well with some mushrooms too. Cook your steak to your liking, we went for medium-rare.
To serve, simply put the steaks and veggies plates, place the scallops on the steaks and drizzle the remaining glaze over the top. Pour a Tullibardine The Murray Quinterris each, and enjoy!
Ready to receive world exclusive whisky?