Big Whisky News: Our Bushmills 2012 Burgundy Cask sold for $2,000
February 28, 2023
/ 2 mins
Our exclusive Bushmills 2012 Burgundy Cask has taken the world by storm. It's in such high demand that whiskey lovers overseas are prepared to pay silly money for the whiskey that Bushmills made exclusively for The Whisky Club back in October 2022.
The whiskey sold on 12 February 2023 on whiskey auction site Uniquely Irish. After four bids, the whiskey went under the hammer for €1350 (that's around $2000). Our Members here in Australia got it for just $135.
The Burgundy Cask was the final release in our legendary Bushmills Heritage Casks trilogy.
The trilogy began in 2020 with the Marsala Cask which sold out in record time, and broke records fetching $2,230 at auction. 2021 brought us the Banyuls Cask which sold out even faster, and now's your last chance to be a part of Irish whiskey history with the one that Bushmills Master Blender Alex Thomas calls "one of the best whiskeys that Bushmills have produced to date."
---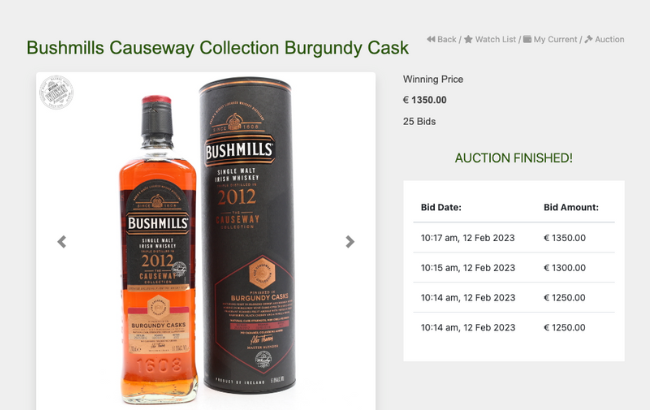 ---
You may have noticed that we haven't shared the link to the website. We're always chuffed to see how much people overseas are willing to pay for the whiskies made especially for the Club here in Australia.
We share these auction prices to show how our collective buying power as a Club can deliver crazy good value to Members — it's not to encourage flipping. We wouldn't want to see people missing out on bottles because they're getting sold overseas. We're all for sharing the whisky love. And personally, we prefer to drink the stuff!
Want a bottle? Members, don't miss out on this rare opportunity. Reserve your bottle now by logging into your account: www.thewhiskyclub.com.au/my-account
Not a member yet? Join the Club for free now to secure your bottle: www.thewhiskyclub.com.au/bushmills
Ready to receive world exclusive whisky?