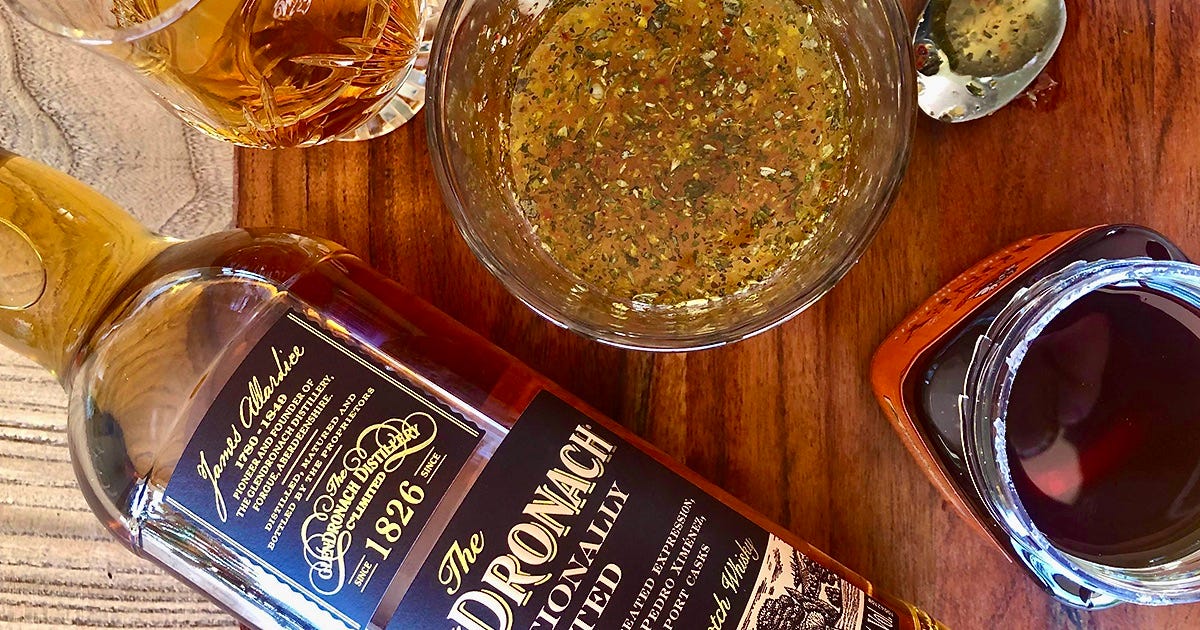 How to Make a Whisky Vinaigrette
October 21, 2020
/ 4 mins
Let's talk about salad, whisky lovers. Often the sole survivor on plates across the nation and designated to a well-meaning garish not fit for consumption, salad's sometimes overlooked as just a side dish — and a second rate one to chips and veggies at that.
But the weather's warming up and soon there'll be lots of fresh produce in season. That means it's primetime salad-eating weather! Now, before you roll your eyes and surf on, there's a whisky twist coming — so hear us out.
Salad may not be the first thing that comes to mind when cooking with whisky. But adding a splash (or two) of whisky to a dressing works the same was it does with any other food — it enhances and complements flavour. And from coleslaw to Caesar, pasta to Panzanella, there's a smorgasbord of different combinations and flavours to try in the wild world of salad.
There're a few things to remember when you're choosing a whisky to use in your dressing. If you've thrown in some smoked meat, like chicken or salmon, avoid a peated whisky. Use a sweeter malt if you're using seafood. For veggie salads, particularly Mediterranean ones, go for a lighter, floral malt. But remember, feel free to experiment, adjust and toss the rules out the door.
Here's a recipe to make a whisky infused vinaigrette that will pair well with a lot of salads. We recommend using ingredients like green veggies, fruit like pears or apples, strong cheese like goat's, parmesan, or feta, nuts and umami flavours like roasted beets. The simple whisky kick will really make your salad sing.
Whisky Vinaigrette
Ingredients:
1/3 cup whisky — your choice
1/2 cup olive oil
3 tbsp red wine vinegar
1/2 tsp sugar
1/4 tsp salt
2 tbsp mixed herbs
1 clove garlic minced
1/2 tsp seeded mustard
Method:
Crush the garlic clove in a garlic crusher.
Chop up the mixed herbs.
You've got a few options here: add all of the ingredients into a bowl and whisk; put everything into a mason jar, pop on the lid and shake it up; or if you like it super smooth, pour the ingredients into a blender and give it a blitz.
Slowly drizzle the vinaigrette over your salad.
Keep it in a mason jar and store it in the fridge for up to 3 weeks. Let us know if you give it a god and tag us in your photos on Facebook and Instagram, too.
We've adapted this recipe from Whisky of the Week.
Ready to receive world exclusive whisky?