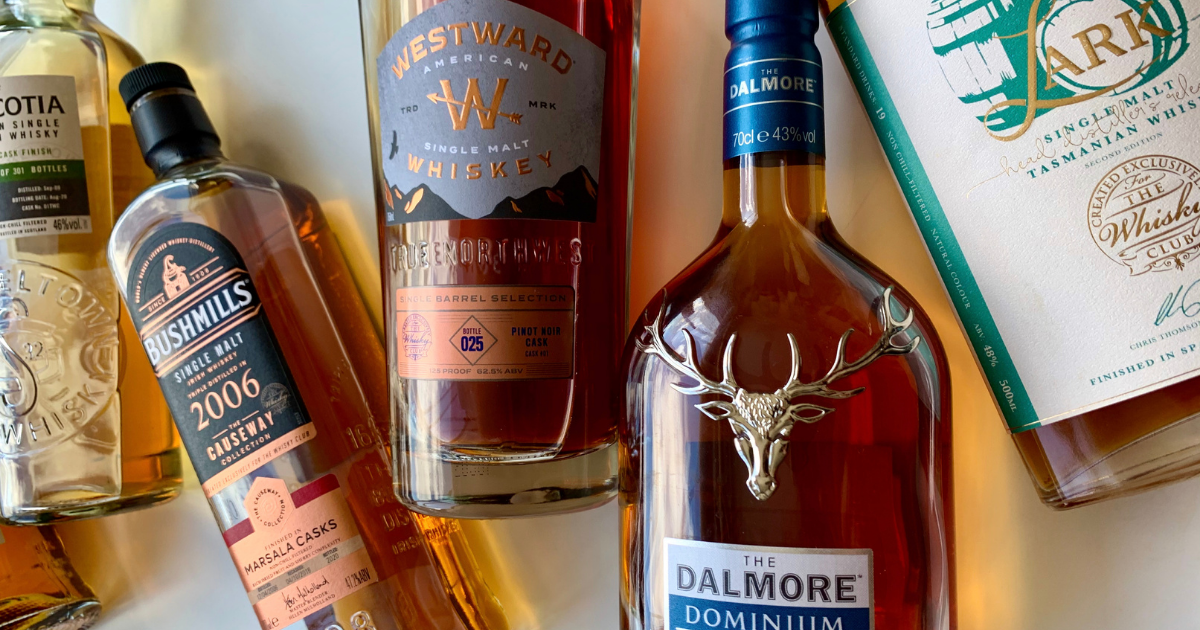 Nine Of Our Must-Try Cask Maturations
February 01, 2021
/ 5 mins
A good cask maturation adds a touch of magic to a malt and understanding what each cask brings to the party takes whisky appreciation to whole new heights.
From the raisiny sweetness of fortified wine casks, red wine casks' rich berry notes to the buttery lift from Sparkling wine casks, here's our pick of our favourite recent Club releases showcasing the incredible scope of cask maturation that makes loving whisky all the more lovelier.
1 Glenmorangie 12 YO Malaga Cask
"The nose introduces its sweetness, offering bold honey along with some orange and light wood spice notes…nice, oily mouthfeel. Strong honey notes again arrive first, but they are quickly joined by raisins and dates. This is a great after-dinner malt." Robert Lublin, Drinkerhacker.
"A great after-dinner malt"? Absolutely. Or anytime, really. This month's malt is a masterpiece from one of the world's most respected whisky makers — the only doctor we wouldn't mind paying a visit — Dr. Bill Lumsden.
But what makes this one so special? This one-off, small-batch release was finished in 'Dulce' Malaga casks for four years. Malaga, one of the world's rarest fortified wines, is made from Pedro Ximénez and Moscatel grapes — and that's what gives this malt it's viscous, syrupy texture and those luscious scents of syrup pudding.
Malaga casks are seldom used in Scotch whisky. That's why this malt's such a rare treat.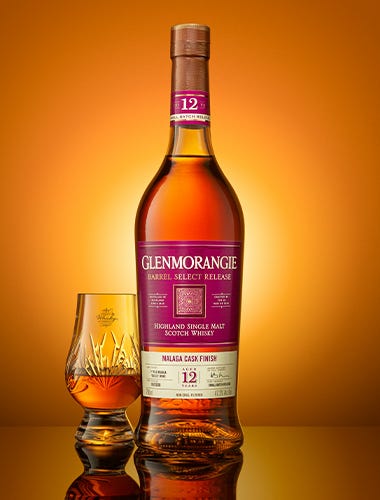 2 Dalmore Dominium
"Berries, dried fruits and currants are now supported by sweetshop flavours of boiled sweets. Fruitiness leads, but depth follows with chocolate, freshly brewed coffee and a hint of licorice." The Dramble.
Welcome the spectacularly flavourful Dalmore Dominium. Rich and sweet but balanced and elegant at the same time — Dominium was matured in American oak ex-Bourbon barrels before going into casks that previously held Matusalem Sherry for at least 30 years.
The Dalmore Dominium is part of The Fortuna Meritas Collection — a series of whiskies matured in some of the rarest and most valuable sherry casks around. So, what's a Matusalem cask? It's an Oloroso cask that's sweetened with a little Pedro Ximénez from the Gonzalez Byass bodega — this is one of the most prestigious and well-known sherry wineries in the world. In case you're wondering, a bodega is a huge warehouse that stores sherry until it's fully matured.
Get set for a big velvety malt with lashing of raisins, toffee, marmalade and treacle. These are some rare casks, for sure — and it makes for a unique and delicious drinking experience.
3 Dalmore Port Wood Reserve
"The nose is immediately graced by delicious fruity smells of fresh citrus and berries. On the tongue, the Port Wood Reserve packs a serious, fiery punch, owing much to its higher ABV. Leafy, woody flavours are apparent throughout, with hints of stone fruits and a pleasant smokiness underneath it all. "Sean Harverson, Member since 2020.
This is premium port-matured Scotch the way it's supposed to be. With flavours of sticky toffee pudding, creamy caramel, sweet red berries, oranges and cherries, the Dalmore Port Wood Reserve is matured in American oak ex-Bourbon barrels and then finished in Tawny Port Pipes.
A fortified wine produced in the Douro Valley of Northern Portugal, Port's a red, sweet wine often served as a dessert wine — but you'll also find some different varieties, too.
So, what makes the Port Wood Reserve so special? Whisky maker Richard 'The Nose' Paterson has a penchant for fine wines, and the Port Wood Reserve is matured in hand-selected Port Pipes from one of the world's leading fine wine houses, Graham's.
The Port Wood Reserve is the delicious result of Dalmore's quest to explore interesting casks from around the globe.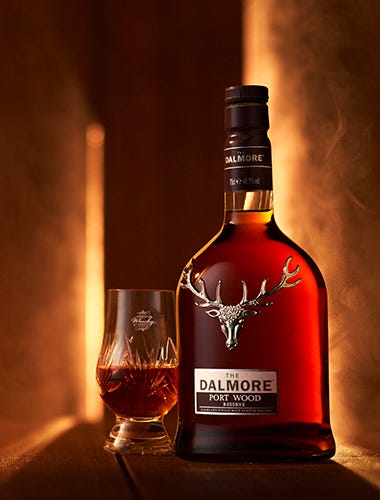 4 Westward Whiskey Pinot Noir Single Barrel Cask Strength
"Chocolate to blow your nose off, and orange — like choc-dipped dry candied orange slices. Pepper and rich woody nuts on the palate like hazelnut; dark chocolate and raisins — hits like a Pedro Ximénez…Long spicy crescendo-decrescendo, like flames in your mouth that are quickly extinguished, leaving some smouldering coals to keep you warm." Tim Outhred, Member since 2020.
Portland, Oregan — renowned for its craft beer, pinot noir and spirit distillation. Our Westward Whiskey Pinot Noir Single Barrel Cask Strength is made from scratch, and then matured in virgin American oak before spending 19 months in French oak Pinot Noir barrels from Portland's Dominio IV Wines, meticulously selected by head distiller Miles Monroe — talk about keeping it local.
Whisky's often aged in wine barrels, sure. But sherry's usually the wine of choice. Enter red wine barrels to change things up a little. Packed with layers of candied orange, cherries, nuts, tobacco, chocolate and toffee, the Westward Whiskey Pinot Noir Single Barrel Cask Strength is a damn fine example a red wine cask done right.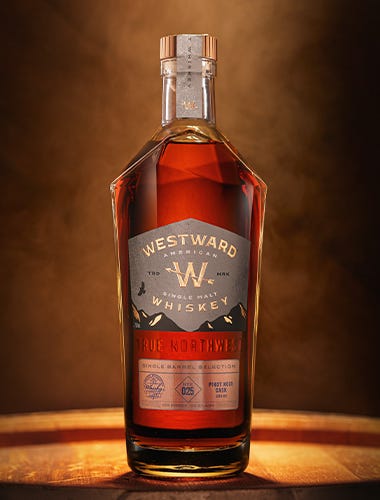 5 Glen Scotia 2009 Caribbean Rum Cask
"Subtle sweetness and lovely saltiness." Michael Claven, Member since 2017.
It's a lot of fun when whisky and rum get together to party — it's like sunshine on the palate — think vanilla, sultanas and other dried fruit, banana, barbecued banana and baking spices.
Our Glen Scotia 2009 Caribbean Rum Cask is a testament to this mighty mingling of spirits. Initially matured in first-fill ex-Bourbon barrels, Glen Scotia's legendary Master Blender, Michael Henry treated our whisky to a terrific 12-month finish in first fill ex-Caribbean rum casks. The result? A party of sea-salted caramel, ripe banana and citrus peel on the palate.
In short pick up a rum cask, pack your bags, put on your bathers and transport your to taste buds to a tropical island. Delicious.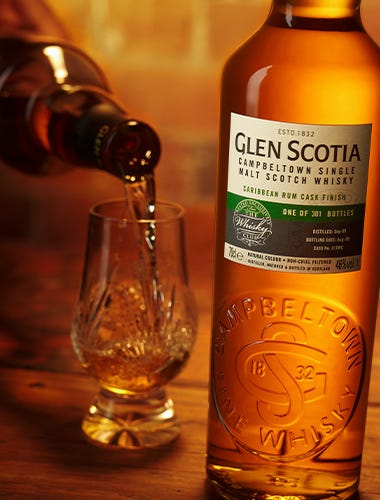 6 Aberlour A'bunadh Alba
"Very moreish…Has a nice, thick creamy mouthfeel…Sweet honey, vanilla, pear and a little nutty." Peter Petretic, Member since 2019.
The bold and the beautiful: the bourbon cask. Created by award-winning Master Distiller Graeme Cruickshank as a limited-edition stablemate for the godlike A'bunadh, the Alba's matured in 100% first-fill American oak ex-Bourbon casks and bottled at original cask strength, non chill-filtered and non-coloured — as close as you'll get to tasting a dram straight from the barrel at the distillery.
This cask-strength superstar topped our Members' favourite lists last year. We weren't surprised.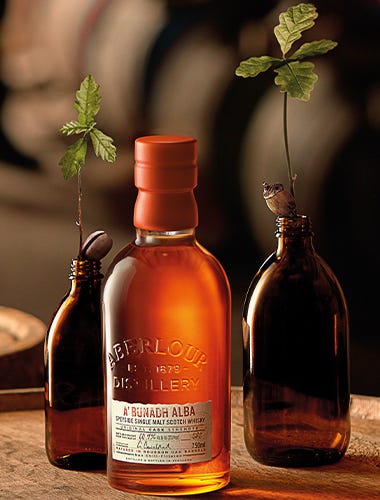 7 Bushmills 2006 Marsala Cask
"Hints of cinnamon, zest and toffee on the nose. Immediate taste of honeyed caramel. Very Tasty." Nat Diven, Member since 2006.
The history-making Bushmills 2006 Marsala Cask, made exclusively for Whisky Club Members, was the first release from Bushmills' brand-new range of curated limited-edition single malts, The Causeway Collection. Made by multi-award winning Master Blender Helen Mulholland, it was distilled in 2006 and matured in Oloroso Sherry and Bourbon casks, before finishing in fresh Marsala wine.
Marsala is a fortified Italian wine. Master Blender Helen sourced the casks from their native Sicily. This sweet, fortified wine imparts succulent spiced fruit notes and deep waves of flavour.
Our Club exclusive was a delicious example of this super-rare cask in full flight.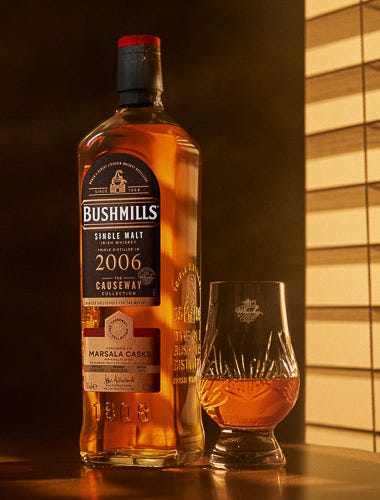 8 Starward Charred Red Wine Casks
"Lovely BIG, sweet dram — spiced fruit nose, malty rich and oily palate, think thick jam spread on malt biscuits with a vanilla sweet note from the extra charryness." Rhys Birks, Member since 2017.
The team at Starward put together a special whisky just for the Club, created with whisky from casks with a more traditional charring treatment. A combination of charred French oak barriques and American oak hogsheads were used, creating this big, intense single malt that takes Starward's signature red wine cask to the next level.
It took our taste buds to the next level, too. A malty feast of strawberry jam, blackberries, sultanas, juicy red fruits, oak tannins and deep toast malt that has us coming back for more.
Red wine casks really pack a punch and they inject dark fruit flavours, herbs and spices as well as a good amount of texture.
Moreish and magnificent, this was an example of a malt on top of its game.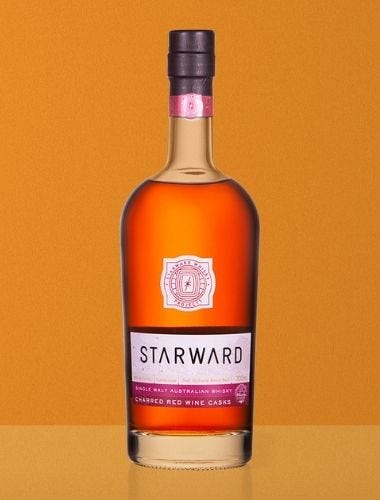 9 Lark Sparkling Wine Cask
"I had my first sip and immediately it felt like heaven. Nectar of the gods is the only way I can describe it." Pritam Basnet, Member since 2020.
This was the grand finale in our back-to-back Lark extravaganza. Using the best Tassie sparkling wines, head distiller Chris Thomson absolutely nailed this extremely rare cask finish. Crisp, creamy and mouth-wateringly fruity, our Head Distiller's Release Second Edition Finished in Sparkling Wine Casks was tipped to be our whisky of the year.
It was an explosion of white fruit and vanilla on the nose, toasted oak and viscous layers of grape, peach and apple on the palate, and had a long, effervescent finish.
Our Lark Head Distiller's Release Second Edition was super rare and super delicious.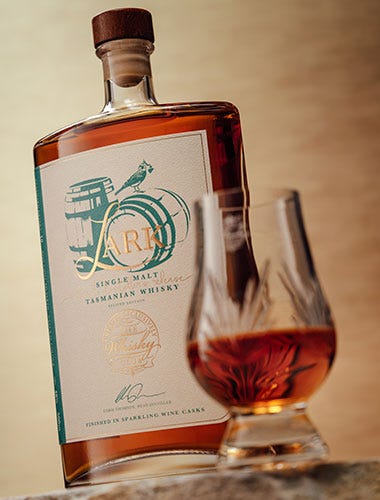 There's an exciting world of casks to explore out there, and we've got plenty more in the works to excite and delight our Members' palates. Got a favourite cask regime that's a little different? We'd love to know. Drop your comments on our Facebook page.
Ready to receive world exclusive whisky?