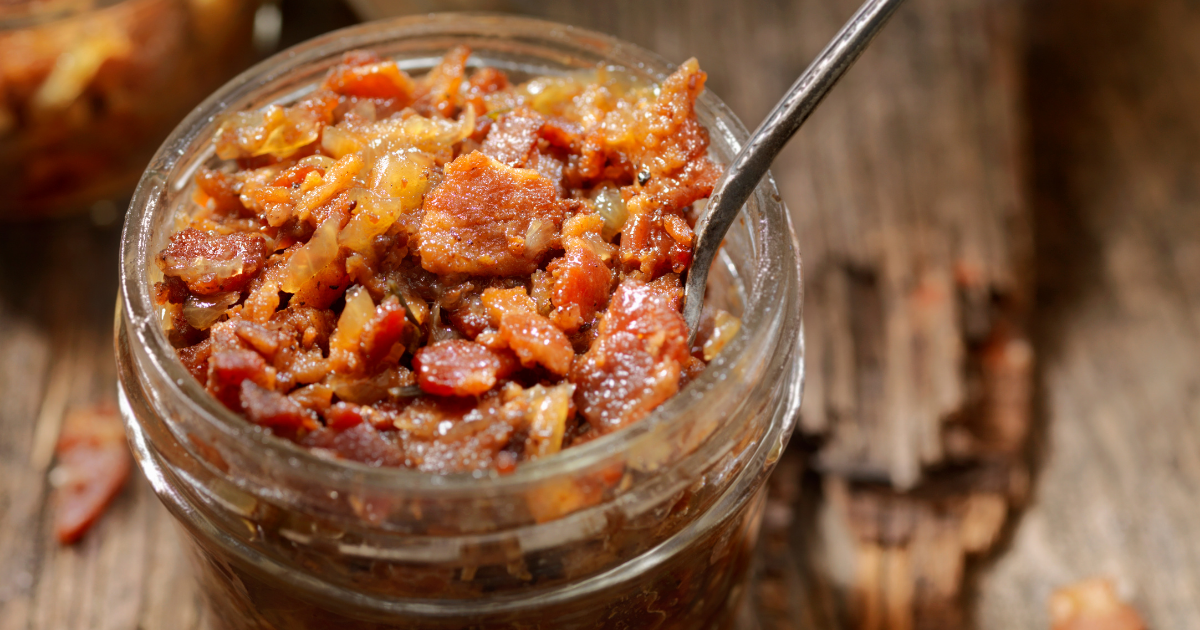 Whisky and Bacon Jam
A little sweet, a little savoury and very, very tasty. You can use this delicious and decadent jam in a whole lot of ways: think a dollop with some crackers for an afternoon snack; slathered over fresh toast or a generous spoonful on a juicy beef burger. Let's be honest, it's pretty damn tasty straight out of the jar, too.
Ingredients:
450 grams of thick-sliced bacon strips finely chopped
8 shallots, finely chopped
1 onion, finely chopped
2 garlic cloves, minced
1 teaspoon chilli powder
1/2 teaspoon paprika
¼ teaspoon salt
¼ teaspoon pepper
½ cup whisky (leftover from your last bottle kill)
½ cup maple syrup
¼ cup balsamic vinegar
½ cup brown sugar
Method:
1. Cook the bacon over medium heat in a large frying pan until it's nice and crispy. When it's done, drain it on paper towel. Keep the oil in the frying pan and then add the shallots and onion. Cook over medium heat until they're nicely browned.
2. Stir in the garlic and cook them for around 30 seconds. Then add in the chilli powder, paprika, salt and pepper. Take the pan off the heat and stir in the whisky and maple syrup and turn the heat up and bring it to the boil. Cook it for 3 minutes and stir constantly. Then add in the vinegar and brown sugar and cook it for another 3 minutes — keep stirring!
3. Add in the bacon pieces and reduce the heat all the way down to low and let it cook for 12 minutes. Give it a stir every few minutes.
4. We're almost there! Take the jam off the heat and allow it to cool off a little bit. Split the jam into two parts. Pulse half of the jam in a food processor until it's smooth and then stir it through the chunkier half.
Alright, pour yourself a dram, get some crackers and taste the fruits of your labour!
We've adapted this recipe from Taste of Home.
Did you give it a go? Share your images with us on Facebook and Instagram.
Ready to receive world exclusive whisky?