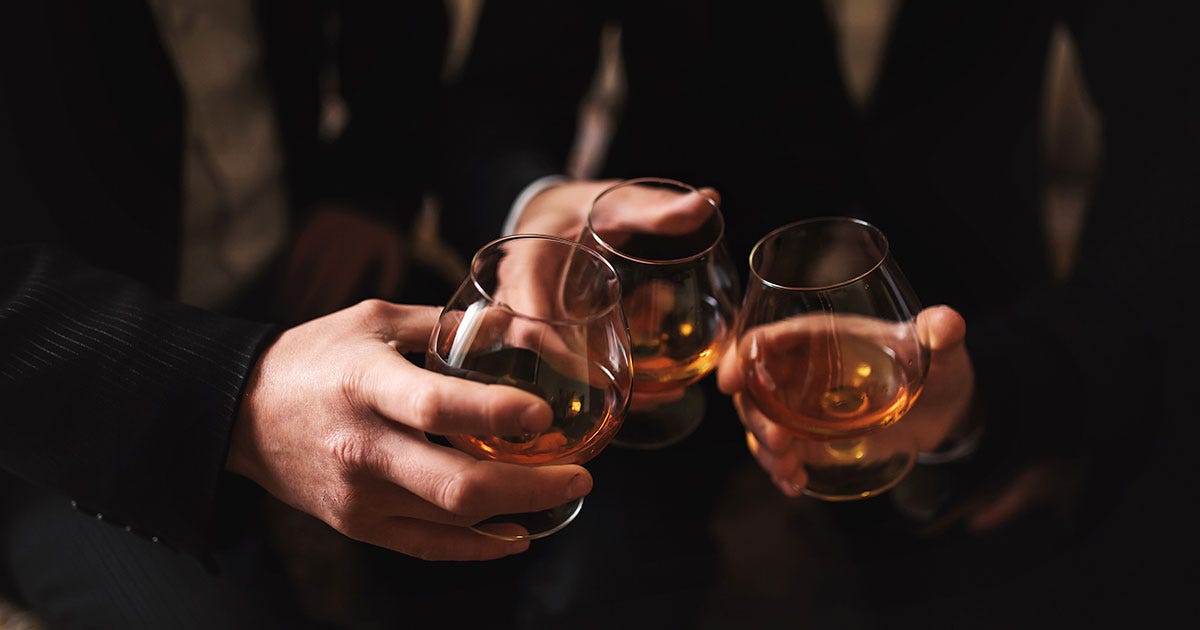 Who's buying all the Scotch?
Who's buying all the Scotch?
To the untrained eye, Scotland is naturally Scotch central, and while that's certainly true in terms of production it's a totally different story when you delve into the data of where most of it ends up. The big question we whisky fans wanted to know is this: who actually gets to enjoy most of the world's favourite premium spirit?
We took a break from our usual kind of whisky (drinking) research to dive into some serious number crunching, with a helping hand from our friends at the Scotch Whisky Association, to reveal the surprising top 13 countries buying the most Scotch: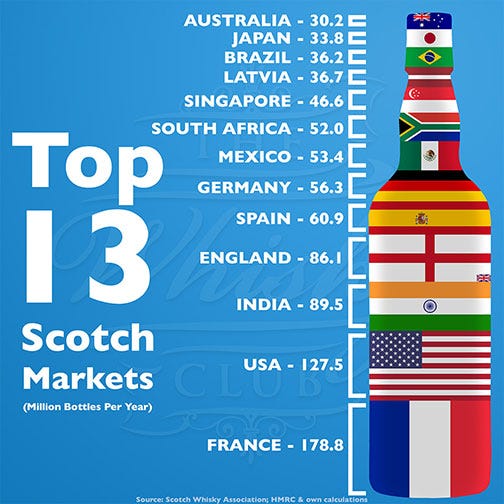 13. ?? Australia – 30,200,000 Bottles Per Year
We Aussies love a drink and are famous (or infamous?) around the world for our love of beer and wine, but it's our whisky scene that's now really taking off Down Under. Dazza and Shazza love to bring a bottle of Scotch or Tassie to a barbie. You little ripper!
12. ?? Japan – 33,800,000 Bottles Per Year
You know the country that invented Karaoke loves to party, and these days the Japanese are swapping the saké for Scotch along with their own amazing Japanese drams. Kanpai!
11. ?? Brazil – 36,200,000 Bottles Per Year
The Brazilian way of life is awesome – with one of the most varied and diverse cultures in the world – but you know what would really top it off? A Carnival for Scotch, that's what. Saúde!
10. ?? Latvia – 36,700,000 Bottles Per Year
Latvians love beer: their capital Riga even has a Beer Spa where patrons can take a warm beer bath while drinking a cold beer. On seeing their incredible bottle numbers you'd be fordiven for thinking they might be working on a Whisky Spa too, but the truth is slightly less exciting: they've basically seen business sense in redistributing Scotch to other neighbouring markets that are also thirsting for a decent dram. Priekā!
9. ?? Singapore – 46,600,000 Bottles Per Year
Since they famously banned chewing gum in 2004, Singaporeans are far more likely to be seen chewing on a good Scotch than gum. Just not quite in the astonishing 46M+ bottle volumes: along with Latvia, they're the only other country that's realised the massive commercial potential thanks to their central geographic location to serve as a hub for onselling the golden liquid – in addition to savouring it themselves of course. Yum Seng!
8. ?? South Africa – 52,000,000 Bottles Per Year
The South Africans know a thing or two about whisky, and while they've got a good choice of local product, the Saffas still throw back a rather decent amount of Scotch. Phuza!
7. ?? Mexico – 53,400,000 Bottles Per Year
Mexican food seems to take only a handful of ingredients to yield an amazing array of flavours. No wonder they appreciate the many flavour profiles that are found in Scotch. Chin-Chin!
6. ?? Germany – 56,300,000 Bottles Per Year
In between downing litres of lager from giant glassware, the Germans still manage to find time to consume a respectable amount of Scotch. How ever do they do it? Prost!
5. ?? Spain – 60,900,000 Bottles Per Year
Without Spain we wouldn't have Sherry, and that would sure make our whisky world a sadder place to be. Looking at Spain's Scotch whisky consumption figures, we're starting to develop a theory that there may be an ulterior motive for all that fortified wine production… Salud!
4. ??????? England (with just a little help from the rest of the UK ??) – 86,100,000 Bottles Per Year
England comes in at number four in its own right in terms of how much Scotch the Poms buy and drink in their own country, but it starts to get a little tricky when you try and get specific as to how many bottles we're talking precisely. We've worked with the wonderful Head of Economics at the Scotch Whisky Association to take the official Her Majesty's Revenue & Customs clearances of 'home produced whisky' charged with duty in the UK in litres of pure alcohol and converted it to 'bottle equivalents', with only a small minority of the 86.1M bottle result attributable to Scotland followed by Northern Ireland and Wales. Bonus whisky geek points if you spotted the tiny Union Jack on the corner of St George's Cross that represents this in the infographic. Cheers!
3. ?? India – 89,500,000 Bottles Per Year
India is the third biggest consumer of Scotch in the world. A stellar effort, yes, but consider this: they also consume a whopping half of the world's total production of whisky! Howzat!
2. ?? USA – 127,500,000 Bottles Per Year
America: land of the free, Route 66, country music and bourbon. But hang on – they buy how many bottles of Scotch there a year? More than almost any other country, as it turns out. Cheers!
1. ?? France – 178,800,000 Bottles Per Year
France is the undisputed home of fine drinks: Champagne, Bordeaux, Cognac, Armagnac; the list goes on and on of all the superb national drinks to choose from, with countless more than Scotland. Which is why no one expects this: it is also the global epicentre of Scotch whisky culture. Oui, the French know quality and consume more Scotch per capita than any other country on Earth!
As with many of the other top 13 countries, France's fanatical love of fine whisky soon evolved to producing their very own malts, pioneered by none other than our Whisky of the Month, Armorik, the original and highest awarded French single malt. As a result, 'Whisky de Bretagne' now holds the same prestigious 'Geographical Indication' as Cognac or Champagne.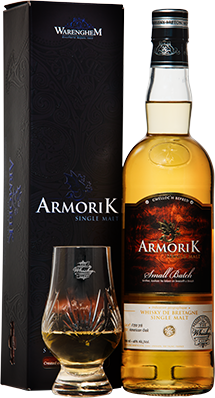 Ready to receive world exclusive whisky?