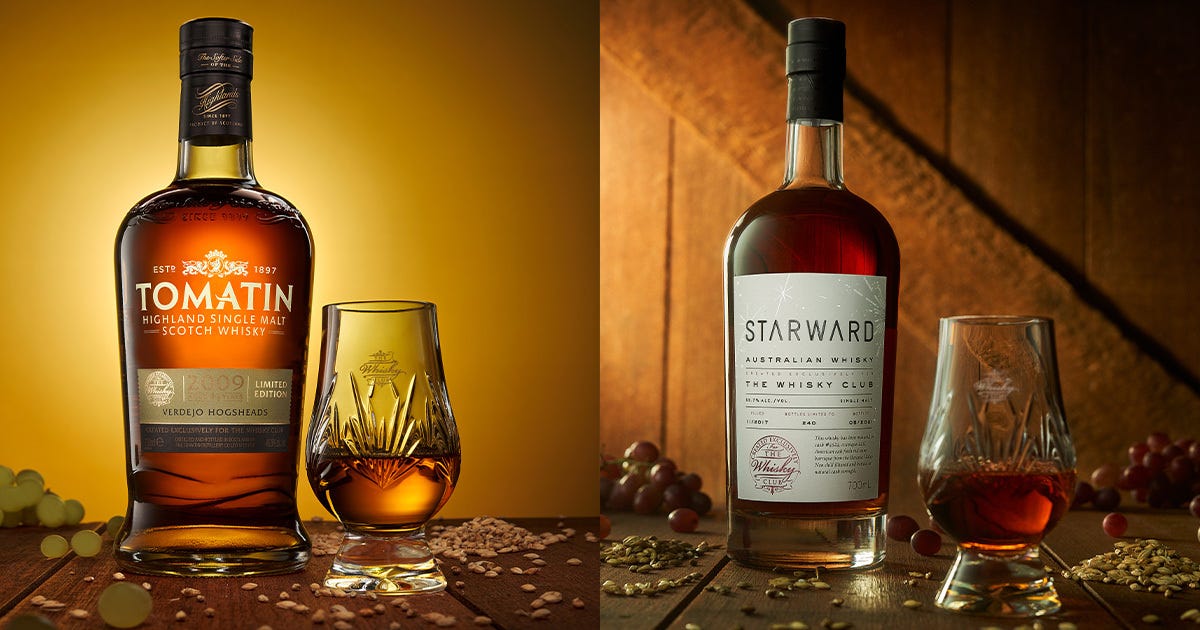 Why we love a good wine cask
Ahh, the wine cask. There's just so much to love.
You've probably noticed that distilleries are releasing a whole lot more wine cask maturations alongside more traditional ex-sherry and ex-bourbon casks.
There're a few good reasons for that. And it's not just because they're delicious.
There're more wine barrels out there than fortified to play with — more barrels equals more ideas. The Scotch industry is ever-evolving and the creative folk working in distilleries are forever looking for new ways to make us love our favourite drink even more. Bless them.
Also, wine doesn't spend a long time in the barrel and casks get turned over every 5-10 in the wine industry so they're more readily available.
So, why do we love a wine cask? The flavour, of course!
Wine casks have a HA-UGE flavour profile. While ex-bourbon casks usually impart vanilla and caramel notes to a spirit and ex-sherry casks add a touch of dried fruit and spices, wine casks inject big fresh fruit notes into the whisky.
Wine casks often add a bit of juicy sweetness to the flavour of the whisky, too. The style of the wine and also how long the amount of time the whisky rests in the cask will also play a big part in how sweet or fruit the whisky ends up tasting.
White wine casks impart flavours like orchard fruits (apple, pear, peach) and lovely French oak spices (chardonnay casks)
Grand Cru casks hold liquid that goes on to become champagne. These casks give a delicate depth and complexity that you couldn't get from other casks
Red wine casks impart berries, blood plums and rich fruits with more depth and bigger flavours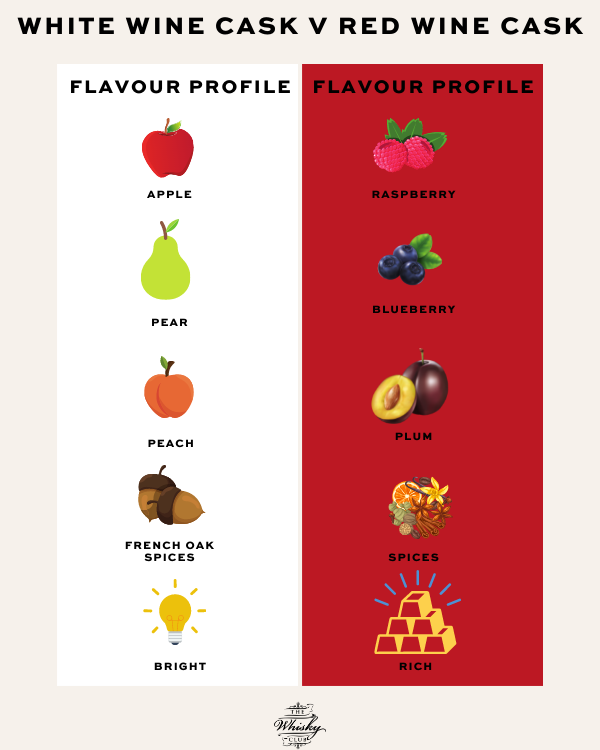 Cabernet Sauvignon are responsible for berry, cherry, currant and cedar flavours
Pinot Noir flavours are harder to pick up. But this style tends to add subtle fruit flavous like cherry and cranberry as well as tannic (dryness, bitterness and astringency) structure
Shiraz will give you notes of Blackberry, boysenberry, plum, pepper and clove
Chardonnay flavours include tropical fruit like banana and pineapple and sometimes butterscotch, vanilla and toasted caramel notes
Remember, on 5 August our very own Seamus Carroll, Buyer & Ambassador, and Zofia Zayons, Club Experience Office are hosting a wine cask virtual masterclass and Q&A session. It's going to be a lot of fun, so don't miss out! Check it out here. Missed out on this month's whiskies? We've reserved some of our Tomatin 2009 Verdejo Cask Limited Edition and our Starward Fresh Red Wine Single Cask for the masterclass. So if missed out on a bottle, head to your account to get yours now.
Ready to receive world exclusive whisky?