July 2021
Tomatin 2009 Verdejo Cask
Whisky lovers, this is huge! Tomatin Verdejo Limited Edition is the world's first ever Scotch whisky matured in amazing Spanish Verdejo casks. Put simply, it's going to become your new best friend, and you can only get it from the Club.
United Kingdom
Nose White orchard fruits of Golden Delicious apples and pears delicately dance in the glass alongside strawberries with a hint of lime and feijoa. Candied citrus notes sit well with profiteroles before macadamia and clove ease into bread and butter pudding.
Palate Bright citrus and fruity notes of kiwifruit and peaches showcase the wine influence. Fresh summer raspberries flanked by milk bottle lollies dazzle the palate, while pana cotta drizzled with boysenberry syrup settles in.
Finish Vibrant, weighted and balanced. Oven baked scones with blackberry jam and a small grating of chocolate shavings complement the light spiced oak that lingers on the back of the tongue.
Food Match Spinach and ricotta pie with a side of chutney followed by a healthy slice of chocolate ripple cake.
Overview
Tomatin spirit, which multi-award-winning Master Distiller Graham Eunson describes as being of 'a fruity character, quite gentle and delicate but very robust', is the perfect base for experimenting with different cask types, and as such, the distillery has a spectacular cask regime to say the least. Now, in an exclusive coup, we're bringing you the world's first ever Scotch whisky matured in Verdejo casks from Spain.
The story began years ago, when in an absolute masterstroke, and a first for whisky, Tomatin Distillery sourced Verdejo white wine casks from Belondrade y Lurton wines in the Rueda region of Spain to mature their trademark delicate spirit. For centuries, Rueda has famously been growing Verdejo grapes and creating Verdejo wine - a crisp, bright white wine similar to a Sauvignon Blanc, but then along came Didier Belondrade of French Wine fame, who decided to put a twist on the classic Verdejo release. He created a Verdejo wine, but in a French style using 300L French Oak casks which mellow the crisp wine giving it a creamy, luscious mouthfeel and these casks then made their way to Tomatin, where they truly fulfilled their destiny! After a quick invigorating light char they were filled with Tomatin spirit and the rest is Scotch whisky history.
That whisky is now ready and it's bloody delicious.
A few lucky Scots were teased with small single cask releases last year, but the bulk of the whisky was earmarked to create a world-first exclusive just for us, Australia's biggest community of whisky lovers, aren't we lucky!
This superb, world-first Tomatin perfectly melds the orchard fruits, creamy texture and light spices of both the Verdejo casks and Tomatin's unique Highland spirit into a truly special single malt.
Get set for waves of Golden Delicious apples, candied citrus and profiteroles on the nose, peaches and panna cotta on the palate and a rolling vibrant finish of chocolate, blackberry jam and light spiced oak - it's a world-first whisky coming your way at just $135 a bottle.
Orders for Tomatin 2009 Verdejo Cask have now closed. Sign Up Free to Australia's biggest whisky community now to get incredible single malt whiskies delivered straight to your door.
THE SPECS
Maturation: Fully matured in Verdejo white wine casks from the Rueda region in Spain
Ready to enjoy a world-class whisky collection?
Your free Club Membership gives access to exclusive single malt from Scotland, Australia and the world's best distilleries. Enjoy the unrivalled buying power of Australia's biggest whisky club.
Tomatin's History
Tomatin is a remote Highland distillery located up in the Monadhliath Mountains near Inverness in Scotland. At 315 metres above sea level, it's also one of the highest distilleries in Scotland after Dalwhinnie, about 40 miles South West.
Like many distilleries, illicit distillation was said to have taken place on the site well before the distillery was officially established, it's said whisky had been made there as far back as the 15th Century. In fact, the name Tomatin translates to "Hill of the Juniper Bush" - with juniper wood being the wood of choice for use in secret distilleries, due to the fact that it gives off no smoke...
The distillery, known then as the Tomatin Spey District Distillery Ltd, was officially established in 1897 during the height of the Victorian Whisky Boom. Despite the elevation and apparent isolation, the site was rather a good one for a distillery, being nearby a newly built railway, and it's just 29km south of Inverness. Not to mention the constant supply of soft, Highland water from the Alt na Frith.
Predictably though, Tomatin suffered during the ensuing industry-wide bust brought about by the collapse of flamboyant blenders, Pattinsons Ltd. The team managed to ride out the worst of the bust but eventually filed for bankruptcy in 1906. A new consortium stepped in, and by 1909 it was business as usual at the renamed Tomatin Distillery Co Ltd.
The next forty years or so were fairly uneventful until the 1950s when Scotch whisky once again entered a boom. This boom however lasted nearly 30 years and set the foundation for whisky as we know it today, and Tomatin was right at the front of this charge.
Seeing early signs of good times ahead, the enterprising folks at Tomatin started thinking big, really big. In 1956 they doubled their stills from two to four, then added another two in 1958 and by 1974, boasting 23 stills, Tomatin was the largest distillery in Scotland producing a vast 12 million litres of spirit annually. To put this in context, it was (in production terms at least) larger even than Roseisle, Diageo's $80million mega-distillery. This period also saw the emergence of single malts for the first time and while the majority of the whisky made at Tomatin was sold in bulk for use in well-known blended whiskies such as J&B, Chivas Regal and Johnnie Walker, it was also one of the few distilleries to offer a single malt, initially a 5 year Old, and later also a 10 Year Old.
Unfortunately the success and expansion of Tomatin was also its demise. Rapid expansion exposed it to risk and while it managed to weather most of the early 1980s recession, it finally went bust in 1984. Fortunately help was close at hand in the form of Tomatin's biggest customer, Takara Shuzo Co., who also happened to be Japan's largest drinks producer. Japan, like the USA, had exited the recession early and Takara Shuzo Co. seized the opportunity to become the first Japanese company to fully own a Scottish distillery. By 1986 it was once again business as usual at Tomatin.
Whisky making is a way of life at Tomatin with more than eighty percent of the work force living at the distillery. Back in 1897 the distillery's remote location meant there was no access to a local workforce, so the architect included a number of houses to accommodate workers and their families. Over the years the distillery has added more houses and today the settlement of Tomatin has 30 houses, many of which have now been inhabited by several generations of the same family, all working together at the distillery.
In terms of production, Tomatin is still one of Scotland's top 10 malt whisky distilleries, despite eleven of the stills being decommissioned in 2000, and boasts, in addition to its own village; an onsite cooperage, 14 warehouses, a vast reserve of maturing whisky and an unwavering focus on producing excellent Highland single malt.
In 2013 Tomatin launched the peated Cù Bòcan single malt, that's produced during the last week of the year.
Their efforts are certainly not in vain if the recent string of awards are anything to go by, with Tomatin Decades II receiving a Master award medal at The Spirits Business - Scotch Whisky Masters Competition in June 2021. Tomatin Legacy won Double Gold at the 2021 San Francisco World Spirits Competition, along with the 12, 14, and 30 Year Olds, and their Global Travel Retail range also bringing home Gold. The team's dedication to whisky excellence was recognised and celebrated at the 2016 Icons of Whisky Awards, when their industry peers voted Tomatin 'Distillery of the Year'.
Having been the biggest, Tomatin is now well and truly on its way to being the best.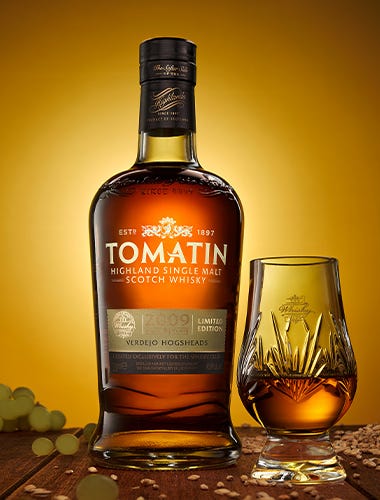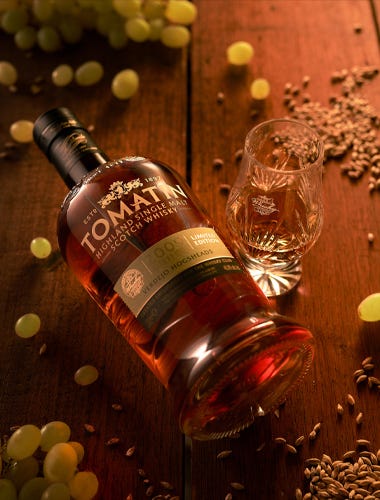 Distillery Facts
Origin: Tomatin, Inverness, Inverness-Shire, IV13 7YT, Scotland, United Kingdom
Water Source: Alt-na Frith
Washbacks: 12, Stainless Steel
Stills: 6 wash and 6 spirit
Capacity: 5,000,000 litres per annum
Ready to enjoy a world-class whisky collection?
Your free Club Membership gives access to exclusive single malt from Scotland, Australia and the world's best distilleries. Enjoy the unrivalled buying power of Australia's biggest whisky club.
Stop scrolling. Start dramming.