October 2019
BenRiach 2010 First-Fill American Oak
We invited Speyside legends, BenRiach Distillery, to create something special for Australia's biggest community of whisky lovers—and they hit back with a luscious, world-first rare release just for us!
United Kingdom
Nose Sweet bourbon oak and mountain herbs with lemon peel and crème brûlée
Palate Honey, caramelised fruit and toasted oak
Finish Lingering creamy vanilla
Food Match Salted caramel ice cream
Overview
BenRiach is famous for its incredibly wide range of whiskies. Creativity is the name of the game, with three different styles of malt in production – unpeated, peated, and triple distilled, as well as some rather experimental casks. Not only that, it's one of only two remaining Speyside distilleries to still do on-site floor maltings. Their stills are traditional onion-shaped copper pot stills, but interestingly don't have the boiling reflux bubble in the neck.

The distillery's core range includes the Flagship range of unpeated whisky and includes NAS, 10, 12, 21, 25, and 35 Year Olds, as well as the Peated range featuring NAS, 10, 21, and 30 Year Olds. The core range has grown over the years to include the Limited Release range, featuring an ever-increasing number of special and curious releases that have earned BenRiach its cult status amongst serious malt enthusiasts.

As mentioned above, BenRiach likes to get creative and as such use a wide range of cask types to mature their whisky, and are all generally matured in American oak casks before being finished in a wide range of casks including Pedro Ximénez, Madeira, Dark Rum, Tawny Port, Claret, Burgundy and Rioja.

While these cask finishes are great, they also introduce so many flavours to the whisky, you simply never get a chance to experience the rather unique BenRiach spirit without the extra cask influence. And that's a real shame. While there have been a small number of super hard-to-get American oak Single Cask releases, we've got a real coup this month – the world's first-ever 100% first-fill American oak ex-Bourbon cask single vintage vatting from BenRiach, and it's been created exclusively for Club Members!

Master Blender Dr Rachel Barrie and her team have hand-selected a range of exceptional ex-Bourbon casks laid down in 2010, vatted and bottled them at 46% ABV, non-chill filtered and natural in colour of course. The result is something truly special, and a rare glimpse at BenRiach's spirit in its purest form; velvety smooth, beautifully complex and love at first sip. A rich and fruity feast of sweet bourbon oak and caramelised fruit perfectly balanced with lemon peel, decadent crème brûlée and just a touch of honey… rounded off with a long, lingering creamy vanilla finish that will have you coming back for a second helping – and many more.

Of course, it goes without saying that this is a hugely collectible one-off whisky, but it's also stunningly delicious, so do yourself a favour and avoid the "should I drink it, or should I keep it" dilemma, and be sure to hit the Double Up button and grab a spare for the shelf. You know you want to.
WHISKY SPECS
Maturation: Matured in first fill American oak ex-Bourbon casks
Ready to enjoy a world-class whisky collection?
Your free Club Membership gives access to exclusive single malt from Scotland, Australia and the world's best distilleries. Enjoy the unrivalled buying power of Australia's biggest whisky club.
BenRiach's History
To quote Jim Murray:

"It was with delight, while sworn to secrecy, that I witnessed BenRiach gaining it's independence, when a team led by the experienced and infectiously enthusiastic Billy Walker acquired the Distillery. This independence will allow BenRiach to unlock it's secrets and bring it's fine and surprising malts, officially to the market in their natural state for the first time. There cannot be a single true lover of whisky who will not rejoice because of it."

The BenRiach (meaning 'speckled mountain') Distillery has had an interesting start to say the least. It was established in 1898 by John Duff, who had set up the famous Longmorn Distillery five years prior. The two distilleries were joined by a private railroad on which 'The Puggy', a steam locomotive, used to transport coal, barley, peat and barrels. A fantastic set up by all accounts in the golden years of whisky making, but sadly the BenRiach's fortunes were very short lived. You see BenRiach was just one of at least 33 Scottish distilleries established in the industry boom of the late 1890s to cater for consumers' ever-growing thirst for the golden nectar, 21 of which were also in Speyside… 100 points if you can guess what happened next… Yes, it all comes crashing down in 1899 when Pattison's, one of the major buyers at the time, went into liquidation in what is now known as 'The Pattinson Whisky Crisis'. An all-too-familiar tale of boom and bust.

Thus John Duff was forced to sell his distilleries in the first of a long chain of successive BenRiach acquisitions through it's aptly speckled history, and the Longmorn Distillery Co Ltd bought BenRiach in 1900. Longmorn shut the stills but continued to use Benriach's maltings. Glenlivet Distillers Ltd then bought BenRiach in 1965 and started producing spirit again, only to sell to Seagrams in 1977. And so it continued as a second set of stills was added in 1985 and growth ensued up to the point Seagrams was acquired by Pernod Ricard in 2001 and the distillery incredibly wound back operations to just three months of the year.

However, come 2004 the tables finally turned to the delight of Jim Murray and others, making whisky history, as the distillery was acquired by an independent consortium led by industry legend Billy Walker and backed by whisky mad South Africans Wayne Kieswetter and Geoff Bell. The BenRiach Distillery Company Limited was formed and at long last BenRiach won it's independence! Not keen to sit around, the guys have turned BenRiach into a bit of cult distillery and expanded their portfolio in 2008 with the acquisition of the Glendronach distillery followed by the Glenglassaugh distillery in March 2013.
In 2015, The BenRiach Distillery Company won the Global Whisky Distiller of the Year at the Icons of Whisky Awards, a win that no doubt caught the attention of American giants Brown-Forman, who scooped the company up the following year. This ushered in a new era as these revered distilleries came under the care of another whisky legend, Dr Rachel Barrie, whose incredible work over the past years has seen BenRiach, more than ever, super charge its cult status among malt lovers.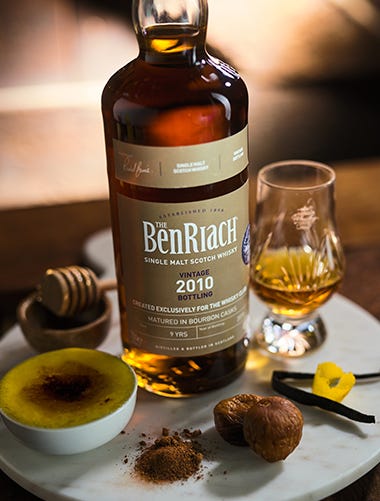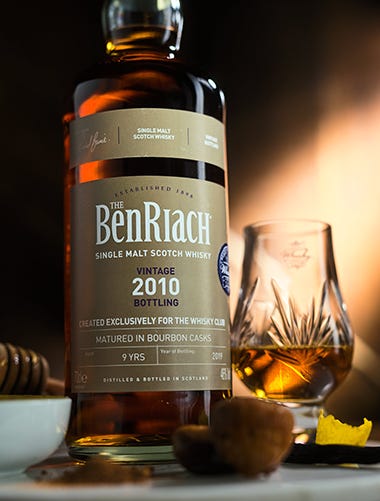 Distillery Facts
Origin: By Elgin, Morayshire, IV30 8SJ, Scotland, United Kingdom
Water Source: Burnside Springs
Washbacks: Stainless Steel
Stills: 2 wash and 2 spirit
Capacity: 2,800,000 litres of alcohol per year
Ready to enjoy a world-class whisky collection?
Your free Club Membership gives access to exclusive single malt from Scotland, Australia and the world's best distilleries. Enjoy the unrivalled buying power of Australia's biggest whisky club.
Stop scrolling. Start dramming.