May 2022
Bladnoch Ember Casks is as close as you'll ever come to drinking a campfire-toasted whisky marshmallow. And not only is it Bladnoch's first-ever triple-cask whisky, it's also the next instalment of Dr Nick Savage's world exclusive Bladnoch Whisky Club series.
United Kingdom
Nose Bright mandarin, summer berries, Crème Brûlée and sticky nougat, alongside dates and vibrant toasted oak.
Palate Rich apricots, oven-baked apple and cinnamon, homemade ANZAC biscuits, caramelised almonds, and campfire toasted marshmallows.
Finish Long and satisfying with juicy baked tropical fruits and chocolate mousse.
Food Match Dry rubbed, slow smoked beef brisket with potato salad
Overview
With past Whisky Club Bladnoch releases being sought after worldwide, it was up to Master Distiller Dr Nick Savage to create something not only the Club, but the world had never seen from the distillery. Working his way through the extensive Bladnoch cask list, he discovered a triple-cask combination that elevates Bladnoch's flavour profile into a whole new experience.
This is whisky genius.
Starting with 60% American oak ex-Bourbon casks, he then brought in 20% new American oak casks, and for the first time ever 20% peated Oloroso Sherry Spanish oak quarter casks. With moreish notes of toasted marshmallows, chocolate mousse and the long-lasting campfire embers from which it takes its name, Bladnoch Ember Casks is bottled exclusively for the Club at Dr Nick's choice cut of 53.5% ABV, non-chill filtered, and natural colour.
"You've got the classic nature of the ex-Bourbon giving that toffee, citrus, and tropical notes that you get out of American oak," says Dr Nick. "But you've got it with a lot more intensity with the new oak. The Spanish oak with the Oloroso quarter casks starts to add that rich mouthfeel, the dried fruits and rich apricots start to come through alongside the caramelisation and the nuttiness of the roasted almonds… It's a hell of a dram. I think everyone is very proud of it and I think Ember Casks really does just exemplify what you're going to get."
It's the third time in Club history that we've featured Bladnoch as our Whisky of the Month. The previous two have gained massive followings and these days fetch up to $360 each at auction. So, at $120 Bladnoch Ember Casks is a must-have for your whisky collection.
Limited stocks remain, so don't miss out. Not yet a Member? Sign Up Free now to get your hands on a bottle while stocks last.
THE SPECS
Maturation: 60% ex-Bourbon American oak, 20% new American oak, 20% peated ex-Sherry Spanish oak quarter casks
Ready to enjoy a world-class whisky collection?
Your free Club Membership gives access to exclusive single malt from Scotland, Australia and the world's best distilleries. Enjoy the unrivalled buying power of Australia's biggest whisky club.
Bladnoch's History
For Bladnoch we're headed deep into the south of the Scottish Lowland – a Scotch whisky region we don't often visit – and a distillery that sits even further south than the Isle of Arran and Campbeltown. Bladnoch has had more than its fair share of ups and downs, not to mention a revolving door of owners, and given its location close to the sea crossing from Stranraer to Larne, it's no real surprise that it's been saved by the Irish not once but twice. This time around though its future's looking better than ever, thanks to Aussie entrepreneur and lifelong whisky fan David Prior.
The Bladnoch story started way back in 1817, when brothers John and Thomas McClelland gained a licence to produce whisky on the family farm in Bladnoch. As their whisky business grew, the buildings slowly evolved to become less farm, more dedicated distillery facility. On the whole, business was good, and the distillery remained in the family's hands until 1905, when it was closed (for the first of many times) due to over production and low sales, the same fate as much of the industry after the naughty Pattison boys went bust.
In 1911 the Irish stepped in to help when Belfast distiller Dunville & Co., who owned the Royal Irish Distillery, saved Bladnoch Distillery and continued whisky production on and off for the next quarter of a century. In 1937 Scottish powerhouse DCL came out to say that Irish whiskey had no future and sparked the biggest hissy fit in whisky history. The Irish took offence to being told their whiskey had no future, and bizarrely tried to flog Bladnoch to DCL, who refused to buy it from them, so they simply packed up their bat and ball and went home, amazingly leaving the profitable distillery, and its stock, in liquidation.
Bladnoch was soon scooped up by Ross & Coulter who promptly offloaded the stock and the equipment was sent to Sweden. Things were, at this point in time, looking rather grim for Bladnoch.
What was left of the distillery changed hands several times following this, though it wasn't recommissioned until the 1956 purchase by Bladnoch Distillery Ltd., this company in turn being bought by Ian Fisher in 1964. Along with this sale came a significant cash injection, the stillhouse being expanded to four stills in 1966 just in time for yet another change of ownership to Inver House Distillers Ltd. in 1973. Inver House moved it on to Arthur Bell & Son in 1983, with Bell's soon being taken over by Guinness/UD (now Diageo). Are you getting dizzy yet?
Diageo shut the distillery down again in 1993 and Bladnoch was converted to a heritage centre. Things went from bad to worse when the year after, two brothers from Northern Ireland, Raymond and Colin Armstrong, bought the site with grand plans of converting it into a holiday village. This tragic and somewhat permanent demise of the distillery was thankfully avoided when the brothers got bitten by the whisky bug, and decided that, despite the conditions of the sale they would actually rather give making whisky a crack (or should that be a craic?) themselves. The brass at Diageo were less than keen for this to happen, and after some six years, the brothers finally negotiated permission to make a barely profitable 100,000 litres a year
To survive, Bladnoch branched out into hosting events, tourism, and renting out their sadly under stocked warehouses to other distilleries. Resurrecting the distillery was clearly a bad business move for the brothers, who undoubtedly would have had greater success with their initial holiday village plans. Distillation ceased at Bladnoch in 2008, the facility mothballed in 2009, and it was back into administration yet again in 2014.
Timing is everything as they say, and in 2014 the timing was perfect for Melbourne entrepreneur David Prior, who was looking for his next venture having just sold his five:am yoghurt empire. It didn't take long for David to make history, becoming the first ever Australian to own a Scotch Whisky Distillery.
Prior is not a man to do things by halves. After spending around £20m to buy the place, it took another £5m to get the distillery operating again. He brought industry legend and 46 year industry veteran Ian Macmillan on board as Master Distiller to oversee the revival, as he had already done at Deanston, Tobermory and Bunnahabhain. Bladnoch was gutted and treated to a new state-of-the-art refit, and in June 2017 spirits flowed once again.
The two-year project not only saw all of Bladnoch's buildings completely renovated and fitted out with new distilling equipment, but the distillery's output doubled thanks to the addition of an extra pair of stills.
 At the time Prior purchased the site, the equipment was in extremely poor condition, to the point it was considered potentially unsafe to use, so virtually the whole lot got ripped out and replaced with the latest state-of-the-art equipment. The workings of Bladnoch are now 99.99% brand-new.
Like a classic car fitted with a modern driveline, Bladnoch now captures the best of both worlds – the beautiful old buildings by the River Bladnoch, barely changed in 200 years, but with all the modernity inside to make sure everything "just works" as it should – living the whisky dream!

With an aim of making a traditional Lowland style whisky, and with samples of the original Bladnoch spirit in hand, Macmillan redesigned the stills to create a spirit with the grassy, linseed oil feel of the original, but less dry with more honey, fruitiness and weight to it. In keeping with early production through to the 1960s, Macmillain soon got a heavily peated version underway. He did oversee the superb Ledaig for years after all!

So, we've got one of Scotland's oldest distilleries, filled with brand new equipment, and we can hear you crying out now that great whisky should be hand-made, and that computers just don't do it as well as good old-fashioned human grey matter. You'll get no argument from the team at Bladnoch there – with the belief automation destroys the myth of what Scotch whisky is, and that it should be hand crafted. As such, you'll not find automation in Bladnoch distillery.

It's often stated that there are but three ingredients in whisky – malted barley, water and yeast. It can be said that there's a fourth ingredient that's just as important – as corny as it sounds – the people who make it. It's true though, because people who are passionate about what they do produce a better product. What was the last thing your computer was passionate about?

With two trained men running each shift – a stillman and a mashman, Bladnoch's distillers actually know what they're doing, and why they're doing it. It's an understanding you just don't get when you're sitting pressing buttons on a computer or control panel. Like driving a car with a manual gearbox instead of an automatic, you know so much more about what you're doing and, more importantly, why you're doing it, when you do it by hand.

The other big job Macmillan was tasked with when he got the job was to go through the existing stocks in the warehouse. Nosing, tasting and testing over 2,500 casks sounds like fun to start with, but the enormity of the task would soon be realised. Luckily Ian knew just what he was doing, and was able to test and take notes, recasking those that needed it into new, better casks to create the flavours he wanted.
 After testing all the casks, Macmillan noted Bladnoch's production style varied over the years, from light and floral through to nutty and spicy during the Bell era, then a more delicate, older style during the 2000s, not to mention the aforementioned peated whisky.
2019 was another big year of change for Bladnoch, with Macmillan leaving early in the year, and ex-Macallan Master Distiller Dr Nick Savage making the move to the Lowlands, joining new Distillery Manager Neil Bulloch in the team. Additionally, their new Visitors Centre was opened, featuring an historical gallery, gift shop, the Melba Café, and a bar where visitors can sample the entire range of Bladnoch Single Malt, and Pure Scot Blended Scotch Whiskies. The centre was opened September 11 2019 by The Duke and Duchess of Rothesay (Charles and Camilla) who unveiled a plaque and signed a cask for release at a later date. After trying a dram of Bladnoch, His Royal Highness stated, "it keeps the mind, body and soul all together."
David, Nick, Neil and the team continue grow and improve Bladnoch, filling their beautiful, quintessentially Lowland grassy, malty spirit into barrels for release in coming years.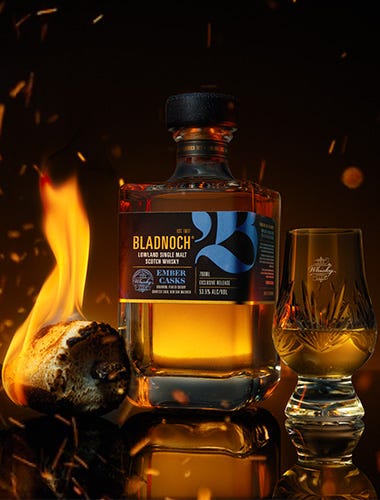 Distillery Facts
Origin: Bladnoch Distillery, Galloway, Scotland DG8 9AB
Water Source: Bladnoch River
Washbacks: 6, Douglass fir
Stills: 2 wash and 2 spirit
Capacity: 1,500,000 litres per annum
Stop scrolling. Start dramming.