October 2022
Caroni Single Cask 23 Year Old Rum
The world's most sought-after rum has washed up on Australian shores. This may be your only chance to grab hold of a bottle from this legendary lost distillery.
Trinidad & Tobago
Nose Ripe bananas and red berries alongside sticky toffee, hazelnut praline and cedar wood.
Palate Classic funky Caroni notes with tropical fruits and overripe banana, easing into rich heavy caramel and vanilla pod.
Finish Long and sticky, sweet berries and rich brown sugar compliment fresh mint and dark oak.
Overview
The world's most sought-after rum has washed up on Australian shores and we have the entire allocation. Put simply, Caroni Rum is to rum collectors what Port Ellen is to whisky collectors.
Famous for its remarkably heavy, rich spirit, Caroni was the British Navy's rum of choice for years. Then, in possibly the most sacrilegious decision in history, the Caroni distillery was demolished in 2002 after being taken over by rivals, Angostura.
However, all it seems was not lost. In 2004, Italian Luca Gargano stumbled upon a boarded-up warehouse in the middle of the Trinidad jungle which housed the last remining casks of Caroni. Gargano brokered a deal for a portion of the stock and has been releasing a small parcel of casks every year since.
Suffice to say, its limited supply has kept the world's rum connoisseurs utterly captivated.
Caronimania set in as soon as the distillery closed with the last remaining bottles hunted down by a global cult following of rum, Cognac and whisky lovers, happily paying up to $7000 a bottle to savour what remains of this lost legend.
We've had to call in favours from all corners of the globe to track down a very small amount of liquid gold from one of the last remaining casks filled by Caroni: Caroni 1998 Single Cask. Put simply, Caroni really is one of those things that every discerning whisky drinker needs to taste at least once in their life. And at $850 a bottle, that time has come. This really is incredible value for money.
Rockstar enough to crack yours open? There's a rum-heaven feast of ripe bananas and praline on the nose, dark fruits and heavy caramel on the palate, and the kind of long finish of sweet berries, brown sugar, honey and dark oak that never leave your memory, even weeks after tasting it.
The Caroni is also the perfect pairing for our latest stunning Balvenie release which spent the final seven years of its 27-year journey in Caroni casks.
This release brings together two titans of the dark spirit industry. Needless to say, stock is incredibly limited, so Sign Up free now to get your hands on a bottle, especially if you want to pair both the Balvenie and the Caroni together.
THE SPECS
Maturation: Refill Hogshead
Ready to enjoy a world-class whisky collection?
Your free Club Membership gives access to exclusive single malt from Scotland, Australia and the world's best distilleries. Enjoy the unrivalled buying power of Australia's biggest whisky club.
Caroni Distillery's History
Caroni Distillery was established on the grounds of an old sugar factory on the Caroni Plains, not far from Port of Spain, Trinidad, in 1918. The distillery was lucky enough to have its own sugar processing plant on-site, providing it with a continual supply of molasses. Thanks to its labour-intensive production methods, Caroni employed over 9,000 people at its peak.
In 1936, sugar giants Tate & Lyle acquired Caroni, making the facility their Trinidad HQ while they established major operations on the island. At the time, Caroni rum was a staple in the British Navy's rations, but even this was not enough to ensure long-term success for the distillery.
The local sugar industry was in crisis, and the Trinidad and Tobago government had started subsidising sugar growers to keep them from going under. In 1970, Tate & Lyle sold 51% of the company to the government, which by 1975 had complete ownership. The reduction of sugar supply hit the rum distilleries of Trinidad hard. Once home to over 50 distilleries, by the 90s there were only two survivors: Angostura and Caroni.
Having lost money on Caroni for 25 years, the decision was made to minimise the government's share in the business. Despite protests, the plan was to sell 49% to Angostura. Things didn't quite go to plan as a stalemate was reached when placing a value on the stock in Caroni's warehouse. Angostura ended up getting the distillery and the majority of the 18,000 barrels, but by then it was too late. Trinidad's sugar-growing industry had collapsed and there was nothing left to do but to close Caroni's doors for good. The distillery was demolished, its buildings left abandoned.
And, outside of Trinidad at least, nobody really seemed to care.
But what happened to the barrels Angostura didn't get?
Enter Luca Gargano, CEO of Velier, Italian fine wine and spirits importer and distributor. Gargano came across the remains of the distillery on a 2004 visit to Trinidad and was then shown the old boarded-up warehouse still full of thousands of casks of Caroni rum that Angostura had missed out on. Some of these casks dated back as far as 1974.
Knowing he'd hit the jackpot, Gargano soon signed a deal to buy the lot. He shipped some barrels back to Italy straight away, while leaving others behind for a bit more time maturing in Trinidad's tropical climes.
Since then, Velier has been releasing Caroni in very small, limited batches. As always, when the quality is as high as the supply is low, demand is through the roof. Caroni has become the rum collector's rum, with many of these rare releases valued well into the thousands of dollars. As such, the distillery has been likened to the legendary Port Ellen whisky distillery of Islay.
Caroni employed a wide range of stills over its relatively short lifespan, starting with a cast iron still in 1918. A wooden Coffey still was added to the mix in 1936, then in 1957 a single-column still was brought in from the Esperanza Estate and used to make high-ester rum. This still is said to be responsible for Caroni's signature style. A German four-column still was installed in 1980 and in 1984 both the 1918 and 1936 stills were retired and replaced with a two-column still and a pot still.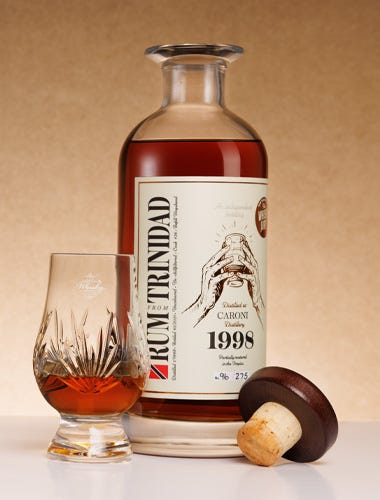 Distillery Facts
Origin: Caroni Plains, not far from Port of Spain, Trinidad
Stop scrolling. Start dramming.