May 2022
Corowa Peated Single Barrel
This is peated Aussie whisky how it should be… Get ready for a peated first-fill American oak single cask that invokes the character of Islay, while being hand-crafted on the banks of Australia's mighty Murray River by Corowa Distilling Co.
Australia
Nose Tropical fruits, sweet honey, and sticky marzipan, with peanut brittle, blanched hazelnuts, and lovely rich smoky peat.
Palate Creamy vanilla and icing sugar, candied pineapple, sweet roasted nuts, and heavy peat.
Finish Bold and punchy with sweet smoke balanced by caramelised oak and campfire coals for a tantalisingly long finish.
Overview
When we think of peated whisky, it's natural to think of Scotland, in particular Islay. Most of the whisky from the island's nine distilleries features an amazing smoke and peat influence that separates Islay from the rest of Scotland's whisky regions.
Our mates at Corowa Distillery have pulled off what every Aussie whisky lover's been waiting for, a peated Aussie single malt that rivals Islay's best. It was an honour for us to be able to work with the Corowa team to select the best pair of casks to be bottled, and what we found took us straight to Islay!
No punches were pulled here. The malt came from none other than Bairds in Inverness (the malt supplier for Octomore) and was peated to a stonking 52ppm. Showcasing the best Scottish malt, alongside Australian production and maturation methods, the spirit then spent four years in first-fill American oak ex-Bourbon barrels.
Created Exclusively for the Club, this is their oldest peated release ever and it's packed with tropical fruit, vanilla, rich smoky peat, honey, and campfire coals that will bring a satisfied smile to even the most discerning peat-head's dial. Bottled at 59.7% and 60.8% ABV without chill-filtration or colouring, this is peated Aussie whisky as it should be…
Orders have now closed. Sign Up Free now to get your hands on our upcoming releases.
Bottle size: 500ml
THE SPECS
Maturation: First-fill American oak ex-Bourbon barrel
Ready to enjoy a world-class whisky collection?
Your free Club Membership gives access to exclusive single malt from Scotland, Australia and the world's best distilleries. Enjoy the unrivalled buying power of Australia's biggest whisky club.
Corowa Distilling Co.'s History
Established in 1858, Corowa is a town of around 5,500 that sits on the bank of the Murray River, the border between NSW and Victoria. Across the river from the Victorian town of Wahgunya, it's also just a 12-minute drive to Rutherglen.
Grain has been grown on the farms surrounding Corowa since the 1870s, and in 1887 a flour mill company was formed. The Netherby Roller Flour Mill was built in the town to take advantage of the river and the easy transportation it afforded. A major employer for the area, they say the mill really built the town. Grain from the mill was sold not only around the country but around the world. The original mill was destroyed by fire in 1920, to be replaced by the current buildings. By the 1950s some three tons of flour were being processed an hour, requiring the construction of a new block of concrete silos.
Thanks to improved road transportation, the mill closed its doors in 1970. The machinery was removed, the building was left to decay, and the whole town felt the pain of its loss.
The late 80s saw South American milling company Bunge buy the site, with plans of using it alongside their flour mill in Albury to extend their Australian operations. Goodman Fielder acquired Bunge in late 1998 and sold the mill to Corowa Council in 2001, two years after it was listed on the New South Wales State Heritage Register. The council had plans for a waterworks project on the site, which never came to fruition.
In considerable disrepair, and with the added hurdles Heritage Listing bring, it remained vacant until 2009 when the local father and son team of Neil and Dean Druce purchased the site for the princely sum of $1, along with a promise to bring the buildings back to life and put the town on the map.
The Druces had some idea what they were getting in for, having already started a chocolate and licorice business in a flour mill in Junee. However, the building was full of rodents and birds and was falling to pieces. The gardens were overgrown, and it took eight months to get to the stage you could simply walk through the door. It wasn't until 2016 that they were ready to start distilling…
While dab hands at making chocolate and licorice, whisky was something altogether different, and while they knew how to drink it, they weren't so good with making it. So they made trips to Tasmania and Scotland to learn from the best in the business. Dean even spent three months at Kilchoman on Islay learning how to distil. Together with one of Australia's youngest Head Distillers, Beau Schilg, AKA the 'Dreaded Distiller', they've transformed the derelict mill into a breathtaking space, housing not only the distillery but a chocolate factory, restaurant, and function space.
Being Corowa born and bred, the lads are proud to keep things as local as possible. They use a locally grown, traditional variety of barley, including organic grains from Green Grove (the Druce family farm), as well as other local farms. The water makes its way from the Snowy Mountains through the Murray River past Corowa to make its own unique contribution to the whisky. Even the two copper pot stills – a 3000 litre wash still and 2200 litre spirit still – were made for them by a craftsman in Griffith, a couple of hours' drive north away. The design has been modelled off Kilchoman's stills, but with a few minor tweaks.
Fermentation lasts anywhere from five to seven days, with the fermenters set up in an old refrigeration room which helps regulate the temperatures. Even still, it does get a bit warm through the hot Aussie Summer. These temperature fluctuations – as much as 40°C from Summer to Winter, and at least 15°C each day – allow for a much higher breathing capacity for the oak casks, helping the spirit meld with the oak much faster than it would in a cooler, more stable temperature, like you'd find in Scotland.
Corowa Distilling Co.'s first whisky was released in 2018, and their core range includes whiskies named after local people and places. Corowa Characters is a blend of American French and Hungarian wine casks that pays homage to the four lads that make up the production team. The Port barrel matured Bosque Verde is named after the Scottish Gaelic for 'Green Grove', the Druce family farm. And the American oak Muscat matured Mad Dog Morgan is named after Dan 'Mad Dog' Morgan, a bushranger from the area whose constant crimes drove him to madness.
Corowa Distilling Co. has combined history and tradition with youth and fresh eyes to bring a bright future to not only the town, but whisky itself.
Consider Corowa back on the map.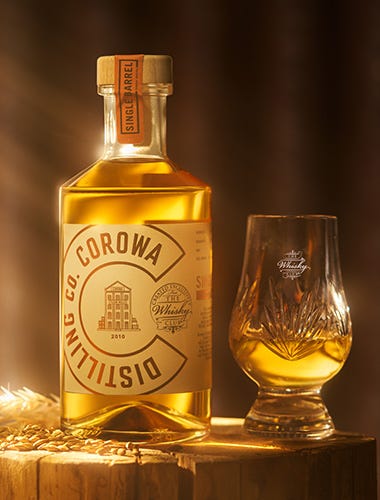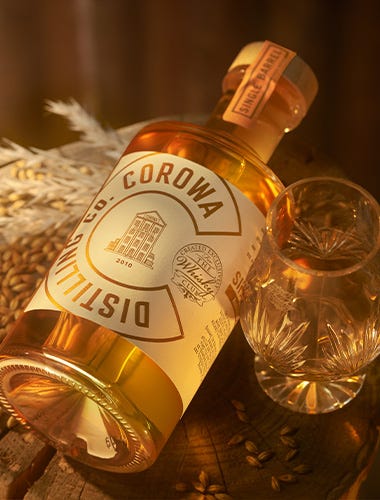 Distillery Facts
Origin: 20-24 Steel Street, Corowa NSW 2646
Water Source: The local highlands
Stills: 2 (1 wash, 1 spirit)
Capacity: 350,000 litres per annum
Stop scrolling. Start dramming.