November 2023
Elusive Expression 200ml 4 Pack
Lagavulin. Talisker. Singleton. Cardhu. Some of the biggest names in whisky like you've never tasted them before. Taste your way around Scotland with four unique casks, massive flavours, all at natural cask strength. Exclusively available at The Whisky Club.
United Kingdom
Overview
This entertainer's pack is a truly special limited-release, single malt extravaganza from some of the biggest names in Scotch.
Get set to explore unique casks, massive flavours, all at natural cask strength. These four one-off are special releases that, as Diageo's Master Blender Dr Craig Wilson says, "truly redefine what cask strength whiskies can be."
From Speyside to the Highlands, and Skye to Islay, this highly collectible four-pack is the ultimate way to taste and explore your way around Scotland. With the savoury and smoky Lagavulin 12 Year Old, the maritime and malty Talisker 11 Year Old, the vibrant and tropical Cardhu 16 Year Old, and the stewed fruit and bright citrus of The Singleton 15 Year Old, this really is the ultimate exploration of the best cask strengths around.
A rare line-up and unique chance to taste some of the biggest names in Scotch side by side, the Entertainer's Pack includes a 200ml bottle of the following:
Lagavulin, aged 12 years in virgin oak and the smokiest of casks, at 57.3% ABV
Talisker aged 11 years in ex-Bourbon and wine casks, at 55.1% ABV
The Singleton aged 15 years with an 8-year second maturation in wine casks at 54.2% ABV
Cardhu aged 16 years and finished in Jamaican pot-still-rum casks at 58.0% ABV
Lagavulin 12 Year Old Special Release
ABV: 57.3%
Cask type: Matured in a combination of virgin oak casks and their smokiest casks.
Colour: Golden straw
Nose: Bright lemon citrus with vanilla and caramel before campfire and charred meats take over.
Palate: Buttered toast, zesty citrus with brown sugar, vanilla and coastal notes alongside a caramel sweetness.
Finish: Long and heavy, vanilla and ash combined with lovely spice notes as brown sugar and smoke seeps in.
Talisker 11 Year Old Special Release
ABV: 55.1%
Cask type: Combination of American oak ex-Bourbon and wine casks.
Colour: Gold
Nose: Sweet lemon and maritime, juicy apples and sponge cake paired with sea air and wood embers.
Palate: Lemon zest and light floral notes combine with sultanas, malt and earthy smoke.
Finish: Fresh orchard fruits and grapes, honey with wood char and campfire on the beach.
Singleton of Glen Ord 15 Year Old Special Release
ABV: 54.2%
Cask type: Finished in wine casks for an 8 year long secondary maturation.
Colour: Chardonnay
Nose: Bright citrus alongside vanilla ice cream, fresh fruit salad, liquid malt and honey.
Palate: Light tropical fruits alongside deep stewed fruits, raisins & prunes with custard and some oak.
Finish: A long balanced finish of sticky toffee pudding and mixed berry jam with a touch of spice.
Cardhu 16 Year Old Special Release
ABV: 58.0%
Cask type: Matured in refill and recharred casks, finished in Jamaican pot-still-rum casks.
Colour: Light gold
Nose: Light orange and fresh fruit of apples, pears and grapes with coconut and vanilla.
Palate: Tropical fruits of melon and banana, raisins, light spices and some brown sugar syrup.
Finish: Dried berries, a slice of melon, some baking spices and dried biscuits.
The Entertainer's Pack is a selection of 200ml bottles from some of the most highly sought-after releases from Diageo's Special Releases 2022 collection — Elusive Expressions.
The Elusive Expressions Collection Pack is exclusively available in Australia to Members of The Whisky Club. Join Australia's biggest whisky community free now for incredible whisky from the world's best distilleries.
Bottle size: 200ml x 4 (800ml)
Ready to enjoy a world-class whisky collection?
Your free Club Membership gives access to exclusive single malt from Scotland, Australia and the world's best distilleries. Enjoy the unrivalled buying power of Australia's biggest whisky club.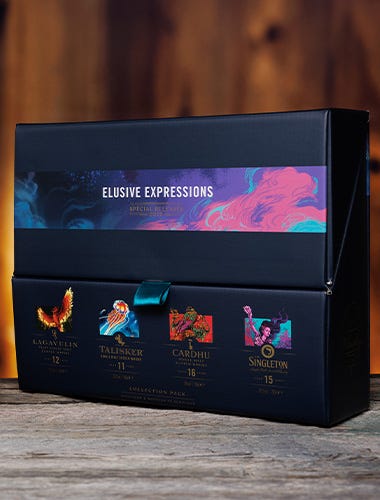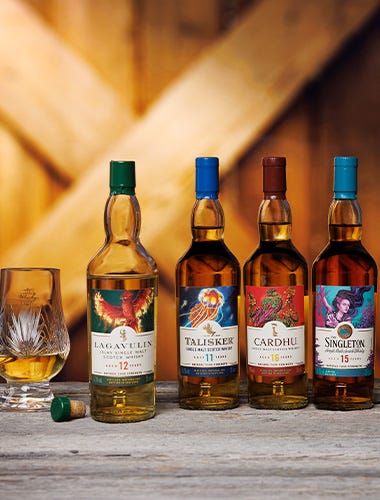 Stop scrolling. Start dramming.