June 2022
The Glenburgie 17 Year Old
The first time ever that Scotch superbrand Ballantine's has collaborated on a unique whisky for anyone. Our gold-medal-winning Glenburgie 17 Year Old is in an elite category of single malt Scotch whiskies to be awarded 95 pts at the world's most prestigious international drinks competition.
United Kingdom
Nose Succulent pineapple, juicy mandarins, rich oaked aromas and vanilla.
Palate Red apple, candied orange with crunchy honeycomb and creamy custard.
Finish Complex and satisfying with buttery milk chocolate, vanilla-nut fudge and lightly dried fruits.
Food Match Roast pork belly with crackling, drizzled with thick apple sauce. For dessert, Sandy Hyslop recommends crème brulee.
Overview
Glenburgie 17 Year Old is the first release from our Whisky Club Series of Ballantine's Signature Malts; three unique single malts that will take Members on an exclusive journey behind the iconic Ballantine's blend.
It's the first time the world's first and most awarded 17 Year Old blended whisky, the legendary Ballantine's 17 Year Old, has been broken down into single malts, then specced up to a voluptuous 48% ABV and bottled in all its pure whisky glory, non-chill filtered and natural colour.
To bring you this incredibly rare Glenburgie Single Malt, we teamed up with Sandy Hyslop, one of the most accomplished Master Blenders in the industry with nearly 40 years of experience, and just the fifth Master Blender to take full responsibility for the Ballantine's Blend.
Sandy's responsible for the maturation of over six million casks in 300 warehouses, the majority of which are set aside for the existing Ballantine's range. There's still plenty left to experiment with though, and he's selected the very best casks in his inventory that demonstrate the jammy and fruity Glenburgie profile to create the Glenburgie 17 Year Old for the Club.
Ballantine's Glenburgie 17 Year Old showcases their most closely guarded single malt... its creamy milk chocolate, juicy mandarin and chewy honeycomb amped to high heaven with notes of this is damn serious Scotch if I ever tasted it, and is unheard of value for a whisky of this age and pedigree at $140.
This was the start of an epic collaboration between Australia's biggest community of whisky lovers and one of the biggest names in whisky.
The Glenburgie 17 Year Old is now all gone. Not yet a Member? Sign Up Free now so you don't miss our upcoming releases.
THE SPECS
Maturation: American oak ex-Bourbon barrels
Ready to enjoy a world-class whisky collection?
Your free Club Membership gives access to exclusive single malt from Scotland, Australia and the world's best distilleries. Enjoy the unrivalled buying power of Australia's biggest whisky club.
Glenburgie's History
Glenburgie Distillery is one of the biggest distilleries that you've probably never heard of. Why? Because nearly all its production is used in Ballentine's blended whiskies; after all, it's one of the second biggest selling Scotch whisky's fingerprint malts. As such, every drop's accounted for, and Glenburgie single malt releases are extraordinarily rare.
Originally known as Kilnflat Distillery, Glenburgie is located on an estate just outside of Forres in Speyside. While distillation is believed to have been taking place on the site as far back as 1810, it wasn't until after the Excise Act of 1824 legalised whisky production that Kilnflat was officially founded in 1829 by William Paul. As was so often the case, he eventually ran into financial hardship and was forced to close the doors in 1870. All was not lost though, and Paul sublet the distillery to Charles Hay, the name was changed to Glenburgie, and production was back underway by 1878.
In 1880 the distillery was bought by Fraser and Grant, and then it was taken over by Alexander Fraser & Co in 1882. The distillery was incorporated in 1895 and was the first whisky distillery to have a female manager, Margaret Nichol. Alexander Fraser & Co went under in 1925, and Glenburgie's doors were locked once again two years later.
Old Smuggler blenders James & George Stodart took control in 1930, though they never fired up the stills. In fact, it would be several more years until production would resume after a lifeline was thrown by Canada's largest distiller Hiram Walker – Gooderham & Worts. They'd made huge profits smuggling alcohol into the USA during Prohibition and were looking to expand into Scotland. After acquiring George Ballantine and Son Ltd in 1935, they started hunting for a stable supply of quality Scotch to fulfil ever-growing demand, and in 1936 bought out Stodart (and Glenburgie along with it), as well as Miltonduff Distillery. The two distilleries went on to become the backbone of Ballantine's as we know it today.
A pair of Lomond stills were installed alongside the existing stills in 1958 and were used to produce a sweet and fruity blending malt known as Glencraig, however, they proved tiresome to clean and maintain, so were removed in 1981 and replaced with another pair of traditional pot stills, increasing production of whisky for Ballantine's.
The final sequence of ownership played out over the last 30-odd years, with Allied Lyons, having bought most of the stocks in Hiram Walker during 1986, purchasing the group outright in 1987. Allied Lyons merged with Pedro Domecq and was then acquired by Chivas Brothers' parent company Pernod Ricard, who took over the distillery in 2005.
And what Pernod received in Glenburgie was effectively a brand-new distillery, following closure in 2000 in preparation for a £4.3m rebuild that took place over 2003/4. The new distillery would be larger and open plan, with nothing but the four original stills kept to help retain the signature Glenburgie style. Another two stills were installed in 2006, bringing the total to six stills, and production capacity up to 4.2m litres per annum.
Glenburgie's six stills are filled with wash that's fermented for 52 hours in their 12 washbacks. Both the wash and spirit stills are onion-shaped. This causes reflux within the stills, meaning only the more delicate, fruity spirit will make its way up and then through the condensers, contributing to Glenburgie's unique and sweet style, with loads of jam and fruit.
Single malt releases from Glenburgie have been very few and far between. There was only one bottling during the Allied Lyons days, Chivas has included it in the limited-edition Cask Strength series of limited-edition releases available only from visitors' centres, and a few lucky independent bottlers have got their hands on a cask here and there. It wasn't until 2017 that a 15 Year Old was released in a series alongside other Ballantine's Malts, Miltonduff and Glentauchers.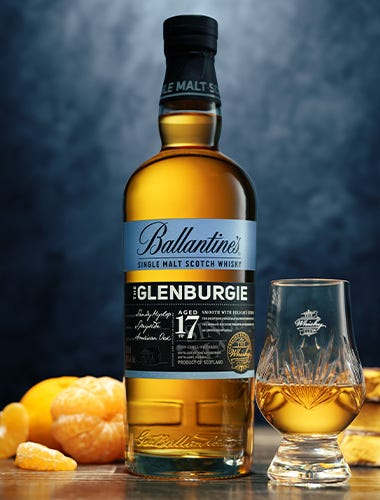 Distillery Facts
Origin: Glenburgie Distillery, Forres, Moray, IV36 2QY, Scotland
Water Source: Local springs
Washbacks: 12, stainless steel
Stills: 3 wash and 3 spirit
Capacity: 4,200,000 litres per annum
Stop scrolling. Start dramming.