June 2021
Glenfiddich 14 Year Old Bourbon Barrel Reserve
Created by legendary Malt Master Brian Kinsman, this is the first time in the distillery's 135-year history that a Glenfiddich has been exclusively finished in virgin American oak, adding an even deeper complexity to the world's favourite whisky.
United Kingdom
Nose Lemon meringue and mandarin grace the nose before moving onto lychee and sweet pineapple. Some jasmine flower comes into play with spiced clove, leading to toasted marshmallows in a dusty woodwork shop.
Palate A bouquet of apples and pears followed by ripe tropical fruits of mango, passionfruit and pineapple eaten in a grassy barnyard. Shortbread and roasted almonds settle in before seared meat with some oak influence takes over.
Finish Sweet and soothing. Jersey Caramels and chocolate-orange swirl around the mouth, developing into lightly burnt buttered toast and charred oak.
Food Match Baked chicken breast with honey mustard sauce followed by an apple and cinnamon Danish pastry.
Overview
From Scotland's biggest-selling single malt producer comes a whisky that was never meant to leave the shores of the USA. With the history making, limited-edition Glenfiddich 14 Year Old Bourbon Barrel Reserve, the distillery has done something it's never done before.
Created in Dufftown at the heart of Speyside and exclusively finished in virgin American oak, Glenfiddich 14 Year Old Bourbon Barrel Reserve delivers the balance and sophistication of Scotland with a sweet kick of Kentucky. After spending 14 years in ex-Bourbon barrels, the whisky was then meticulously transferred into new American oak barrels built especially for Glenfiddich by the Kelvin Cooperage in Louisville Kentucky.
Having originally been founded on the banks of the River Kelvin in Glasgow in 1963, Kelvin Cooperage packed up shop and moved to Kentucky in 1991. Perhaps it was no coincidence that they made the move at the same time as the Scotch industry was in the middle of a massive downturn, with many distilleries putting down minimal spirit or even worse getting mothballed. Regardless, the decision to move was a good one, allowing them to focus their energy on being closer to the source of the casks that make up around 90% of the Single Malt industry. And the oak that was selected for Glenfiddich was as close to the source as you could get. Bent into place, toasted and then charred to exact specifications, it's created the perfect cask complement, adding an even deeper complexity to the world's most awarded single malt.
The result?
One of the most delightfully enjoyable Glenfiddichs we've ever tasted: you could spend an entire night just nosing it! Bottled at 43%, you'll find sweet pineapple, shortbread and roasted almonds on a divinely creamy chewy palate; lemon meringue, lychee and flaming marshmallows on the nose; and a soft lingering finish of Jersey Caramels, chocolate-orange swirl and lightly buttered toast.
We've tried, tested, and deemed it delicious, and finally the Club's first Glenfiddich Whisky of the Month since 2016 is here. At $120.00 this is a Glenfiddich with a big Bourbon soul, and one you'll want sitting on your whisky shelf. This one-off bottling is exclusive to the Club in Australia, and the first and only time you'll see an official Glenfiddich 14 Year Old Bourbon Barrel Reserve outside the USA, all thanks to the mighty buying power of Australia's biggest whisky community. Limited stocks are remaining, so be very quick: Sign Up Free now to get your hands on a bottle.
WHISKY SPECS
Maturation: American oak ex-Bourbon finished in deeply charred new oak barrels
Ready to enjoy a world-class whisky collection?
Your free Club Membership gives access to exclusive single malt from Scotland, Australia and the world's best distilleries. Enjoy the unrivalled buying power of Australia's biggest whisky club.
Glenfiddich's History
The Glenfiddich Distillery was established in 1886 by William Grant and is one of the greatest success stories of Scotch whisky, single-handedly creating the single malt category and now accounting for about 30% of all single malt sales worldwide.
Having spent his younger years learning the trade at Mortlach Distillery, Grant dreamed of one day running his own distillery with ambitions to make 'the best dram in the valley'. Through endeavour and thrift, he saved £119, 19 shillings, and 10 pence for a copper pot still and the necessary equipment to realise his dream, and in 1886 Grant and his nine children laid the first stone of the Glenfiddich Distillery in his native Dufftown. Over the next 18 months the Grant family built the distillery with the help of only a single stonemason, and on Christmas Day 1887 the first spirit flowed from the stills.
Like most Scotch distilleries, Glenfiddich had a brush with the Pattinsons crisis, but in this instance, it set in motion a series of innovations that led to the company's enormous success. Naturally Pattinsons was Glenfiddich's biggest customer, but instead of succumbing to failure when the Pattinson brothers filed for bankruptcy, the Grant family decided to begin blending their own whisky instead. The move paid off and their aptly named Standfast blend soon became a major success, providing crucial cashflow at a time when the rest of the industry was going bust.
By the 1920s, distillery numbers in Scotland had dwindled to record lows, mainly as a result of the Pattinsons crisis, a World War and prohibition in America, and it was in this gloomy climate that William Grant and Sons made their biggest gamble. In 1923, with prohibition in full swing, William's grandson Grant Gordon joined the family firm and took the surprising call to dramatically increase production. His gamble paid off because ten years later when Eisenhower repealed prohibition, Glenfiddich was one of only six Scottish distilleries still operating with warehouses full of malt whisky to meet the surge in demand for fine, aged whiskies.
The 60s and 70s were again difficult times for the industry, with many small independent distillers going out of business, but yet again William Grant & Sons made some pioneering decisions that ensured their success and drastically shaped the industry. The first move came in 1961 when they commissioned leading 20th century designer Hans Schleger to create the now iconic triangular bottle. Widely regarded as one of the best marketing moves of all time, from that moment on Glenfiddich literally stood out on the shelf. In the same year Glenfiddich defied critics and released their first single malt and two years later became the first single malt to be marketed outside Scotland. The launch was supported with aggressive advertising campaigns and eleven years later sixteen new stills were installed to cope with demand.
Despite being one of the biggest distilleries in Scotland, Glenfiddich still has one of the most hands-on approaches to whisky production. The only distillery to use a single source of natural spring water from start to finish (the infamous Robbie Dhu Spring), Glenfiddich has the capacity to produce over 20,000,000 million litres a year. With a 60-hour-long fermentation in 50,000 litre washbacks, the wash is feed through their 43 stills of the same shape and size as the original stills from 1886. These are heated by a mix of steam and direct fire. Having the choice of both steam and direct fire gives Glenfiddich two different spirit types which are then combined together before being put into casks.
The distillery has its own team of coppersmiths on hand just in case a still springs a leak or for when maintenance is needed, as well as an on-site cooperage that's been operating since 1959 to not only deal with the enormous amount of spirit being laid down but also to rejuvenate casks once they've had their first fill of Glenfiddich whisky. Bottling is also done in their own onsite bottling facility - the only Speyside distillery with such a luxury.
Today Glenfiddich is the world's biggest selling and most awarded single malt and William Grant can rest peacefully knowing that his descendants have expanded his vision, making not only the best dram in the valley, but the world. And of course, as an added bonus his descendants have become Scotland's richest family, with a staggering fortune of $3.9 billion.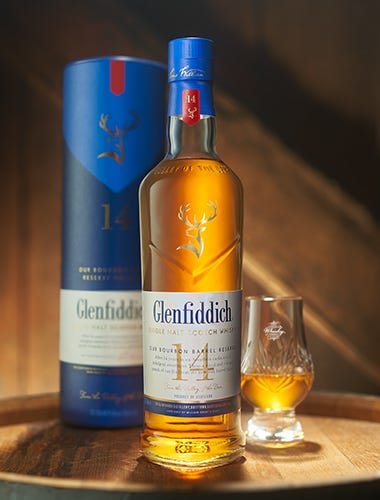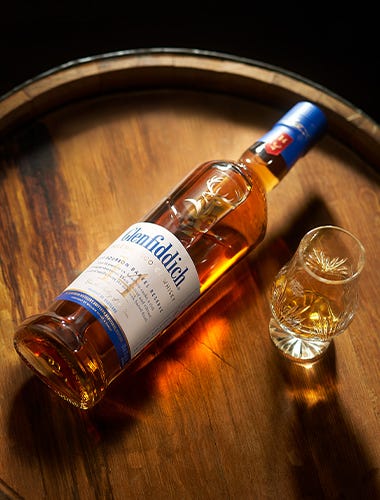 Distillery Facts
Origin: The Glenfiddich Distillery, Dufftown, Banffshire, AB55 4DH, Scotland, United Kingdom
Water Source: Robbie Dhu Spring
Capacity: 20,000,000 litres per annum
Ready to enjoy a world-class whisky collection?
Your free Club Membership gives access to exclusive single malt from Scotland, Australia and the world's best distilleries. Enjoy the unrivalled buying power of Australia's biggest whisky club.
Stop scrolling. Start dramming.