February 2021
Glenmorangie 12 YO Malaga Cask
Supremely balanced and deliciously sweet and syrupy thanks to a four-year finish in extremely rare Malaga casks, the highly collectable and never-to-be-repeated Glenmorangie 12 YO Malaga Cask is one of the biggest releases in Club history.
United Kingdom
Nose Astonishing, heady aroma. You'll find syrup pudding, chocolate, cinnamon and dried fruits.
Palate A beautiful, viscous, syrupy texture in the mouth. Milk chocolate and honeycomb, along with cinnamon, ginger and dried fruits.
Finish Goes on forever. Mellow and nutty, with hints of hazelnut, honey and gentle oak.
Food Match Brown Butter Scallops with Parmesan Risotto
Overview
The area surrounding Spain's ancient city of Malaga produces amazingly sweet fortified wines with Pedro Ximénez and Moscatel grapes. The winemaking history of the area is one of the oldest in Europe, but sadly the popularity of dessert wines fell considerably through the latter part of the 20th century, and Malaga's sweet wine industry nearly disappeared altogether. It's now one of the world's rarest fortified wines, and as such Malaga casks are almost never used in Scotch whisky. Thankfully though, a new generation discovered its delights, and the winemakers get to live another day.
Glenmorangie's Director of Whisky Creation, Dr Bill Lumsden, got his hands on a small number of incredibly hard to come by first-fill Malaga 'dulce' casks – the dulce being from the sweeter end of the Malaga spectrum - and imagining the multitude of sweet and syrupy tastes the casks would provide, filled them with his finest eight-year-old Bourbon matured whisky, distilled 18th February 2008.
After four years the very best Malaga casks were hand-selected for bottling in August 2020 at 47.3% ABV. Dr Bill was blown away by the whisky's extraordinarily rich flavours. It was everything he'd hoped for… a dram that brings the sun-kissed flavours of the south of Spain to whisky lovers old and new. It's brimming with syrup pudding, milk chocolate, honeycomb and citrus fruits, along with gentle spices like cinnamon, ginger and nutmeg.
Orders for Glenmorangie 12 Year Old Malaga Cask have closed. Sign Up Free to Australia's biggest whisky community now to get incredible single malt whiskies delivered straight to your door.
THE SPECS
Maturation: First matured in American oak ex-Bourbon casks, then finished for four years in first-fill Malaga 'dulce' wine casks.
Ready to enjoy a world-class whisky collection?
Your free Club Membership gives access to exclusive single malt from Scotland, Australia and the world's best distilleries. Enjoy the unrivalled buying power of Australia's biggest whisky club.
Glenmorangie's History
Glenmorangie Distillery sits on the banks of the scenic Dornoch Firth just outside the township of Tain in Ross-shire, northern Scotland. It seems the residents of Tain were a thirsty bunch, they've been said to have been brewing beverages in the area since the Middle Ages.
Early records show alcohol was being made at Morangie Farm as far back as 1703, and in 1730 a proper brewery was built at the farm's water source, Tarlogie Springs. Located on the Tarlogie Hills above the current distillery site, the springs still provide Glenmorangie with its mineral-rich waters. The result of rainwater forcing its way through layer upon layer of limestone and sandstone for over one hundred years, it's a 'hard' water that's somewhat unique for a Highland distillery to be using and helps add to the fruity flavours of Glenmorangie's whisky.
The farm was taken over by William Matheson, a former distillery manager, in 1843. Matheson purchased a pair of second-hand gin stills and set about converting the brewery into a distillery, complete with adding the customary 'Glen' to the name of Morangie.
Glenmorangie remained in the Matheson family through to 1887, when it was sold to the newly formed Glenmorangie Distillery Co, owned by the Maitland brothers and Duncan Cameron. In 1918 the business was sold to Durham & Co who bought a 60% share, with the remaining 40% going to Edinburgh based wine and spirits merchant and Glenmorangie's main customer, Macdonald & Muir. Macdonald & Muir also purchased Speyside's Glen Moray Distillery in 1923, and by 1930 had taken complete ownership of the Glenmorangie company and used the whisky for their own blends. Their main blend was Highland Queen, named for the association between the port of Leith (where they were headquartered), and Mary, Queen of Scots, who first landed there upon her return from France in 1561.
Tough times were to come though, and Prohibition and the Great Depression severely impacted whisky exports to the US, and like many others, Glenmorangie was eventually mothballed between 1931 and 1936. Following this, World War II saw a shortage of barley and fuel, resulting in another period of closure from 1941 to 1944. While efforts were still being made to export whisky during the war, many deliveries were severely delayed, or worse, destroyed by the enemy. By the end of the war production was once again well underway, and at an ever-increasing rate, with the distillery running at full capacity by 1948.
Of course, not all Glenmorangie whisky went into blends like Highland Queen… There are records showing Glenmorangie Single Malt being exported, and on sale at The Savoy and other well-to-do venues around London as far back as the late 1800s. A small amount of Single Malt bottlings were done in the 1920s as well, but it was in 1959 that the distillery started to make a proper push into Single Malt, setting itself on a path that would soon see it as the biggest selling distillery in Scotland.
By 1976, demand was once again outstripping supply, so an extra pair of stills were added allowing them to double production, but the whole operation was to soon come under serious threat in the 1980s. Whispers about development of the hills around the Tarlogie Springs were abounding, and any such activity would have put Glenmorangie's unique water source at risk. There was absolutely no question about it then, that the distillery must purchase all the land and protect the springs. Around 600 acres of land around, and including the springs, is to this day owned by Glenmorangie, ensuring the ongoing safety for not only Tarlogie Springs but also the surrounding forest.
With its water source secured well into the future, Glenmorangie again set about further expansion with a doubling of the still count to eight in 1990, and in 1997 the company scooped up the rather run-down Ardbeg Distillery on Islay from Allied Distillers for the bargain basement price of £7 million.
The Glenmorangie juggernaut continued to rise, and an additional pair of washbacks was added in 2002 and the company was soon listed on the London Stock Exchange. The Macdonald family retained control of the company though, retaining 52% of the shares. The company was finally sold for some £300 million to the world's largest luxury goods conglomerate, Louis Vuitton Moët Hennessy, or LVMH - the French owners of brands such as Dom Pérignon, Christian Dior, Givenchy, Marc Jacobs, Tiffany and TAG Heuer, as well as those that make up its name. Quite the stable to join, and quite the payday for the Macdonalds!
LVMH gave the product line-up a well-deserved revamp, with a curvy new bottle design and swish sounding names, like Nectar d'Or, The Quinta Ruban and Lasanta. While far from the traditional Scotch naming conventions, it was all part of a brave move to appeal to the international luxury goods market, for which the brand was destined.
Another brave move at the time was the acquisition by Glenmorangie of the Scotch Malt Whisky Society, which they passed on to private investors in 2015.
Such was the growing demand for Glenmorangie that in 2009 there was need for another round of upgrades and expansions, with the addition of four stills, a larger mash tun, extra washbacks, and more warehousing to mature the whisky in. All paid for, no doubt, by the sale of their Highland Queen brand, and the Glen Moray Distillery. Additionally, at this time Glenmorangie ceased production of its white label blended whisky that it had been making for supermarket brands for some time.
The ongoing expansion of Glenmorangie continues to this day. The construction of a brand new stillhouse housing another two of their super tall stills, a new mash tun and even more washbacks was announced in January 2018, and construction of this began early 2019. The extra stills will allow some interesting experimental runs to take place and feature stainless steel condensers. Further plans were announced in late 2020 take over land that had been part of Fearn Aerodrome, a military base from the 1940s to 1970s, but currently in mixed industrial and agricultural use. The 10 year long construction project would see some 20 warehouses built, along with processing infrastructure including cask filling and disgorging facilities, tanks and more.
The continual growth of the distillery has no doubt been helped along by the fact that since 1983, Glenmorangie has been the best-selling Single Malt in Scotland nearly every year. They're putting out around 10 million bottles a year and hold a very respectable 6% share of the global Single Malt market.
Production is overseen by the somewhat eccentric Director of Whisky Creation, Dr Bill Lumsden, inductee to the Icons of Whisky Hall of Fame, two times International Spirits Challenge Master Blender/Distiller of the Year, and winner of the International Whisky Competition's Master Distiller of the Year more times than anyone else.
Lumsden leads the Glenmorangie team on a mission to bring new flavours and possibilities to the world of Single Malt. His favourite phrase is "What if?", and he continually challenges himself and the team to take whatever captures their imagination and turn it into whisky – from a cup of coffee resulting in Glenmorangie Signet, to a barley field by the distillery inspiring Glenmorangie Allta. At Glenmorangie, anything is possible.
For many years, there were 16 staff on the distillery floor, who became known as 'The Sixteen Men of Tain', though with the ever-growing size of the plant, this number has increased somewhat. They use the pure, mineral rich water from the Tarlogie Springs and locally grown barley from Highland Grain Ltd, and while peated malt is never used at Glenmorangie (that's what Ardbeg's for after all), some chocolate malt is used for Signet. Fermentation times are long at 52 hours.
The Glenmorangie Distillery's stills are all of the same design as those original second-hand ex-Gin distillery stills, and are the tallest in Scotland, measuring a massive 8 metres in height, with 5.1372-metre-long necks. The necks alone are as tall as a giraffe! This extra height allows a super long interaction between the alcohol vapours and the copper, resulting in an extremely delicate, fruity and creamy spirit, ripe for cask experimentation.
And experiment with casks they do. All Glenmorangie is first matured in American oak casks, but these aren't any old American oak casks. Glenmorangie owns a forest in the Ozark Mountains in Missouri, and all their casks are made from this wood to their exact specification. They're left to air for two years and are then leased to Jack Daniel's and Heaven Hill Distillery, who age Bourbon in them for four years. Once the Bourbon is done, the barrels are shipped over to Scotland put to use by Glenmorangie. These barrels are only used twice, and on their second fill are aged in damp dunnage warehouses.
While there are some 100% ex-Bourbon releases, much of the whisky gets finished in fortified wine and wine casks, with Glenmorangie being one of the early adopters of this method. But unlike some other distilleries when Glenmorangie finish whisky in a special cask, it's finished for years. Lumsden likes trying unusual, hard to obtain casks from around the world, and believes there's still quite a lot to be done with wood.
But it's not just casks - different varieties of yeast and barley - including barley grown on their own Cadboll Estate - offer a whole world of experimentation, and more ways for Lumsden and the Distillers of Tain to test the limits of the rule book.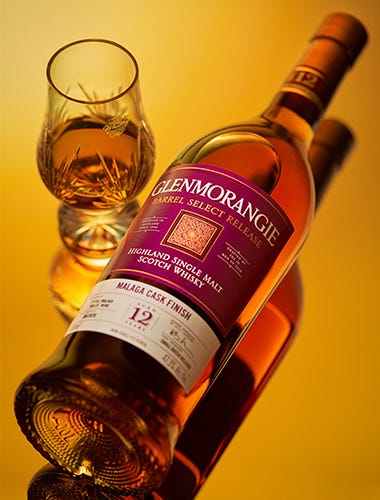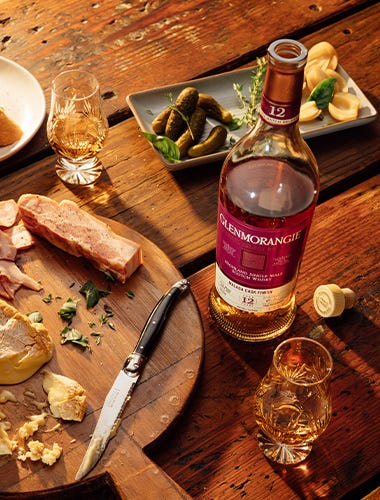 Distillery Facts
Origin: Glenmorangie Distillery, Tain, Ross-shire, IV19 1PZ, United Kingdom
Water Source: Tarlogie Spring
Washbacks: 16 - 48,500 litres, stainless steel
Stills: 12 (6 wash, 6 spirit)
Capacity: 6,000,000 litres per annum
Ready to enjoy a world-class whisky collection?
Your free Club Membership gives access to exclusive single malt from Scotland, Australia and the world's best distilleries. Enjoy the unrivalled buying power of Australia's biggest whisky club.
Stop scrolling. Start dramming.