July 2023
The Glentauchers 17 Year Old
This is the finale to one of the most significant trilogies of single malts ever created and a world-first, backstage pass behind distillery doors that are closed to everyone else except for Members of The Whisky Club.
United Kingdom
Nose Rich and characterful with apricot jam, ripe white peaches, green apples, orange zest, blackcurrant and subtle warming spice.
Palate Viscous and weighty with Juicy pears, pancakes with golden syrup, creamy vanilla, malt loaf, hazelnuts and honey blossom.
Finish Exceptionally long, sweet, silky smooth and satisfying.
Food Match Roast chicken or pheasant with a creamy wild mushroom sauce
Overview
It's here. The moment tens of thousands of Members have been waiting for: the final whisky in one of the most significant series of single malts EVER, and a backstage pass to Scotch distilleries that only Members of Australia's biggest whisky community can access.
Unless you're in the top 1% of serious connoisseurs globally, you've probably never heard of Glentauchers. But now's your chance to get your hands on a bottle of this incredible single malt, along with VIP access to buy the full history-making Ballantine's Single Malt Trilogy set (Glenburgie 17 Year Old, Miltonduff 17 Year Old and Official Collector's Plinth) - the ultimate trilogy experience!
The Glentauchers is the rarest of the single malts behind Ballantine's top-selling blends and the extraordinary conclusion in our world-first trilogy that transcends one of the biggest whiskies on the globe.
We kicked off the world-first series with the gold-medal winning Glenburgie, followed by the mighty Miltonduff, and now we're finishing with the jewel in the crown.
This is straight up, authentic single malt made the old-fashioned way with actual valves, buttons, taps and people, and at a whopping 17 years old and 48% ABV it's brimming with juicy pears, syrupy pancakes and vanilla cream, and soaringly uplifting, warming spice, hazelnut and honey blossom. It's a whisky that lingers long on the palate — but not long on your shelf.
Made especially (and only) for Members of The Whisky Club, this is an unprecedented chance to get access to whisky that nobody else in the world can get, and taste them side by side.
Join The Whisky Club free now for insider whiskies that everyone wants but only Members get. Available 7-9 July at $140.
THE SPECS
Maturation: Matured for 17 years in first-fill American oak ex-Bourbon casks
Ready to enjoy a world-class whisky collection?
Your free Club Membership gives access to exclusive single malt from Scotland, Australia and the world's best distilleries. Enjoy the unrivalled buying power of Australia's biggest whisky club.
Glentauchers Distillery's History
In 1897, Glentauchers Distillery Co. was founded as a joint venture between two established names in the blended whisky world: James Buchanan and W.P. Lowrie. The pair were already successful in their venture of a blended whisky known as 'The Buchanan Blend' (later renamed to 'Black & White') created primarily for the London market – Buchanan was a whisky merchant based in London and Lowrie, a stockholder from Glasgow, supplied him with the goods. The Buchanan Blend was launched in 1884, and in perfect timing too, as the total production of Scotch whisky during the next decade almost doubled. So successful, in fact, that James Buchanan & Co. became one of the 'Big Three' whisky houses, alongside Dewar's and Walker's, who promoted the idea that Scotch was a respectable and desirable alcoholic drink amongst British elites.
From the get-go of establishing Glentauchers, Buchanan and Lowrie meant business – designed by local architect John Alcock, the distillery buildings were reported as being "substantial and commodious" by local newspaper Banffshire Herald and a siding was brought into the site from the nearby railway between Aberdeen and Inverness for ease of transporting whisky out of the distillery for its use in Buchanan blends. Located just three miles from Keith, Glentauchers was built in one of the fields of a family farm called Taucher, from whence it derived its name, and began whisky production in 1898, with malting beginning in May and brewing in June of that year.
This also happened to be the very same year of the Pattison crash, which occurred in December and had such a calamitous effect on the Scotch whisky industry that no other distilleries were built in Scotland within the following fifty years. Lowrie, who had dealings tied up with the bankrupted Pattison Ltd, was caught up in the impending industry relapse and less than a decade later Glentauchers was 100% owned by just Buchanan.
Miraculously, Glentauchers' was otherwise unaffected in its production by this great industry meltdown, and Buchanan was given the Royal Warrant to supply the Royal Household with Buchanan's whisky to Queen Victoria and the Prince of Wales. During this time, Glentauchers began experimenting with new distillation processes, including 'continuous pot distilling' which involved running 100% malted barley through a pot still that had been adapted for such purposes. Buchanan thought this would be the future of Scottish distillation. He was wrong.
Soon again changes in Glentauchers' ownership were afoot, with Buchanan merging with John Dewar in 1915, and then once more with Distiller's Company Ltd in 1925 (who at that point had also gained ownership of Johnnie Walker). Following the second merger, extensive renovations on Glentauchers were completed, including alterations on the makings and the mash house, as well as a new spirit store large enough to house the distillery's growing volume of production.
From 1939 however, due to the wartime restrictions on barley supplies, Glentauchers was forced to close. They didn't reopen until 1946 following the end of World War II. Finally in 1966, production was majorly upped with the installation of four new pot stills (previously only two). During this time the still house, mash house and tun room were also all completely rebuilt. Then in 1985, following almost two decades of uneventful whisky-making, Glentauchers came under the control of United Distillers and was consequently mothballed – one of the many distilleries to be affected by the 1980's slump in demand. For three years the distillery remained dormant until 1989 when it was sold to Allied Distillers, a decision which came quite unexpectedly at the time. They finally resumed distilling the following year, becoming a key component in Ballantine's from 1992. Following Allied's joint takeover in 2005, Glentauchers came under its current ownership of Pernod Ricard.
Even now Glentauchers consist of six pot stills, with three wash stills at 17,875 litres capacity each and three spirit stills at 14,693 litres each. Water is dam-fed from the nearby Burn of Rosarie, and distillery production capacity today is at 4.1 million litres.
With such a long and rich history in the Scotch blended whisky world, Glentauchers' remains all but unheard of, with almost every drop it makes used in Ballantine's and Teachers' blends. Less than 1% of the distillery's whole output sees the light of day as a single malt, and those who dabble in hidden gem distilleries may know that there's only been a handful of chances for lucky whisky lovers to pick up an official Glentauchers Single Malt. And even less chance of getting a glimpse inside the distillery's walls, it doesn't even have a Visitors' Centre.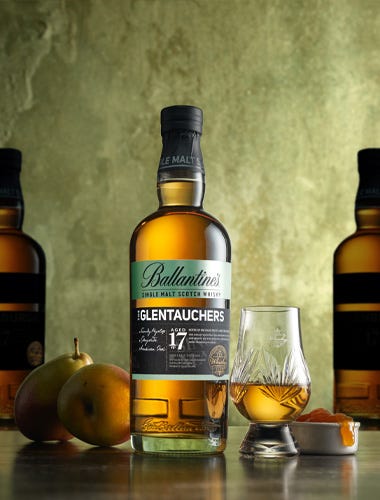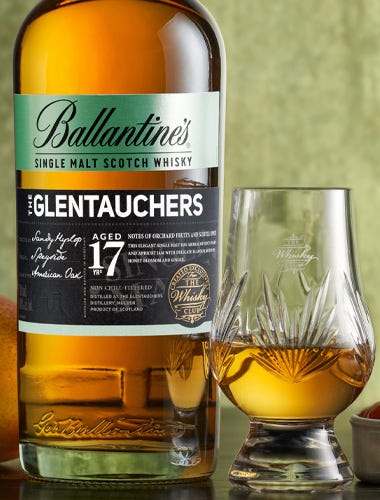 Distillery Facts
Origin: Glentauchers Distillery, Mulben, Moray, AB55 6YL, Scotland
Water Source: Dam-fed from Burn of Rosarie
Stills: 6 (3 wash, 3 spirit)
Capacity: 4,100,000 litres per annum
Stop scrolling. Start dramming.