February 2022
Lark 30th Anniversary Edition
It's been 30 years since Bill and Lyn Lark (AKA the Godparents of Tasmanian whisky) established the Australian single malt industry. Lark's crafted an epic whisky exclusively for the Club that, in the words of the Godfather, is "Tasmanian single malt at its best."
Australia
Nose Hints of orange blossom, butterscotch, and dried muscatel grapes, with roast almonds and sweet peat smoke.
Palate Rich sticky toffee with orange oil, peanut brittle, fruity plum pudding, and dried heather.
Finish Grated dark chocolate, espresso, with a sprinkle of oak spice, and delicate Highland peat.
Overview
When Bill and Lyn Lark first fired up their original still on their kitchen bench, they couldn't have known what an incredible influence they would have on the spirits scene Downunder, or that they would be setting the wheels in motion for an entire Australian whisky industry.
Whisky exclusives don't get much bigger than this: Lark 30th Anniversary Edition - a monumental whisky to celebrate a milestone, made by the country's founding distillery for Australia's biggest community of whisky lovers.
Master Distiller Chris Thomson selected a multitude of different casks of peated spirit distilled at the Coal River Valley distillery, to showcase the peat from the distillery's own peat bog for the first time outside of Single Casks, while keeping the signature Lark style.
Lark 30th Anniversary Edition is a combination of 65% Port, 25% Sherry, 8% Bourbon, and 2% Rum casks that, once married together, were further finished in rich Australian Muscat casks - the same casks that saw Lark awarded their highest score ever at the International Wine and Spirits Competition (IWSC) with 96 points and a gold medal.
Greeting you with orange blossom, butterscotch, and sweet peat smoke on the nose, it follows with a lovely earthy characteristic on the palate, sticky toffee, peanut brittle, plum pudding, and heather, before a long and decadent finish of dark chocolate, oak spice, and that distinctive Tasmanian Highland Peat.
It's "a beautifully balanced whisky in every sense" according to Bill. "The whisky is just sensational. Truly one of the best Lark whiskies I've tasted. Perfect to celebrate 30 years."
Help celebrate 30 years of the Australian whisky industry with a bottle of Lark 30th Anniversary Edition for just $220. Orders have now closed. Sign Up Free now to get your hands on our upcoming releases.
Bottle size: 500ml
THE SPECS
Maturation: 65% Port, 25% Sherry, 8% Bourbon, 2% Rum (Lark Quiet Cannon Cask) then finished in Muscat casks from Seppeltsfield in the Barossa Valley.
Ready to enjoy a world-class whisky collection?
Your free Club Membership gives access to exclusive single malt from Scotland, Australia and the world's best distilleries. Enjoy the unrivalled buying power of Australia's biggest whisky club.
Lark's History
The story of Lark Distillery is, in essence, so much more than that of just the distillery itself – it forms the genesis of the modern Australian whisky industry as we know it.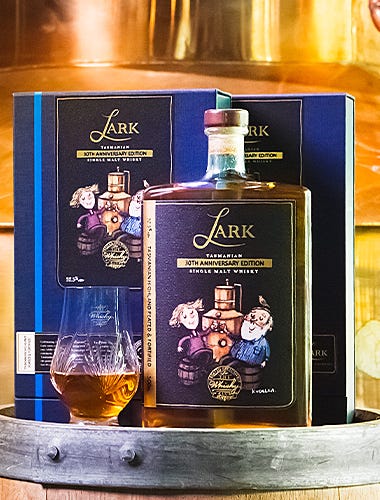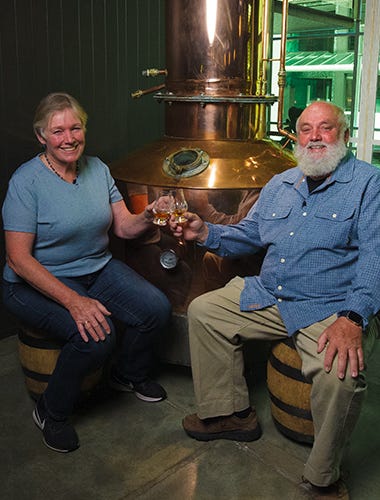 Distillery Facts
Origin: 40 Denholms Rd, Cambridge TAS 7170
Water Source: Meadowbank Dam
Washbacks: 23 x 2000L stainless steel
Stills: 4, 2 wash and 2 spirit
Capacity: 150,000 litres per annum
Stop scrolling. Start dramming.