July 2023
We've never offered anything of this calibre before. This is your once-in-a-lifetime chance to own a single cask, 54 Year Old single malt. One of only 55 bottles ever made, and this is the only bottle of this iconic whisky in Australia.
United Kingdom
Nose Elegant and sublime. Crème caramel, fresh vanilla pods, melted brown sugar and toasted oak, orange peel and marmalade.
Palate Silk-like mouthfeel. Vibrant fruit, tart pineapple and lemon citrus with a honey sweetness, dried fruits, sultanas and raisins.
Finish Long with mouth-watering green fruit and floral notes, kiwi and elderflower then waves of warming oak spice, aniseed and cinnamon.
Overview
A collector's thirst is never quenched. Loch Lomond 54 Year Old takes you a step closer to satisfying the hunt for the ultimate whisky. This 54-year-old single cask single malt is the oldest whisky ever released by Loch Lomond Distillery.
Distilled in 1967, the year after the distillery opened, it was originally filled into a refill American oak hogshead and allowed to rest for 27 years, it was then re-casked in 1994 into a refill European oak Sherry hogshead where it remained untouched ever since.
Then it was bottled straight from the cask at 42.1% ABV, non-chill filtered and natural colour.
A mere 55 bottles were ever made, and this was the only bottle of this iconic whisky in Australia, available exclusively to Club Members at $37,950.
THE SPECS
Maturation: Refill American Oak – recasked into refill European oak sherry hogshead in 1994.
Ready to enjoy a world-class whisky collection?
Your free Club Membership gives access to exclusive single malt from Scotland, Australia and the world's best distilleries. Enjoy the unrivalled buying power of Australia's biggest whisky club.
Loch Lomond's History
Loch Lomond is one of Scotland's most famous and beautiful landmarks and delineates the boundary between the Lowlands and Highlands. The area's been at the heart of the whisky industry for centuries but sadly at least nine distilleries around the Loch have been lost over the years, leaving Loch Lomond Distillery to carry the flag into the 21st century.
Loch Lomond Distillery's story began way back in 1772 with the founding of Littlemill, Scotland's oldest, albeit now closed distillery. Littlemill changed hands several times over the centuries before it was acquired in the 1930s by an American called Duncan Thomas. One of the great innovators of the industry, he lived in the former exciseman's house at Littlemill and built the new Loch Lomond Distillery in 1963.
Inspired by the 1960s whisky boom, he established Loch Lomond in partnership with Chicago-based Barton Brands who subsequently bought him out in 1971, but later closed the distillery in 1984 when boom turned to bust. Scottish outfit Inver House acquired it before quickly passing Loch Lomond on to Glen Catrine Bonded Warehouse Ltd in 1986. Glen Catrine is not your average whisky company; operating as the bottling and ageing arm of Bulloch & Co, a well-established blending and retail firm, it specialised in private label and bulk whisky export, marketing a variety of blended whiskies, vodkas and gins. The purchase of Loch Lomond meant that they now had the resources to produce spirit, and Loch Lomond rapidly, but quietly grew to become the most flexible and arguably the most innovative distillery in Scotland, its operations never widely reported or understood thanks to specialisation in the private label and export business.
During this time Glen Catrine also bought Littlemill Distillery and Glen Scotia Distillery, all of which were neatly bundled together and sold to private equity firm Exponent in 2014. The new structure, Loch Lomond Group, is a totally integrated business with both grain and malt facilities, a bottling hall and two of the UK's top-selling brands; High Commissioner Blended Whisky and Glen's Vodka. Headed by an A-list cast of professionals from industry leaders Diageo including former Diageo CFO Nick Rose and former CFO for Diageo's global supply business Richard Miles, along with CEO Colin Matthews, who led Imperial Tobacco's businesses in Africa, the Middle East, and the Indian sub-continent, they mean business. Since taking over, the distillery's range has seen a major overhaul including rebranding and repackaging, and most importantly for whisky lovers around the world, a very strong focus on malt whisky.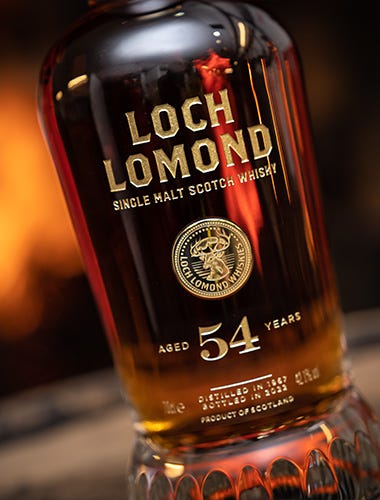 Distillery Facts
Origin: Lomond Estate, Alexandria, Scotland G83 0TL, United Kingdom
Water Source: 9 boreholes on site
Washbacks: 21, Stainless Steel (10 x 25,000 litres and 11 x 50,000 litres)
Stills: 3 sets of Lomond stills (wash and spirit), 1 set traditional pot stills (wash and spirit) and 3 sets of column stills (analyser and rectifier)
Capacity: 23,000,000 litres per annum of grain whisky and 2,000,000 litres per annum of malt whisky
Stop scrolling. Start dramming.