November 2022
The Miltonduff 17 Year Old
A stunning 17-year-old Scottish single malt at 48% ABV, Miltonduff is the hugely-anticipated second outing in the Ballantine's 17 Year Old signature malt trilogy. A decadent feast of berries, cream and white chocolate created exclusively for the Club.
United Kingdom
Nose Juicy honeydew melon, apricot and peaches with sweet strawberries, white chocolate-chip cookies, vanilla custard and freshly baked brioche.
Palate Orchard fruits of sweet nectarine and pear alongside fresh cranberries, thick rich honey and sticky caramel.
Finish Long, sweet and deliciously fruity. Plump, juicy berries and thick vanilla cream coat the mouth with shavings of white chocolate.
Food Match Panko crumbed chicken schnitzel with a side of greens, followed by mixed berry crumble with a dash of vanilla cream.
Overview
Miltonduff 17 Year Old is a true heavyweight with its chewy vanilla palate and long creamy finish. Created by the genius behind Aberlour, Glenlivet and Chivas Regal, this is the first time Miltonduff has been released in all its unadulterated glory, without chill filtering or colouring at 48% ABV. At $140 you simply won't find a Scotch with these specs at such incredible value anywhere in Australia.
Nearly two decades in cask without any meddling has imparted Miltonduff 17 Year Old with a mind-blowing palate of plump juicy berries smothered in vanilla cream and shavings of white chocolate.
As Seamus Carroll, our buyer here at Club HQ, says, "This is a great age statement to have on your shelf without paying an arm and a leg for it."
This is the second of three in our World Exclusive Ballantine's Trilogy Series: the first-ever whisky collaboration in the whisky power brand's centuries of production, where we unearth the three signature single malts that are key to the blended Scotch's legendary tasting experience.
If you were lucky enough to pick up a bottle of June's hugely successful Club pleaser, Glenburgie 17 Year Old, you'll be blown away by how distinctive these two whiskies are from one another.
Ballantine's Director of Blending, Sandy Hyslop has already attained global success with previous Miltonduff bottlings: the distillery's 15 and 19-year-olds both blew away the judges at the IWSC, bringing home gold.
If you loved the Balvenie Red Rose, Glenmorangie Cadboll 15 Year Old and Morris Tokay Cask, then the Miltonduff deserves a prime spot on your whisky shelf.
Remember Double Ups are on a first-come, first-served basis so make sure you're first in line to secure yours. Not yet a Member? Join free now.
THE SPECS
Maturation: Matured for 17 years in first-fill American oak ex-Bourbon casks.
Ready to enjoy a world-class whisky collection?
Your free Club Membership gives access to exclusive single malt from Scotland, Australia and the world's best distilleries. Enjoy the unrivalled buying power of Australia's biggest whisky club.
Miltonduff's History
Officially founded in 1824 (the same year as The Glenlivet and The Macallan) and located just a stone's throw from Elgin, The Miltonduff Distillery sits in the barley-rich pastures of the Glen of Pluscarden, which if you love whisky would have been a surprisingly thrilling place to be back in the early 1800s when it was home to as many as 50 illicit stills. If we wind the clock back even further than that, it was the site of the meal mill of the nearby Pluscarden Abbey, founded in 1236 by Benedictine monks. They've even kept a stone from the original Abbey at the distillery in its honour.

The distillery operated illicitly from the turn of the 1800s until the Excise Act in 1824 legalised whisky production and the distillery finally became a legitimate business, founded by Andrew Peary and Robert Bain and given the name The Miltonduff – named after Milton Farm where the distillery was located, and the Duff family who owned the surrounding lands.

Ownership changed hands several times over the years, most notably when Thomas Yool & Co became a shareholder in 1895. The new funds he injected into the business meant the distillery could undergo major expansion – and not a moment too soon given the whisky boom that was hitting Scotland at the time. Yool took control and full ownership a few years later and by the end of the century The Miltonduff was one of the largest whisky producers in Scotland, pumping the good stuff out at a rate of more than one million litres per year.

The distillery was soon to catch the eye – or tastebuds – of investors with even deeper pockets however. Canada's largest distiller Hiram Walker – Gooderham & Worts had made huge profits smuggling alcohol into the USA during Prohibition and were looking to expand into Scotland. They acquired George Ballantine and Son Ltd in 1935 then quickly started to look around for a stable supply of quality Scotch to fulfil ever-growing demand. Miltonduff caught their eye, and virtually all the distillery's production from thereon in went to supply whisky for Ballantine's blends, with only the odd standalone release.

The Miltonduff was one of the only Speyside distilleries to use triple distillation, and in 1964 they added another distilling innovation to their whisky bow when a pair of Lomond stills was installed to make their new Mosstowie brand of whisky. As you may remember from our whiskies past, Lomond stills represented the first real innovation in still design for around 100 years. They're used for batch distillation just like a regular pot still, but can also control reflux through the apparatus similarly to coffey stills, by way of three perforated plates that could be cooled independently. Crucially, this adaptable design allowed different styles of whisky to be made all in the one still.

Further upgrades to the distillery in 1974 saw production capacity increase to over 5 million litres per year, however incredibly this was still not enough Miltonduff for Ballantine's needs, and combined with a low demand for Mosstowie, the Lomond Stills were removed in 1981 to make way for additional pot stills to allow them to focus purely on increased whisky production.

The final sequence of ownership played out over the last 30 years, with Allied Lyons, having bought most of the stocks in Hiram Walker during 1986, purchasing the group outright in 1987. Allied Lyons merged with Pedro Domecq and was then acquired by Chivas Brothers' parent company Pernod Ricard, who took over the distillery in 2005.

Single malt distillery bottlings from The Miltonduff have been very few and far between, with 10 and 12 years old releases in the 1970s through 1990s, along with a number of independent bottlers' releases of 10, 15 and 22 years old expressions. Miltonduff also appeared in the Caledonian Malts line-up in 1991. A 15 Year Old was released in a series alongside other Ballantine's Malts Glenburgie and Glentauchers in 2017.

With a production capacity now standing at 5.9 million litres, The Miltonduff was Allied Distillers' largest distillery, and remains one of Pernod Ricard's biggest, with production figures only bettered by The Glenlivet. The distillery consists of six pot stills – three wash stills at 18,000 litres capacity each, and three spirit stills at 17,500 litres each. Water is supplied from the nearby Black Burn, which freely flows from springs just near the old Abbey, and the malt is from local Speyside sources.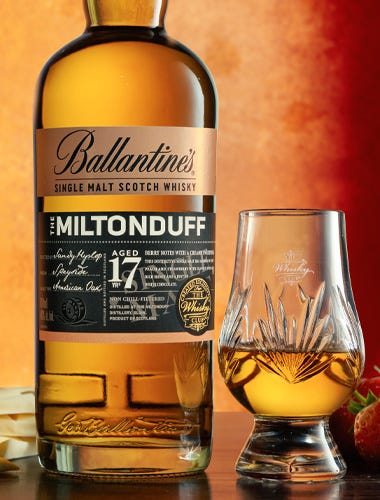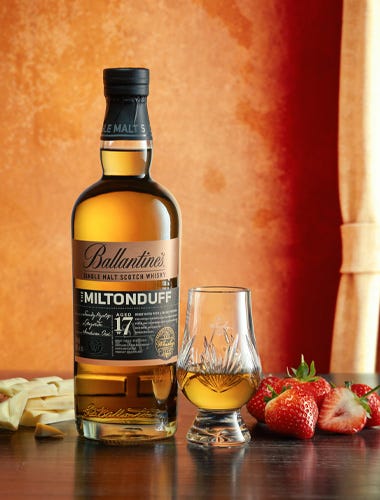 Distillery Facts
Origin: Miltonduff Distillery, Elgin, Moray, IV30 8TQ, Scotland
Water Source: The Black Burn
Washbacks: 16, Stainless Steel
Stills: 3 wash and 3 spirit
Capacity: 5,900,000 litres per annum
Ready to enjoy a world-class whisky collection?
Your free Club Membership gives access to exclusive single malt from Scotland, Australia and the world's best distilleries. Enjoy the unrivalled buying power of Australia's biggest whisky club.
Stop scrolling. Start dramming.