February 2023
An ultra-rare release from Islay cult legends Octomore. This is the world's most heavily peated whisky fully matured in Oloroso Sherry butts, available in Australia only to Members of The Whisky Club.
United Kingdom
Nose Rich syrupy orange and grapefruit citrus, hints of clove and cinnamon with walnut and praline. Brown sugar, raisins and dried apple with gentle peat smoke.
Palate Notes of smoked nuts and leather, warm orange marmalade on fresh scones. Dried apricot and hints of peppery spice toward the finish.
Finish Earthy peat smoke along with the fruit and nutty aromatics of the Oloroso casks.
Overview
A fully Sherried Octomore? You don't get the chance to taste this often.
The curious folk at Bruichladdich distillery reinvented the peat wheel back in 2002 when they begged the question: just how peated can you make a whisky? And since then, the Octomore range has continued to push the boundaries in whisky making.
The only other time Octomore's released a 100% Sherry matured whisky was for the coveted Fèis Ìle whisky festival. These whiskies became legendary and Octomore fanatics across the globe are still hunting them down and paying $1000+ to get their hands on a bottle.
Typically, Octomore releases start their life in ex-Bourbon casks before finishing in a range of different casks. Not Octomore 13.2.
Matured in 100% first-fill Fernando dè Castilla Oloroso Sherry butts and weighing in a hefty 58.3%, this intensely peated whisky is bursting with big, bold flavour like syrupy orange, praline, brown sugar, scones & marmalade, and smoked nuts with the longest, earthy peat smoke finish you've ever tasted.
Octomore 13.2 is peated to a whopping 137.3PPM. That's mind-boggling considering Lagavulin, regarded as heavily peated, comes in at 35PPM.
It's completely sold out in the UK and we only have a handful of bottles to go around. This is an absolute cult whisky and it will sell out in no time.
Orders for Octomore 13.2 have now closed. To grab our upcoming releases, join free now.
THE SPECS
Maturation: First-fill Fernando dè Castilla Oloroso Sherry butts
Ready to enjoy a world-class whisky collection?
Your free Club Membership gives access to exclusive single malt from Scotland, Australia and the world's best distilleries. Enjoy the unrivalled buying power of Australia's biggest whisky club.
Bruichladdich's History
Bruichladdich (pronounced "brook-laddie") distillery was established in 1881 by brothers William, John and Robert Harvey. The distillery is located on the shore of Loch Indaal on the Rinns of Islay and was Scotland's and Islay's westernmost distillery for many years before the recent establishment of Abhainn Dearg and Kilchoman.

The brothers came from a whisky dynasty of sorts, their family running two Glasgow distilleries since the 1770s. Using an inheritance and a bit of common sense, they combined their skills to establish Bruichladdich, which at the time was considered radically avant-garde on Islay. Robert, then a 23-year-old engineer, created a state of the art facility built around a large courtyard employing gravity to feed the mash to the spirit house, a stark contrast to the other distilleries on Islay which had grown out of farmyard operations.

While the distillery was designed and built by Robert, he never actually had the pleasure of running it. The brothers had a falling out before the build was even completed and it was William who ran it until his death in 1936. Since then Bruichladdich saw a revolving door of ownerships through to 1994 when Jim Beam acquired it and to the dismay of the locals mothballed it only a year later.

Bruichladdich's and the local community's fortunes were to change for the better however when it was bought in 2000 by a consortium led by Mark Reynier from independent bottler Murray McDavid. Mark employed local legend Jim McEwan, who had worked at nearby Bowmore since he was 15, as master distiller and production director and together they set about reviving Bruichladdich, and in so doing set the benchmark for successful distillery revivals. One of the first tasks was to dismantle and reassemble the entire distillery, retaining the Victorian décor and equipment. Remarkably Bruichladdich had somehow escaped modernisation over the years and is very much a living museum. Even today no computers or modern instruments are used in the distillery and most of the original Harvey equipment from 1881 is still very much in use.

2006 saw the release of the first bottling of malt made by the new owners and in 2012 French giant Remy Cointreau bought the distillery for £58m. The takeover provided the necessary funding to expand production and by 2013 Bruichladdich was running at full production. Today it's the largest private employer on Islay, providing opportunity and a livelihood for some 80 islanders plus a host of allied contractors and local farmers.
While elements of Bruichladdich's history may be familiar (established in late 19th century, multiple owners, expansion in '70s, mothballing in '90s, revival in '00s), the distillery's philosophy is singular throughout Scotland. Striking a fine balance between respect for traditional methods, faithfully using Victorian era equipment and an enquiring attitude, the self-styled 'Progressive Hebridean Distillers' introduced the concept of terroir to whisky making and are the only major distillery to distil, mature and bottle all of its stock on Islay, all of the time.

Terroir is well understood and applied in wine and cognac making but is largely ignored in whisky despite an obvious equal relevance. Terroir refers to the set of all environmental factors that affect a crop's phenotype, factors such as growing environment, climate, timing and farming practices. Collectively these contextual characteristics are said to have a character referred to as terroir.

At Bruichladdich the team conduct a fascinating and ongoing exploration of the influence of terroir on finished spirit, using whiskies from various barley varieties, grown in different years on different farms to create excellent whiskies reflective of their provenance. To this end the team made commitments to Islay farmers who now grow barley exclusively for them (farms, farmers and even the fields in which the grain is grown are identified on the packaging where possible) enabling a single malt from 100% Islay barley for perhaps the first time in the island's history.

Also very noteworthy is the distillery equipment and production method employed at Bruichladdich. As mentioned earlier there are no computers or modern instruments used in the production system, everything is done by hand and taste and much of the core equipment is the original from 1881, including the original seven tonne mashtun and two stills, believed to be the oldest in Scotland. Bruichladdich uses very tall and thin stills which produce a light, floral spirit, as much at odds with the rest of island's stills today as they were in 1881.

All the distillery's whiskies are sold as single malt under three distinct labels; Bruichladdich (unpeated), Port Charlotte (heavily peated) and Octomore (super-heavily peated – actually considered to be the most heavily peated single malt whisky in the world).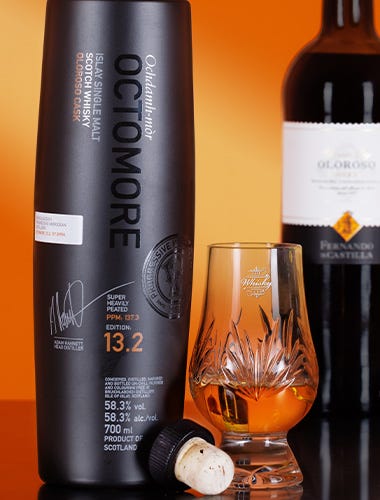 Distillery Facts
Origin: Bruichladdich PA49 7UN, Scotland, United Kingdom
Water Source: Octomore Farm spring
Washbacks: 6, Oregon pine (Douglas fir)
Stills: 2 wash and 2 spirit
Capacity: 1,500,000 litres of alcohol per year
Stop scrolling. Start dramming.