August 2022
From one of the world's most awarded distilleries, our gold-medal-winning Paul John Port Cask created exclusively for The Whisky Club was the highest-scoring Asian single malt in the 2023 International Wine and Spirits Competition.
India
Nose Intense cocoa and blackberries. Nuts with a touch of spice, dried fruit, and dark chocolate.
Palate Sweet, with a mix of vibrant citrus, smoky spice, vanilla, rich caramel, and hot chocolate cocoa.
Finish Malty, nutty, and luxuriously honeyed with touches of spice and dried fruit in soft oak.
Food Match Barbecue chicken with paprika dry rub beside roast potatoes with greens.
Overview
With the distillery in the former Portuguese enclave of Goa on the west coast of India, it's fitting that this whisky was matured in traditional rich vintage Port and Tawny casks from the spiritual home of Port, Portugal's Douro Valley.
Vibrant, sticky and bursting with flavour, Paul John Port Cask is a gem from one of the most highly awarded distilleries on the planet. Inspired by Glenmorangie in Scotland with its tall stills and fruity spirit, Paul John has been winning multiple gongs across all the global whisky competitions that matter.
And when you hear it's the world's first distillery to have its entire core range certified Liquid Gold (scores above 94.5 points), Paul John Port Cask is looking more and more like a home run.
The super-dark mahogany colour gives more than a hint of the decadent ripe blackberries, dark chocolate, sweet smoked spice and dried fruit inside, not to mention the luxuriously honeyed soft oak finish of this single malt.
Paul John is the only single malt in the illustrious Sazerac stable, so you know this is going to be seriously good. The whisky nerds among you will know Sazerac is home to cult favourites George T. Stagg, W. L. Weller and the holy grail of bourbon that is Pappy Van Winkle.
Master Distiller Michael D'Souza's beyond proud of this Port Cask release: "This is special to me," he says. "This is the very first release of this product and I'm extremely excited to have it released for The Whisky Club." You're excited Michael? You should see the enthusiasm levels here at Whisky Club HQ!
As far as whiskies you might know that are in the same ballpark, think Dalmore Port Cask, Glenmorangie Malaga, Bushmills Banyuls or GlenDronach Cask Strength Batch 10. Aberlour and The Macallan are also up there. Seriously, if you love traditionally Sherried Scotch, this one will tick a huge number of boxes for you.
Created Exclusively for the Club, Paul John Port Cask achieved the highest ever rated blind tasting from our Members (true story) and went on to win a gold medal and be the highest-scoring Asian single malt in the 2023 International Wine and Spirits Competition. At $140, you'll want to grab one before the last of them's gone. Not yet a Member? Sign Up free now so you don't miss out!
THE SPECS
Maturation: Matured in Vintage Port and Tawny Port casks from the Douro Valley in Portugal
Ready to enjoy a world-class whisky collection?
Your free Club Membership gives access to exclusive single malt from Scotland, Australia and the world's best distilleries. Enjoy the unrivalled buying power of Australia's biggest whisky club.
John Distilleries' History
The son of a Bangalore-based liquor store chain owner, Paul P. John started a biscuit factory after leaving college where he'd studied law. But it wasn't long before the family business started calling, and the factory was closed after only a couple of years. In 1992 Paul got a distillation licence and started buying spirits from various distilleries, blending and bottling them for sale under his own brands.
Things started to get serious in 1996 with the founding of John Distilleries, and the launch of Original Choice whisky. Made for the domestic market, and thanks to India's appetite for whisky, it's become John Distilleries' bread and butter. By 2005, John Distilleries was selling over 4 million cases of whisky a year of which Original Choice made up the bulk.
It was while he was living in Florida in 2002 that Paul P. John discovered single malts, something he became intensely passionate about. Of course, this led to a period of intensive research, many trips to Scotland, and finally, the construction of a purpose-built single malt distillery in 2008, with long-term employee Michael D'Souza put in charge of the project.
D'Souza had always been fascinated by the process of making alcohol and got into the business soon after finishing school, so becoming Paul John's Master Distiller in 2009 was a dream come true. He also took time off from his whisky journey to travel to Italy, becoming a certified winemaker to further his knowledge about fermentation and the use of casks in wine maturation.
While the HQ remained in Bangalore, the single malt distillery was built in Goa on the west coast of India, a location chosen for its unique micro-climate and a never-ending supply of pure water from an underground water table. The beaches, food, and warmth of its people didn't hurt either.
Inspired by Glenmorangie in Scotland, two sets of copper pot-stills with long necks to create fruitier spirits were built locally. Together, they're capable of producing some 6000 litres a day.
While virtually every other whisky-maker in the world uses two-row barley, Paul John is made with Indian six-row barley, grown in Rajasthan, Haryana, and the foothills of the Himalayas. It's harvested during the summer and is high in proteins and enzymes, bringing lots of sweetness and character to the whisky, however, it doesn't yield as much alcohol, and once fermented results in a wash that's around 5% ABV, as compared to the 7 or 8% you would see from two-row barley.
Both peated and unpeated whiskies are made by John Distilleries, Because there's no Indian source, peat is imported from Islay and Aberdeen and is the only non-local ingredient used. Water is sourced from an underground water table in Goa, along with rain-fed sources and water from the Western Ghats mountain range.
As in Australia, India's warm climate both speeds up the maturation and increases the evaporation of liquid from the casks. While the Scottish angles share is about 2%, in India, despite much of the maturation of Paul John taking place in a climate-controlled underground cellar, it's more like 8 or 10%. The upside is that while the casks are filled with new make at 55%, the ABV rises to around 57% during maturation.
The first Paul John single malt whisky, "Paul John Single Cask 161 Whisky", was released to high acclaim in London in October 2012, and has been followed by a range of both peated and unpeated whiskies, single casks, and special releases.
In 2018, one of the largest spirits companies in the U.S., the family-owned Sazerac Company, invested heavily in the John Distillery, buying 43% and adding Paul John to its portfolio alongside some of the biggest names in the business, like Buffalo Trace, E.H. Taylor, George T. Stagg, Blanton's, and Pappy Van Winkle.
2018 was a big year for the Goa distillery, with the Paul John Visitor Centre being opened as well. Visitors tour the distillery itself, wander around the underground cellar and warehouses and finally visit the tasting room. It's the first of its kind in India, and if you ever find yourself in Goa, be sure to add it to your itinerary.
With a network of 8 manufacturing units in 7 states of India, employing more than 1000 people and making a range of wines, brandies and other spirits alongside its whisky brands, John Distilleries meteoric rise continues, with the one that started it all, Original Choice, now selling more than 11 million cases a year, and consistently ranked as one of the top 10 selling whiskies in the world.
Paul John's whiskies have won hundreds of awards. In fact, it's the first whisky to have its entire range be awarded Liquid Gold. Not only that, but Michael D'Souza won 'Master Distiller/Master Blender of the Year 2017' at the Icons of Whisky India Awards, and Paul P. John was honoured as the 77th inductee into Whisky Magazine's Hall of Fame in 2022.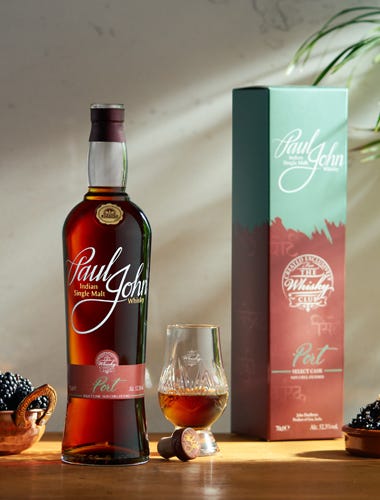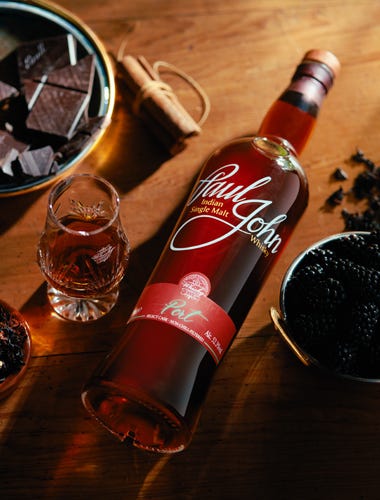 Distillery Facts
Origin: M 21, Cuncolim Industrial Area., Cuncolim, Goa 403703
Water Source: Local underground water table, rain-fed water sources, and water from the Western Ghats
Stills: 4 (2 wash, 2 spirit)
Capacity: 1,200,000 litres per annum
Stop scrolling. Start dramming.