September 2023
Starward Cognac Single Cask
We've kept aside two single casks of our Double-Gold award-winning whisky for an extra-long maturation in the crème de la crème of spirits casks. Starward's first-ever French Oak Cognac Single Cask, created only for Members of The Whisky Club.
Australia
Nose Juicy apple and poached pear, with sticky toffee and stewed fruit spice alongside rich French oak.
Palate Bright orange, blackberry jubes and chewy caramel, with dried apple and toasted almonds.
Finish Bold and syrupy. Fruit and nut mix with baked orchard fruits and milk chocolate.
Overview
Aussie whisky legends and 2022's San Francisco World Spirits Competition Most Awarded Distillery of the Year, Starward, put its award-winning single malt in fresh Limousin Oak French Cognac casks, shipped directly from France — a distillery-first, made exclusively for Members.
It went on to clean up on the global stage, picking up Double Gold at the prestigious 2023 San Francisco World Spirits Competition.
Starward kept aside two exceptional single casks from that release and let them mature for an extra six months in the decadent French Limousin oak Cognac casks. All up, the Starward Cognac Single Cask has spent 18 months inside the world's most luxurious casks.
And it tastes divine — with big bold and juicy notes of bright orange, sticky toffee, poached pear, toasted almonds and chewy caramel that jump straight out of the glass.
Cask strength, non-chill filtered with natural colour, sipping on this as close as you can get to walking into Starward's warehouse and drawing some of this decadent single malt straight from the cask.
With the distillery focusing on batch releases, a single cask is a rarity these days — and so is Starward at cask strength. With only two of these precious single casks, Members will lap us this lavish liquid in no time.
Starward Cognac Single Cask is made exclusively for Members of The Whisky Club and represents amazing value for an Australian Single Cask whisky finished in the world's most prestigious spirit casks.
If you're not a Member yet, join the Club free now to get your hands on our upcoming releases.
THE SPECS
Maturation: Finished in French Cognac Limousin oak Casks
Ready to enjoy a world-class whisky collection?
Your free Club Membership gives access to exclusive single malt from Scotland, Australia and the world's best distilleries. Enjoy the unrivalled buying power of Australia's biggest whisky club.
Starward's History
Starward Distillery was established in 2007 in the Qantas Maintenance Hangar at Essendon Airport by David Vitale, and from humble beginnings and in the space of only a decade it's become the flagship of Australian craft whisky and an Australian whisky icon.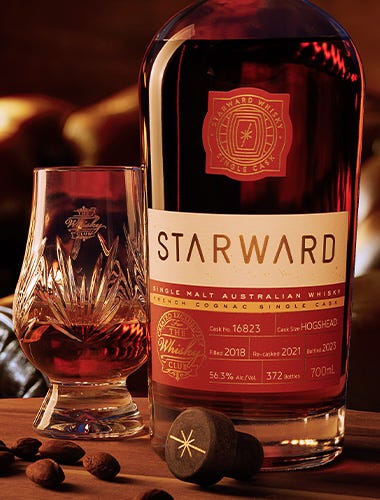 Distillery Facts
Origin: 50 Bertie St, Port Melbourne VIC 3207
Water Source: Thompson and Upper Yarra reservoirs
Washbacks: 5 x 25,000L, stainless
Stills: 1 wash and 1 spirit
Capacity: 700,000 litres per annum
Stop scrolling. Start dramming.