December 2021
Starward Finished In Tawny Fortified Casks
For the first time ever, Starward's signature red wine cask matured whisky has been finished in Australian Tawny casks. The ultimate Christmas whisky; summer fruits, vanilla and toffee apple meld with blackberries, raisins, and Christmas pudding at a festive 48%.
Australia
Nose Starward's signature tropical fruit notes followed by dense red fruit tart, black cherries, vanilla, and toasty oak.
Palate Full-bodied and generous. Toasted malt, toffee apple, freshly picked blackberries and sundried raisins.
Finish Luscious summer fruits, sweet and spiced oak with rich Christmas cake.
Food Match Roast turkey with stuffing and duck fat potatoes followed by Grandma's Christmas cake
Overview
It's the great Aussie Christmas-In-A-Bottle: a liquid festive feast from the nation's favourite distillery.
Starward Finished In Tawny Fortified Casks is a world exclusive collector's edition single malt from the one-and-only, Icons of Whisky award winning, Starward - made specially for the Club this Christmas. For the first time ever they've finished their red wine cask whisky in Australian Tawny Casks.
This, without doubt, is peak Aussie whisky and the perfect dram to share with family and friends this Christmas.
Matured in a combination of charred and fresh red wine casks sourced from the Barossa and Yarra Valley, Starward's best was then filled into Tawny casks sourced from several Australian wineries. These were shaved, toasted, and charred to Starward's specifications, and ranged in size from 100L quarter casks to 500L puncheons.
The result? Starward's signature multi-gold-winning whisky has been elevated to a whole other level; laying on a decadent liquid festive feast of rich Christmas cake, sun-dried Aussie raisins, vanilla, and sticky, sweet toffee apple, just in time for Christmas. Bottled at 48%, non-chill filtered and in glorious natural colour.
At $130 a bottle, Starward Finished In Tawny Fortified Casks is incredible value for a Starward limited edition, the must-have whisky for your Christmas table and the perfect gift for the whisky lovers in your life.
Orders for Starward Finished In Tawny Fortified Casks have now closed. Sign Up free now to get your hands on our upcoming releases.
THE SPECS
Maturation: Matured in fresh and charred wine casks, finished in Tawny fortified wine casks
Ready to enjoy a world-class whisky collection?
Your free Club Membership gives access to exclusive single malt from Scotland, Australia and the world's best distilleries. Enjoy the unrivalled buying power of Australia's biggest whisky club.
Starward's History
Starward Distillery was established in 2007 in the Qantas Maintenance Hangar at Essendon Airport by David Vitale, and from humble beginnings and in the space of only a decade it's become the flagship of Australian craft whisky and an Australian whisky icon.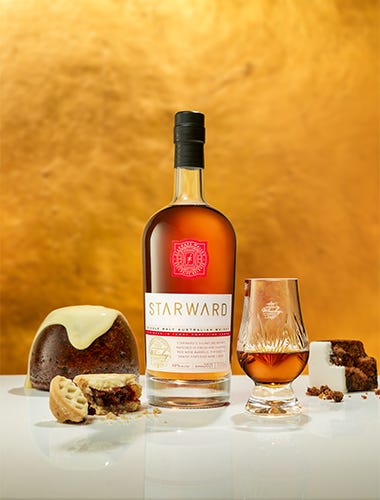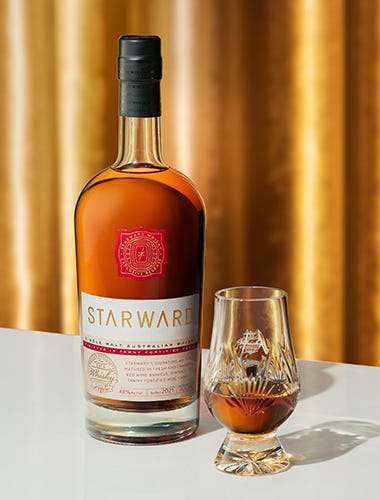 Distillery Facts
Origin: 50 Bertie St, Port Melbourne VIC 3207
Water Source: Thompson and Upper Yarra reservoirs
Washbacks: 5 x 25,000L, stainless
Stills: 1 wash and 1 spirit
Capacity: 700,000 litres per annum
Stop scrolling. Start dramming.