November 2023
Starward Pedro Ximénez Cask
Created exclusively for the Club, we've worked long and hard with the pioneer of PX in the Aussie whisky world bring our Members this delicious, jammy fruit-bomb of a whisky. It was worth the work.
Australia
Nose Orange zest with bright tropical fruits, banana pancake, dried apricot, sticky toffee & rich blackberries.
Palate Golden syrup and dried orange peel with buttered raisin toast, nutmeg, toasted oak and mocha.
Finish Rich and jammy, with caramel fudge, dried fruits and mulberry jam accompanied by cacao nibs.
Food Match Slow-cooked braised beef and creamy mash, and a cheeky bit of hazelnut milk chocolate for dessert.
Overview
The OG Aussie Sherry Bomb is back!
We've toiled for the past few years alongside the pioneer of Spanish PX casks in the Aussie whisky world to bring Members this delicious, fudgy fruit-bomb of a whisky.
It was worth the work.
In 2011, Starward first laid some Australian whisky into proper Pedro Ximénez Sherry casks. When these first release New World Projects PX Casks pop up on the secondary market, they regularly go for around $800... the fact that we've got you a PX cask finish (in the best hogsheads that Jerez had to offer) for $140 is reason enough to Double Up.
This special collaboration is the third that we've created in our exclusive Starward Wood Cask series, and it's not just us who are noticing the rise and rise of this Melbourne distillery. Starward are still basking in the glow of being named Most Awarded Distillery of the Year at the prestigious San Francisco World Spirits Competition 2022 — as well as having hauled in 12 x Double Gold and 3 x Gold medals at the SFWSC 2022, and have since brought home 12 x Double Golds and 10 x Golds at the 2023 Awards.
Starward's signature red wine barrel maturation that everyone has come to know and love shows through with vanilla pod, blackberry and nutmeg, burnished with bright tropical fruit and wrapped in the sweet, chocolatey richness from the lengthy second maturation in Spanish PX casks. That's followed with a big and juicy palate of mulberry jam and raisin toast backed up by fruitcake, caramel and cacao nib in this 48% ABV stunner.
The bottle proudly wears its freshly rebranded Starward styling, resplendent in an alluring golden-brown gradient that reflects the liquid's jammy vibes.
Every bottle purchased also gave you and a guest the chance to win a money-can't-buy Starward Distillery experience. Curated by Head Distiller Sam Slaney, this was a bespoke behind-the-scenes tour with one of the distillers themselves, tasting the liquid from every step of brewing and distillation, as well as a private barrel tasting and a unique bottle to take home. The experience was finished with a signature Starward cocktail and lunch at the iconic HER restaurant and rooftop bar. This all expenses paid package included interstate flights, 5-star accommodation and all meals, and was worth approximately $5,000 for two people.
Favourite cask type, most awarded distillery…
*PINCH*
Nope, you're not dreaming.
And if you're not a Member yet, join the Club free now to get a bottle before they're all snapped up.
THE SPECS
Maturation: Signature Starward finished in Pedro Ximénez Sherry casks
Ready to enjoy a world-class whisky collection?
Your free Club Membership gives access to exclusive single malt from Scotland, Australia and the world's best distilleries. Enjoy the unrivalled buying power of Australia's biggest whisky club.
Starward's History
Starward Distillery was established in 2007 in the Qantas Maintenance Hangar at Essendon Airport by David Vitale, and from humble beginnings and in the space of only a decade it's become the flagship of Australian craft whisky and an Australian whisky icon.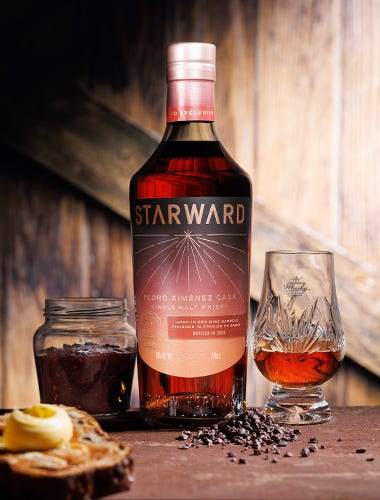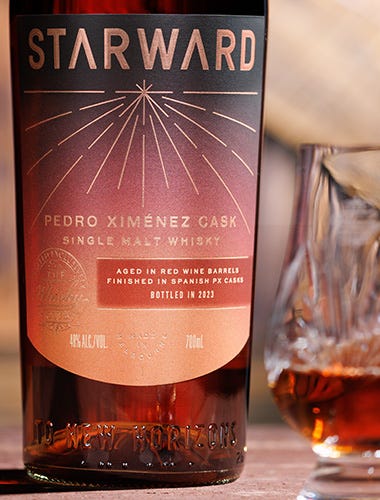 Distillery Facts
Origin: 50 Bertie St, Port Melbourne VIC 3207
Water Source: Thompson and Upper Yarra reservoirs
Washbacks: 5 x 25,000L, stainless
Stills: 1 wash and 1 spirit
Capacity: 700,000 litres per annum
Stop scrolling. Start dramming.