August 2022
Starward Tawny Fortified Single Cask
Starward found some standout barrels when they were bottling our Whisky of the Month in 2021. So they aged them further, dialling the flavour up to 11.
Australia
Nose Starward's signature tropical fruit notes followed by dense fruit tart, black cherries, fresh brioche, vanilla, and prunes.
Palate Full-bodied and generous. Rich caramelised malt, blackberry and raspberry jam, roasted almonds alongside sun dried raisins.
Finish Long and salivating. Cranberry, brown sugar and toasted oak with quintessential Christmas cake on the finish.
Overview
Single cask whisky doesn't hide under a bushel.
This is full cask strength straight from the barrel — and no ordinary barrel. At the end of 2021, Starward were putting together our Whisky of the Month, finished in Tawny Fortified casks.
A couple of barrels stood out from the rest. These were set aside to see what another nine months in the rich South Australian Tawny casks would do.
The result is an absolute rockstar of a dram. It's a flavoursome whisky that retains all the wonderful complex elements of the original, then ratchets it up to eleven. Darker, more intense. Think rich, chewy caramel, roasted almonds and blackberry jam alongside sun-dried raisins, brown sugar and Black Forest cake.
Let's not forget that Starward was named Most Awarded Distillery at the prestigious San Francisco World Spirits Competition in 2022, the very year this whisky was being lovingly put into bottle. Proudly flying the Australian flag, no less than 12 of their whiskies took out Double Gold at the event. This really is next-level whiskymaking.
Not yet a Member? Sign Up Free now to get your hands on our upcoming releases.
THE SPECS
Maturation: Matured in first-fill fresh and charred red wine casks from the Barossa and Yarra Valleys, then finished in fresh Australian Tawny fortified wine casks.
Ready to enjoy a world-class whisky collection?
Your free Club Membership gives access to exclusive single malt from Scotland, Australia and the world's best distilleries. Enjoy the unrivalled buying power of Australia's biggest whisky club.
Starward's History
Starward Distillery was established in 2007 in the Qantas Maintenance Hangar at Essendon Airport by David Vitale, and from humble beginnings and in the space of only a decade it's become the flagship of Australian craft whisky and an Australian whisky icon.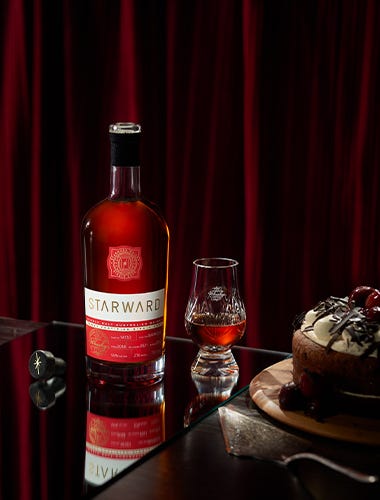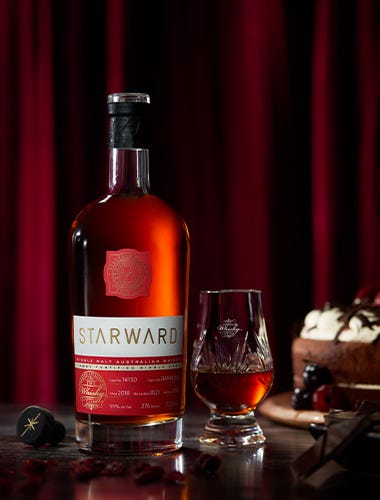 Distillery Facts
Origin: 50 Bertie St, Port Melbourne VIC 3207
Water Source: Thompson and Upper Yarra reservoirs
Washbacks: 5 x 25,000L, stainless
Stills: 1 wash and 1 spirit
Capacity: 700,000 litres per annum
Stop scrolling. Start dramming.