November 2023
The Balvenie 19 Year Old Oloroso Cask
The ninth in The Balvenie's highly regarded 'Stories' series, this is the first to be fully matured in Sherry casks. A first release from David C Stewart MBE's protégée, newly appointed Malt Master Kelsey McKechnie, this rich expression hails the dawn of a new era for The Balvenie.
United Kingdom
Nose Intense ripe fruits and caramelised orange peel reveal beautifully toasted oak and milled barley.
Palate Bold and balanced, flavours of currants, cherries and raisins give way to a chewy fig and rich cacao.
Finish Long creamy, nutty finish.
Overview
This stunning 19-year-old brings a new depth to The Balvenie's ultra collectible and much coveted 'Stories' series. Matured fully in European oak ex-Oloroso Sherry casks to bring about a stronger and more intense flavour profile, the story behind The Balvenie 19 Year Old: Revelation of Cask & Character celebrates the rich history of coopering at the Speyside distillery.
Head Cooper Ian McDonald has been working at The Balvenie since 1969, building an extensive knowledge of working with casks — in particular from Spanish bodegas. The distillery happens to be one of the few remaining distilleries in the whole of Scotland to maintain an on-site cooperage as well as Cooper's apprenticeship programme to ensure the fine art of of coopering carries on through to the next generation.
Malt Master Kelsey McKechnie describes the ninth expression of the 'Stories' series as "the perfect way to showcase the journey of our Coopers, representing Ian's work with Spanish bodegas. It's a really rich expression, with familiar honey smoothness revealing layers of spice, and intense ripe fruits like a freshly baked Christmas cake, currants and raisins then giving way to chewy fig, and a long creamy, nutty finish. It has deep layers of flavour, all created by maturation solely in European oak ex-Sherry casks and showcasing our Coopers' craft perfectly."
At a beautifully balanced 47.5% ABV, this craft single malt is presented non-chill filtered with natural colour. The label continues with the 'Stories' theme, featuring a bespoke illustration by British artist Andy Lovell which depicts The Balvenie distillery's cooperage.
This rich single malt also hails the dawn of a new era for The Balvenie: the first release since former Malt Master David C. Stewart MBE was succeeded by his protégée, Kelsey McKechnie. If you're a Balvenie collector, don't miss this fantastically exciting chance to get the first whisky from Kelsey — the kind of opportunity that doesn't come around often.
For the whisky nerds who want to know even more about this special release, The Balvenie have a podcast episode about the story behind this whisky: Episode 9: A Revelation of Cask and Character
The whole national allocation for this limited edition malt came directly to The Whisky Club, just for Members. So if you're not yet part of the biggest whisky community in Australia, jump onboard and join free today before it's too late.
THE SPECS
Maturation: Oloroso Sherry cask
Ready to enjoy a world-class whisky collection?
Your free Club Membership gives access to exclusive single malt from Scotland, Australia and the world's best distilleries. Enjoy the unrivalled buying power of Australia's biggest whisky club.
The Balvenie's History
Established in 1892 by William Grant in a converted 18th century mansion, The Balvenie Distillery is one of the great success stories of Scotch whisky. Today the distillery is owned by the fifth generation of William Grant's family, making William Grant & Sons one of the longest single-family ownerships in the world.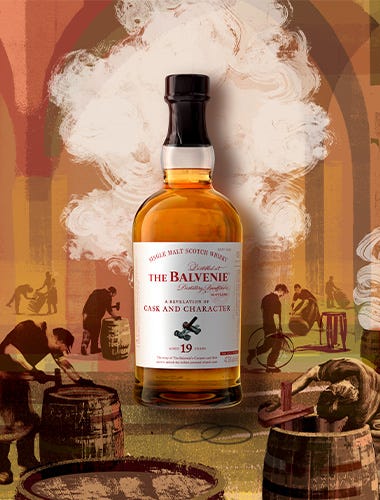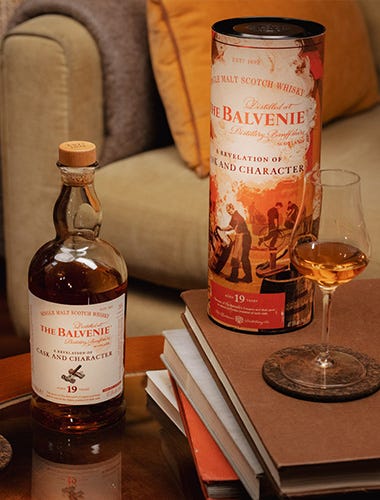 Distillery Facts
Origin: Balvenie Distillery, Dufftown, AB55 4BB, Scotland, United Kingdom
Water Source: 21 springs in the Conval Hills surrounding the distillery
Stills: 5 wash and 6 spirit
Capacity: 5,600,000 litres per annum
Stop scrolling. Start dramming.