November 2021
The GlenDronach Cask Strength Batch 10
The pinnacle of luxury Sherry cask Scotch is here, and yes, The GlenDronach Cask Strength Batch 10 will have you reaching for more. Matured in the finest Pedro Ximénez and Oloroso Sherry casks, it's been bottled at natural cask strength, 58.6% ABV.
United Kingdom
Nose Tantalising hints of mocha, apricot, and baked orange chocolate cake, with roasted almond, walnut and raisin on a base of aromatic toasted oak.
Palate Decadently brimming with richly spiced fruitcake with nectarine, juicy dark cherry, and honeyed sultana.
Finish Long-lasting with lingering ripe apricot layered with ginger jam and indulgent caramelised date.
Food Match Beef goulash followed by chocolate pudding with thick raspberry sauce
Overview
The latest release in the famed GlenDronach Distillery's Cask Strength series is here, and it's exclusive to the Club in Australia. Get excited for The GlenDronach Cask Strength Batch 10 - the absolute definition of Sherried perfection from the undisputed masters of Sherry cask maturation.
This limited-edition release of Highland Single Malt Scotch Whisky was matured in the finest Pedro Ximénez and Oloroso Sherry casks, direct from Andalucía in Spain. The casks were individually selected by Dr. Rachel Barrie, the first female Master Blender in Scotland's history, then combined to create the perfect marriage of casks at 58.6% ABV natural cask strength, non-chill filtered and natural in colour.
This unadulterated cask strength bottling brings out the full character and depth of GlenDronach's complex, full-bodied spirit, along with the rich, deep concentration of flavour and natural colour from those Spanish oak Sherry casks: the Pedro Ximénez casks bring rich, fruit flavours, whilst the dry and nutty notes come from the Oloroso casks.
Pour yourself a glass and be rewarded with wave upon glorious wave of chocolate orange cake, ripe dark cherries, nuts, and honeyed sultanas, and that classic long, lingering, viscous finish.
The GlenDronach Cask Strength Batch 10 is a massive Sherry Bomb that'll leave your palate in awe of its rich, delicious complexity.
Sign Up free now to grab our next exclusive releases.
THE SPECS
Maturation: Fully matured in Pedro Ximénez and Oloroso Sherry casks
Ready to enjoy a world-class whisky collection?
Your free Club Membership gives access to exclusive single malt from Scotland, Australia and the world's best distilleries. Enjoy the unrivalled buying power of Australia's biggest whisky club.
GlenDronach's History
Known as "the sleeping giant", GlenDronach is one of Scotland's oldest distilleries and only the second to be granted a license to produce whisky after the Excise Act of 1823. James Allardice, a remarkable and extroverted man who loved a drink and a good time, founded the distillery on the Boynsmill Estate in 1826. It's believed that illicit distillation had actually been taking place at the estate for years before the excise act was passed, but this was undetected thanks to an ingenious alarm system in the form of a colony of rooks nesting in the trees, which would create a hell of a commotion when disturbed… an excellent warning system for the approach of Customs & Excise agents.
Allardice's initial sales trip to Edinburgh is reported to have descended into whisky fuelled debauchery involving several "ladies of the night", with him scoring in more ways than one because he sold all of his stock on that trip, and not long after bottles of Guid GlenDronach could be found in every pub along the Royal Mile. Word soon spread about GlenDronach's richly Sherried malts and the distillery landed an early contract for its malt whisky to be used as a key blending ingredient in Teacher's Royal Highland Cream Scotch Whisky, a deal that lasted more than a century with Teacher's eventually buying the distillery in 1960.
Things were going very well, but two key events over the next few years saw ownership of the distillery change hands and Allardice eventually losing his share in GlenDronach. The first was a fire in February 1837 that practically burned the distillery to the ground. Business suffered after the fire and some of the original partners retired, thereby opening the door for Walter Scott, former clerk and then distillery manager at Teaninich to become a new and equal partner of Allardice. The distillery was repaired, and business continued to flourish until the financial crisis of 1842 left Allardice bankrupt. The remaining partners bought his share and Walter Scott took the reins. The distillery flourished under his stewardship, expanding significantly between 1860 – 1880 and selling more whisky than any other distillery in Scotland during that time.
Walter Scott died in May 1886 and over the next seventy-five years the distillery was owned first by a consortium known as The GlenDronach Distillery Company and then by William Grant's son Charles before Teachers eventually bought the distillery in 1960, a sensible move given GlenDronach had been supplying malt whisky for Teacher's blends for the past 130 years! Keen to capitalise on the Scotch boom at the time, Teacher's expanded the distillery in 1967 with the new 'concrete block' still-house and doubled the number of stills from two to four.
A significant event occurred in 1968 with the release of GlenDronach 8YO, the first time that the distillery was promoted as a stand-alone single malt brand and the distillery's core range of 12, 15 and 18 year old heavily Sherried single malts soon reached iconic status. In the meantime, ownership changes were taking place in the background that would ultimately place the continuity of GlenDronach at risk. Allied Brewers, who would go on to become Allied Domecq, acquired Teacher's in 1976 and in 1996 GlenDronach was mothballed and its floor maltings decommissioned.
Fortunately, the mothballing was short-lived and GlenDronach reopened on May 14th 2002 after being closed for 6 years. GlenDronach was closed again for 5 months during 2005, this time in order to convert the stills from coal-fired to steam heating, a conversion deemed necessary under EU Health & Safety rules that no longer allowed coal-fired stills. At the time it was the last distillery in Scotland to operate coal-fired stills. By now Pernod Ricard had purchased Allied Domecq and the new owners began a shift away from Sherry casks, filling only Bourbon casks in a move that horrified GlenDronach's followers!
This madness was short lived, thankfully, because in 2008 The BenRiach Distillery Co Ltd acquired GlenDronach from Pernod Ricard. The new ownership brought GlenDronach under independent ownership for the first time in almost half a century and more importantly, brought it under stewardship of Billy Walker, one of the most exciting whisky makers of our time.
Billy's vision was to see GlenDronach return to its traditional Sherry style of single malt whisky. Filling of Bourbon casks was immediately ceased and in 2009, much to the delight of malt fans across the world, GlenDronach "re-released" its iconic core range of 12, 15 and 18 year old 100% Sherried single malts.
In 2015, The BenRiach Distillery Company won the Global Whisky Distiller of the Year at the Icons of Whisky Awards, a win that no doubt caught the attention of American giants Brown-Forman, who scooped the company up the following year. This ushered in a new era as these revered distilleries came under the care of another whisky legend, Dr Rachel Barrie, whose incredible work over recent years has seen The GlenDronach, more than ever, become the serious whisky lover's "Glen" of choice.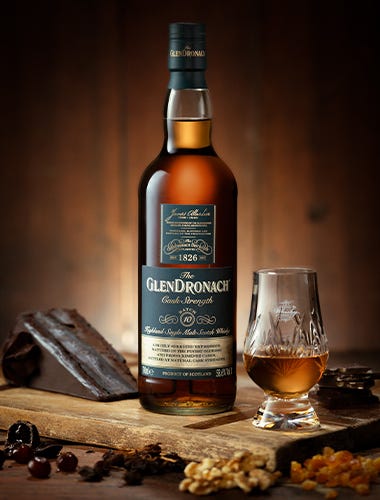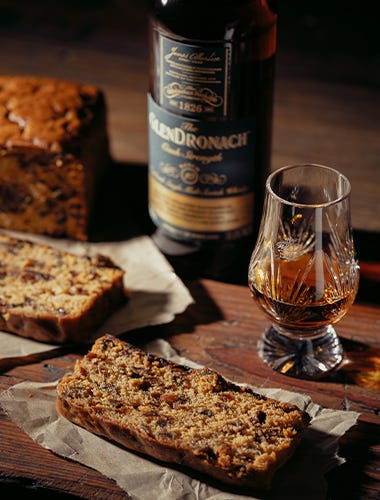 Distillery Facts
Origin: Forgue By Huntly, Aberdeenshire, AB5 4DB, Scotland, UK
Water Source: Balnoon Burn
Stills: 4 (2 wash and 2 spirit)
Capacity: 1,400,000 litres per annum
Stop scrolling. Start dramming.