June 2019
Tomatin 2008 First-Fill American Oak Single Cask
We laid down a challenge to Tomatin Distillery's award-winning Master Blender Graham Eunson to create something ultra-special for us and he over-delivered with an exquisite series of Single Cask Single Malts hand-selected from a set of first-fill American oak sister casks laid down together on 16 January 2008, representing a highly collectable snapshot in time from one of Scotland's most awarded distilleries.
United Kingdom
Nose Soft and sweet with notes of white chocolate, vanilla ice cream and toasted barley, and just a hint of lemon meringue pie.
Palate Big and full with creamy vanilla, barley and oak, opening into white chocolate, nougat and ginger notes.
Finish Strong and long with sugared almonds, banana bread, vanilla fudge and a touch of sherbet fizzyness.
Overview
Tomatin makes a lighter, unpeated style of whisky that showcases the softer side of the Highlands. The late, great whisky writer Michael Jackson described their softer 'malty, spicy and rich' style as 'either restorative or for after dinner'.

The distillery operates twelve stills (each with a capacity of 16,800 litres), twelve stainless steel washbacks (each with a 7000 litre capacity) and one 8-tonne Lautner tun. Tomatin was the first distillery to switch from the traditional mash tun, which uses rakes to turn the barley, to a Lauter mash-tun, which employs the use of rotating knives to improve the extraction of soluble starch from the barley.

While traditionally selling the vast majority of its whisky to third-party blenders, since 2002 the distillery's main focus has been on producing single malt and today nearly forty percent of their whisky is bottled as premium single malt. The balance is used for blending, mainly for their own brands, which include Antiquary, Legendary Scot and Talisman. Tomatin have also recently begun making lightly peated single malt called Cù Bòcan, production of which takes place over a seven-week period each year.

We put the challenge out to Tomatin to come up with something truly unique for Club Members, and they've certainly come through with the goods – award winning Master Distiller Graham Eunson has selected and bottled a series of 2008 Single Cask Single Malts chosen from a sequential series of first-fill American Oak ex-Bourbon casks, representing a true shapshot in time at the distilery. Laid down in January 2008, after resting for 11 years they've now been bottled at a perfect 50% ABV – needless to say chill filtration and artificial colours didn't get a look in here – and are waiting to command the top spot in your collection.

A huge coup for the Club, this is the first ever 100% ex-Bourbon Tomatin official release to come to Australia, and each bottle is hand numbered, meaning this is one for the serious collectors, as well as drinkers.

True to Tomatin's unique style, it's a beautifully soft and sweet malty feast of decadent white chocolate, creamy vanilla ice cream and toasted barley, all perfectly complemented by notes of nougat, sugared almonds, ginger and banana bread, and a fizzy sherbet finish.

So clear some space on your top shelf, there's a new star coming to your collection, but you'd better make space for two as this is definitely one to double up on, so you've got one to keep and one to drink.
THE SPECS
Maturation: Matured for 11 years in First Fill American Oak ex-Bourbon casks.
Ready to enjoy a world-class whisky collection?
Your free Club Membership gives access to exclusive single malt from Scotland, Australia and the world's best distilleries. Enjoy the unrivalled buying power of Australia's biggest whisky club.
Tomatin's History
Tomatin is a remote Highland distillery located up in the Monadhliath Mountains near Inverness in Scotland. At 315 metres above sea level, it's also one of the highest distilleries in Scotland after Dalwhinnie, about 40 miles South West.
Like many distilleries, illicit distillation was said to have taken place on the site well before the distillery was officially established, it's said whisky had been made there as far back as the 15th Century. In fact, the name Tomatin translates to "Hill of the Juniper Bush" - with juniper wood being the wood of choice for use in secret distilleries, due to the fact that it gives off no smoke...
The distillery, known then as the Tomatin Spey District Distillery Ltd, was officially established in 1897 during the height of the Victorian Whisky Boom. Despite the elevation and apparent isolation, the site was rather a good one for a distillery, being nearby a newly built railway, and it's just 29km south of Inverness. Not to mention the constant supply of soft, Highland water from the Alt na Frith.
Predictably though, Tomatin suffered during the ensuing industry-wide bust brought about by the collapse of flamboyant blenders, Pattinsons Ltd. The team managed to ride out the worst of the bust but eventually filed for bankruptcy in 1906. A new consortium stepped in, and by 1909 it was business as usual at the renamed Tomatin Distillery Co Ltd.
The next forty years or so were fairly uneventful until the 1950s when Scotch whisky once again entered a boom. This boom however lasted nearly 30 years and set the foundation for whisky as we know it today, and Tomatin was right at the front of this charge.
Seeing early signs of good times ahead, the enterprising folks at Tomatin started thinking big, really big. In 1956 they doubled their stills from two to four, then added another two in 1958 and by 1974, boasting 23 stills, Tomatin was the largest distillery in Scotland producing a vast 12 million litres of spirit annually. To put this in context, it was (in production terms at least) larger even than Roseisle, Diageo's $80million mega-distillery. This period also saw the emergence of single malts for the first time and while the majority of the whisky made at Tomatin was sold in bulk for use in well-known blended whiskies such as J&B, Chivas Regal and Johnnie Walker, it was also one of the few distilleries to offer a single malt, initially a 5 year Old, and later also a 10 Year Old.
Unfortunately the success and expansion of Tomatin was also its demise. Rapid expansion exposed it to risk and while it managed to weather most of the early 1980s recession, it finally went bust in 1984. Fortunately help was close at hand in the form of Tomatin's biggest customer, Takara Shuzo Co., who also happened to be Japan's largest drinks producer. Japan, like the USA, had exited the recession early and Takara Shuzo Co. seized the opportunity to become the first Japanese company to fully own a Scottish distillery. By 1986 it was once again business as usual at Tomatin.
Whisky making is a way of life at Tomatin with more than eighty percent of the work force living at the distillery. Back in 1897 the distillery's remote location meant there was no access to a local workforce, so the architect included a number of houses to accommodate workers and their families. Over the years the distillery has added more houses and today the settlement of Tomatin has 30 houses, many of which have now been inhabited by several generations of the same family, all working together at the distillery.
In terms of production, Tomatin is still one of Scotland's top 10 malt whisky distilleries, despite eleven of the stills being decommissioned in 2000, and boasts, in addition to its own village; an onsite cooperage, 14 warehouses, a vast reserve of maturing whisky and an unwavering focus on producing excellent Highland single malt.
In 2013 Tomatin launched the peated Cù Bòcan single malt, that's produced during the last week of the year.
Their efforts are certainly not in vain if the recent string of awards are anything to go by, with Tomatin Decades II receiving a Master award medal at The Spirits Business - Scotch Whisky Masters Competition in June 2021. Tomatin Legacy won Double Gold at the 2021 San Francisco World Spirits Competition, along with the 12, 14, and 30 Year Olds, and their Global Travel Retail range also bringing home Gold. The team's dedication to whisky excellence was recognised and celebrated at the 2016 Icons of Whisky Awards, when their industry peers voted Tomatin 'Distillery of the Year'.
Having been the biggest, Tomatin is now well and truly on its way to being the best.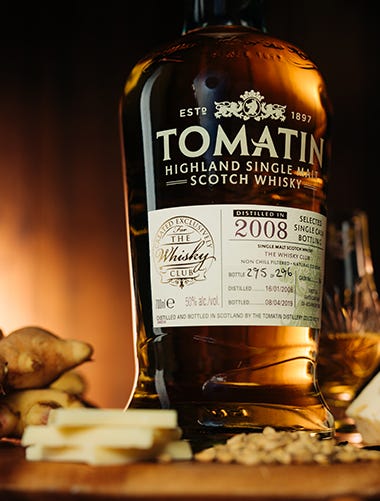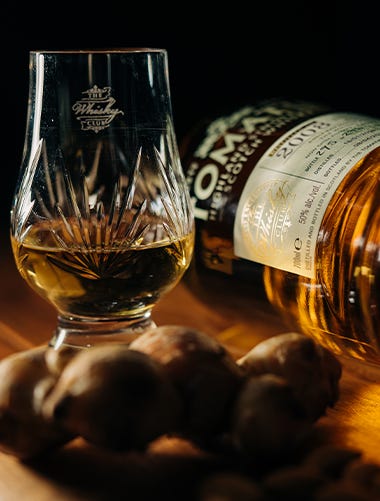 Distillery Facts
Origin: Tomatin, Inverness, Inverness-Shire, IV13 7YT, Scotland, United Kingdom
Water Source: Alt-na Frith
Washbacks: 12, Stainless Steel
Stills: 6 wash and 6 spirit
Capacity: 5,000,000 litres per annum
Ready to enjoy a world-class whisky collection?
Your free Club Membership gives access to exclusive single malt from Scotland, Australia and the world's best distilleries. Enjoy the unrivalled buying power of Australia's biggest whisky club.
Stop scrolling. Start dramming.