12 Aussie Distilleries Lighting Up Our Radar Right Now
August 01, 2019
/ seven mins
Australia hasn't been making whisky for long, but we've got to admit, we've become rather good at it. Our unique climate, quality ingredients and dedicated distillers combine to produce spirits known and loved all around the world.
But Australia is known as a country that loves a drink, we've countless breweries and wineries showing the world how it's done, but why are we so new to whisky?
Well to answer that question we need to hit the rewind button back to 1838. Tasmania alone was home to at least 16 legal distilleries, and who knows how many illegal ones. All was good and the locals loved a drink or three. At least, they did up until when Lady Jane Franklin, wife of Tasmanian Governor John Franklin, said "I would prefer barley be fed to pigs, than it be used to turn men into swine".
Nice one, Jane.
From that point, it was all over for the local distillers as laws were passed and they were forced to close. With whisky production now illegal, Tasmania went without a local dram for over 150 years.
Fast-forward to 1991, and one Bill Lark was off for a trout fishing trip in Tasmania's Highlands with his father-in-law, Max. Relaxing with a dram in a park in Bothwell, Bill questioned why nobody was making whisky in Tasmania – after all, not only is the climate perfect, there's an abundance of crystal-clear water, locally grown barley and peat bogs. It just seemed logical. So, Bill being Bill set out to have a go, but upon applying for a license discovered Lady Jane's law was still in place. Undaunted he contacted his local MP and before long the law was abolished allowing Lark Distillery to be formed in 1992, paving the way for the modern Australian whisky industry as we know it today.
And what an industry it's become, with almost the same number of whisky distilleries in Australia as Scotland, though they're all much smaller craft operations by comparison to their Scotch counterparts.
Here's 12 Aussie distilleries that are lighting up our radar right now, and to keep it fair, we've got two from each state.
Tasmania
Overeem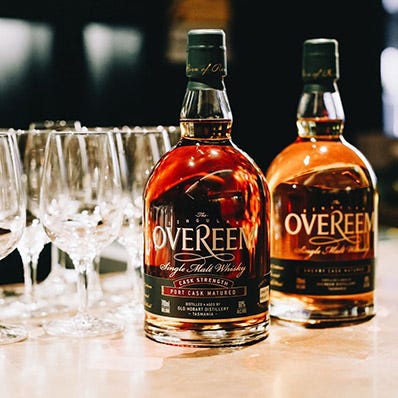 The distillery was founded by Casey Overeem in 2005, who set up the distillery in his garage in the southern suburbs of Hobart. Production started in 2007, and the brand has gone on to become one of the most recognisable Australian whiskies, with production moved to the same location as Lark. All Overeem whisky is matured in 100 litre French or American oak Port, Bourbon and Sherry casks for at least 5 years, then bottled exclusively as individually-numbered single cask releases.
Launceston Distillery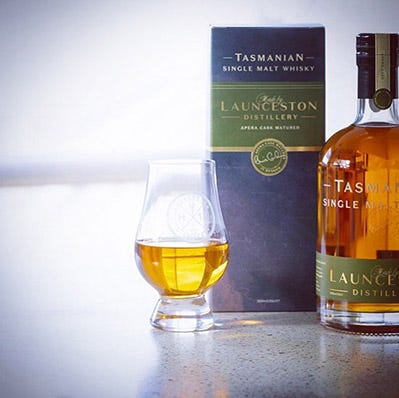 Launceston Distillery is located in the historic Hangar 17, located just near the Launceston Airport. The building is Tasmania's oldest aviation building still standing in its original location, and after retiring from the aviation industry when Ansett Airfreight closed in 2001, was given a new life in 2015 when it was converted into Launceston's first distillery since 1839. Launceston Distillery produces hand-crafted, small-batch whisky using pure local water and Tasmanian malted barley. Head distiller Chris Condon oversees the whole process from grain to bottle, the spirit maturing on-site in a range of French and American Oak casks and bottled in limited release batches.
New South Wales
Black Gate Distillery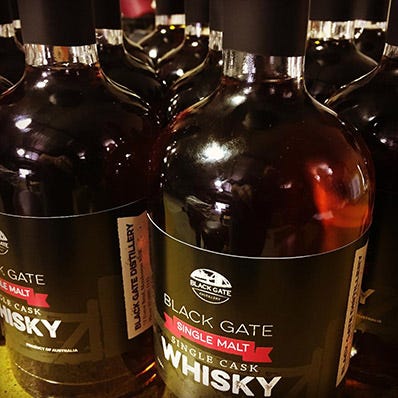 NSW is home to a number of true craft whisky distilleries, the first we're looking at is Black Gate Distillery. You'll find them in Mendooran, some 45 minutes from Dubbo, and run by husband and wife team Brian and Genise Hollingworth. Producing both whisky and rum on-site, Brian takes care of the whisky, and Genise the rum. Producing around 3000 litres of whisky a year (and 1000 litres of rum), it's definitely a case of quality over quantity, and at a more than reasonable price given the small batches of their releases.
Craft Works Distillery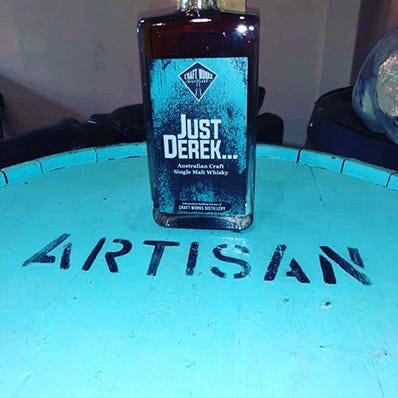 Our second NSW distillery is Craft Works Distillery, run by Craig AKA Crafty, a man who is truly passionate about what he does, and that's producing single cask, single malt whisky one barrel at a time. Crafty by name and nature, a range of cask types are employed including Bourbon, Port, Sherry, Rum, Shiraz, Chardonnay and Botrytis. While his releases so far have been independent bottlings of spirit from other distilleries, many of us have followed the build of his own distillery on Facebook and are excited to see what he can create with his own spirit, which is set for first release early 2020.
Victoria
Bakery Hill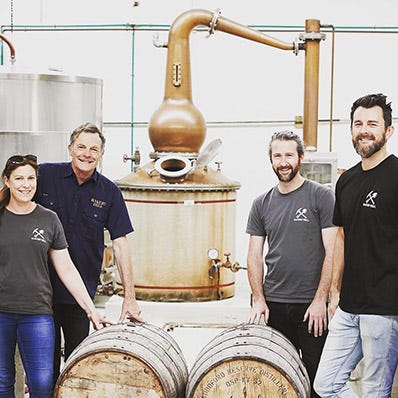 One of Australia's longest-running distilleries, but one that's gone a little bit under the radar for some time, Bakery Hill on the outskirts of Melbourne has been quietly going about their thing since the turn of the millennium, making them the oldest and most established Single Malt on mainland Australia. From the outset, their goal was to prove that great whisky could be made outside of Scotland, and that they do, even being named Best Small Distillery Whisky in the World in Jim Murray's 2005 Whisky Bible.
Chief's Son Distillery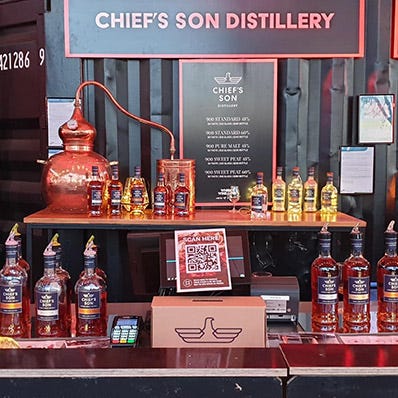 With a love of whisky passed down through the family for generations, the McIntosh family own and operate Chief's Son Distillery in Somerville on the Mornington Peninsula. McIntosh in Scottish Gaelic means "Son of the Chief", so Chief's Son was the perfect name for the family-owned distillery. At both 45% and 60% and made with a range of peated and other speciality malts, their releases have something for everyone.
Queensland
Wild River Mountain Distillery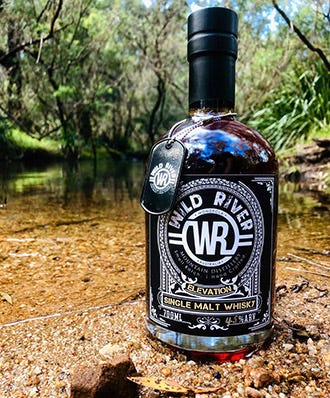 Whisky meets the wild in the Atherton Tablelands in Far North Queensland, a state more known for its rum than whisky. Wild River Mountain Distillery produces small-batch craft whisky and gin, and at 2850 feet above sea level, it's actually one of Australia's highest elevated distilleries. Their high elevation and cool climate (temperatures can fluctuate up to 25 degrees in a day, and it can get as low as –12 degrees in winter) which means alcohol boils at a lower temperature, giving the distiller a finer level of control of the still. Wild River have named their single malt "Elevation" for this influence. Also, look out for their new Australian Corn Whiskey.
Mt. Uncle Distillery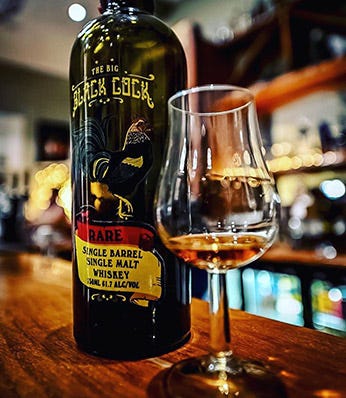 Mark Watkins has been running Mt. Uncle Distillery since 2001, initially producing liqueurs, and has since branched out to produce a range of spirits. Gin, rum, and vodka are all produced at the distillery, but they've also been cranking out the whisky with The Big Black Cock (yes, it's a rooster on the label…) and now Watkins Whisky Co which is matured in hybrid casks, made of a combination of French red wine cask staves and ex-Bourbon American Oak barrel heads.
South Australia
Rochfort Distillery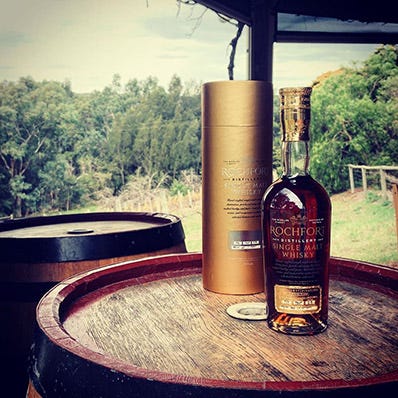 South Australia is best known for its wine, and Rochfort Distillery is on the site of the old Victor Harbor Winery in the Hindmarsh Valley. Three generations of Rochfort family oversee every stage of production, from malt selection to bottling. Committed to creating the finest single cask single malts, their releases are all at the premium end of the scale, including their Fifteenth Release, matured in casks brought to Australia from Bordeaux some 150 years ago. Bottled at 65.4% and selling for $2,200 a bottle, it's truly a whisky to savour.
Fleurieu Distillery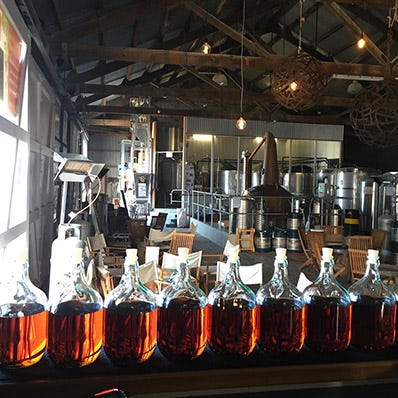 We've seen the effect of the sea on whisky time and time again from Scotland, and Fleurieu Distillery reaps the same reward from their location on the Fleurieu Peninsula in South Australia, the spicy sea-air aromas mixing with the various oaks used, and sometimes even peat, and the results speak for themselves.
Western Australia
Limeburners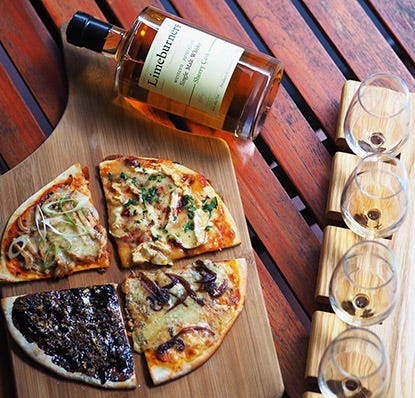 Limeburners was founded by lawyer Cameron Syme in a business incubator at the Albany Small Business Centre. Distillation kicked off in 2005 with a mission to make the best whisky in the world and to this day Limeburners remains true to this ambition, operating under a strict continuous improvement methodology aptly named "in pursuit of excellence", the motto has paid off and it's now Australia's most awarded distillery.
Geographe Distillery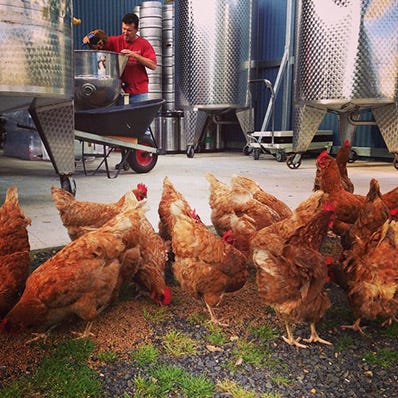 Steve Ryan from Georgraphe Distillery got into making whisky quite accidentally. A beer and winemaker, he often caught himself wondering what might happen if what he was brewing went into a still. So of course, he tried, and here we are. His distillery turns out Bellwether Whisky, a peated whisky bottled at both 46.8% and at cask strength – a whopping 70.4%. It'll knock your socks off!
What's your favourite Aussie distillery? Let us know in the comments below.
Ready to receive world exclusive whisky?