Here's What You Need To Know About Glenmorangie's New Label
January 16, 2023
/ 3 mins
Haven't heard the news yet? This February, we're making whisky history: Glenmorangie has made a whisky exclusively for us. Are we excited? YES! Have we stopped squealing here at Club HQ? NO! Our 12 Year Old Amontillado Sherry Cask Glenmorangie's first-ever collaboration. And it's an absolute beauty.

We dropped the big news last week, and since then, some of you may have noticed the brand-spanking new label wrapped around this beautiful liquid. So, we thought we'd give you the who, what when and why on Glenmorangie's new look. Whisky giants Glenmorangie debuted its new design and bottle in July 2022 and began rolling out the new design in August. Glenmorangie's core range, The Original, The Lasanta and The Quinta Ruban, were the first bottles to get a makeover.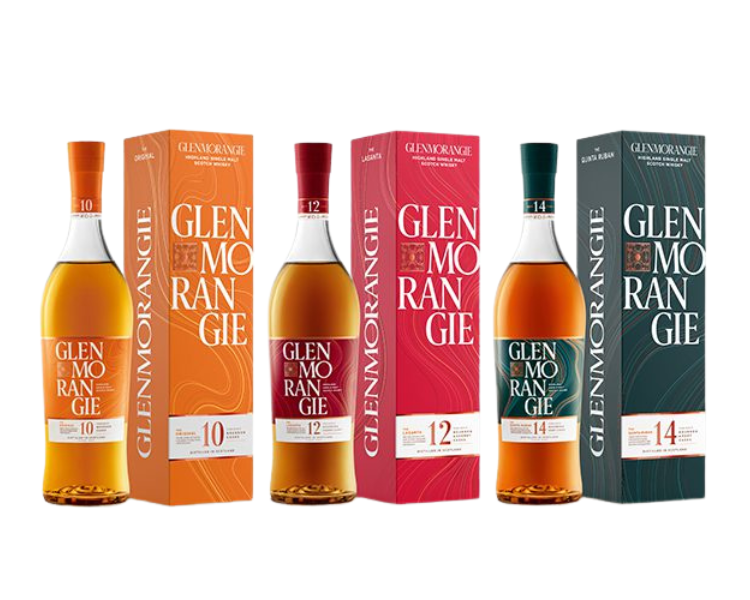 So, why the change? The new labels are intended to better reflect the flavours of each expression. "Our whisky is delicious, and our reimagined packaging brings its flavours to the fore," said Glenmorangie's Global Head of Brand Louise Dennett said. "We see this as an opportunity to welcome new drinkers with a playful elegance which reflects our creativity in whisky making; and to ensure our single malt stands out by using bold colours and enhanced branding."
Glenmorangie also unveiled a new bottle shape, too. You'll notice the bottle has wider shoulders and a tapered neck and stopper.
Not only is the new design intended to reflect the vibrancy of the liquid, but it's also appealing to more whisky drinkers, according to Glenmorangie's president and CEO Thomas Moradpour: "From this new packaging to our colourful brand campaign, we are inviting more people to discover the joy of Glenmorangie, whether or not they've tried single malt before."
"It's always exciting to see how brands and labels evolve over time — it reflects an ever-changing whisky scene. And it's a chance for new people to fall in love with our favourite drams," says our Buyer and Ambassador Seamus Carroll.
Whether or not you like the new label, rest assured, the liquid inside the bottle is still absolute whisky magic.
Not a Member yet? Make history with us and join Australia's biggest community of whisky lovers now.
Ready to receive world exclusive whisky?