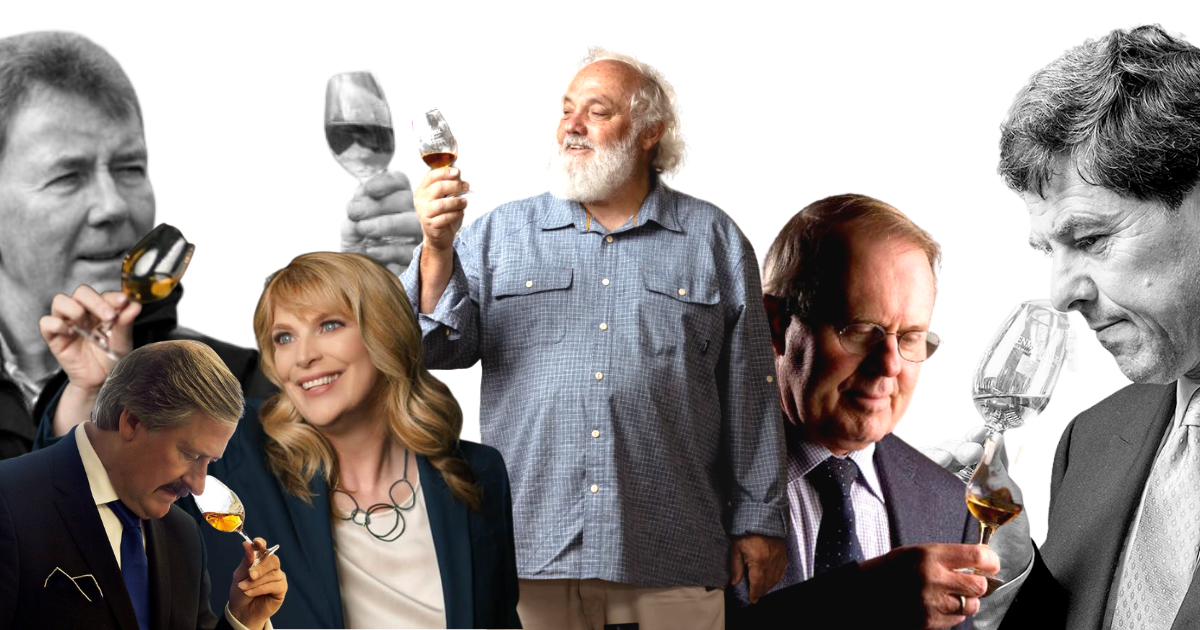 The Top Six Luminaries in Whisky
October 18, 2022
/ 3 mins
We are so thrilled to offer our Members The Dalmore Luminary No.1. It's the first time any Aussie whisky lover has been able to even dream of owning a limited edition Dalmore. The Dalmore Luminary Series is a three-part series of rare and limited edition single malts created by luminaries in the worlds of whisky and design.

It inspired us to tilt our hat to other luminaries who shaped the whisky world we oh-so enjoy today. So, pour yourself a dram and check out the top-six luminaries, according to our whisky specialist, Jonnie Edwards.
David Stewart MBE — The Balvenie
The Balvenie's malt master David Stewart is a dead-set legend. Stewart began his career in the whisky industry in 1962 as a whisky stocks clerk in 1962 for William Grant & Sons. A mere 8 years later he became The Balvenie's master blender.

Flash forward to today and Stewart's the whisky industry's longest-serving malt master. This year, the whisky wunderkind celebrates his 60th anniversary in the industry. During his illustrious career, he's collected just about every accolade and trophy you could fit in your pool room. And in 2016, the late Queen Elizabeth appointed him a Member of the Most Excellent Order of the British Empire (MBE) — an award that recognises significant achievements or outstanding service to their community or profession.

So why all the hoo-ha? Well, Stewart pioneered cask finishing, or secondary maturation, with The Balvenie Classic in 1983 and The Balvenie DoubleWood in 1993. These days, the technique is widely used in the industry.
Master Blender Helen Mulholland is a bona fide whiskey trailblazer. Mulholland is the first female master blender in Irish whiskey history; the first woman to be inducted into the Whisky Magazine International Hall of Fame and the first woman to be awarded a Chairman's Award from The Irish Whiskey Association for outstanding contribution to the development of the Irish whiskey industry and category. Sheez, that's a whole lot of firsts.

Mulholland began her career in a small lab at The Old Bushmills Distillery with a Master's Degree in Science, then worked up the ranks to become the first female Master Blender in Ireland. She spent close to 25 years at the distillery before moving on to Athrú Whiskey this year.

Mulholland is renowned for her passion for developing new whiskeys and experimenting with different casks and flavours. We were absolutely thrilled to bring our Members the last Bushmills whiskey with Helen's name on it, the Bushmills 2011 Banyuls Cask.
Seriously now, you didn't think we'd compile a list of whisky legends and not include the one and only godfather of Australian whisky, did you?

As far as trailblazers go, Bill Lark is an absolute icon in the whisky industry and there isn't a single craft distillery in the country that hasn't been influenced by Bill Lark.

In the late 80s, while working as a land surveyor, Bill Lark went on a fishing trip to Tassie's Central Highlands with his father-in-law, Max. Max whipped out a bottle of single malt and it sparked the question: why wasn't anybody making whisky in Tasmania?

Three years later, Bill and his wife, Lyn, started Lark Distillery, the first whisky distillery in Tasmania since the distilling of spirits was banned by Governor John Franklin more than 150 years earlier.

This simple question sparked an idea, which led to reform in laws that outlawed distilling in Australia and ultimately created a craft spirits movement. Bill and Lyn Lark also helped to establish many other distilleries across Tasmania and inspired countless others across the country.
Richard 'The Nose' Paterson, Whyte & Mackay
Nobody nose The Dalmore like Richard Paterson (get it?). Paterson began his career in whisky in 1966 at A Gillies & Company Whisky Blenders & Brokers as a general production assistant. In 1970, he joined Whyte & Mackay Distillers (The Dalmore is the jewel in Whyte & Mackay's portfolio). In 5 years, he became their master blender. And he stayed there for half a century.

An undisputed celebrity in the Scotch whisky industry, Paterson is known as 'the nose' for his legendary palate and rock star presence. He's been called whisky's greatest showman for his signature move — throwing rare whisky onto the floor during tastings. He's also celebrated for making The Dalmore one of the most collectible whiskies in the world, not to mention an incredibly creative pioneer of cask curation. These days, Paterson tours the globe delivering masterclasses to his legions of followers.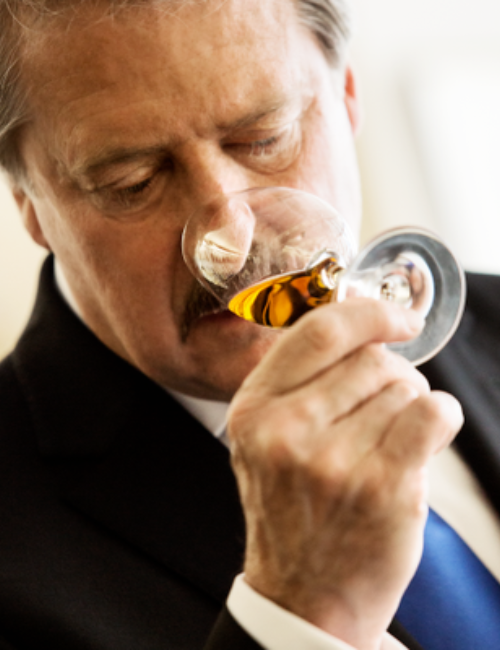 Dr. Bill Lumsden, Glenmorangie, Ardbeg
Dr. Bill Lumsden has got one helluva resume. Not only has he got a bachelor in Biochemistry and Cell Biology from Glasgow, but he's also got a PhD in Fermentation Science. He kicked off his whisky career as a research scientist for the Distillers Company Limited, working up the ranks to the level of distillery manager before taking up his most famous gig — distillery manager at The Glenmorangie Distillery in 1995.

These days he goes by the title of Director of Distilling, Whisky Creation and Whisky Stocks. Over the last two decades, Dr. Bill has become renowned for his use of wine casks as well as for developing whiskies with wild yeast collected around the Glenmorangie's Tain site distillery.

Celebrated in the industry for his endless innovation and experimentation, Dr. Bill was inducted into The Whisky Hall of Fame in 2019.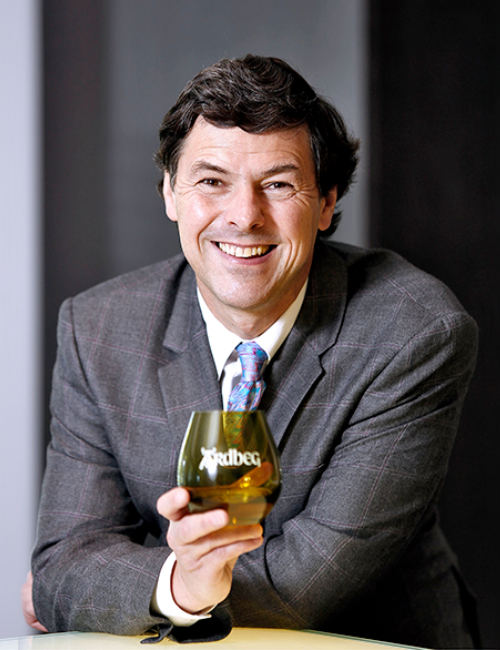 Jim McEwan, Bowmore, Bruichladdich, Ardnahoe and Cape Byron Distillery
Arguably the most well-known figure in Islay whisky, Jim McEwan, AKA 'The Cask Whisperer' has more than 50 years in the distilling industry and he's inspired a generation of distillers and blenders.

He's also picked up just about every award and accolade out there and he's the only distiller in the world to win Master Distiller of the year three times. In 2014, he was given a Hall of Fame lifetime achievement award.

McEwan began his career as an apprentice cooper at Bowmore Distillery at a wee 15 years old. He rose through the ranks and eventually became distillery manager in 1986. He spent a whopping 38 years at Bowmore distillery before moving on to Bruichladdich, which was being reopened after years of being mothballed. McEwan refurbished the distillery and reinstated the reputation of the whisky to its now cult status.

In an interesting twist of whisky fate, McEwan came out of retirement to work with Australia's Cape Byron Distillery mentoring the distillery's Eddie Brook.
There you have it, the six whisky superstars of the whisky world. Who do you think should also be on the list?

There's still time to get your hands on the liquid luxury that is The Dalmore Luminary No.1. If you're not a Member yet, join free now.
Ready to receive world exclusive whisky?