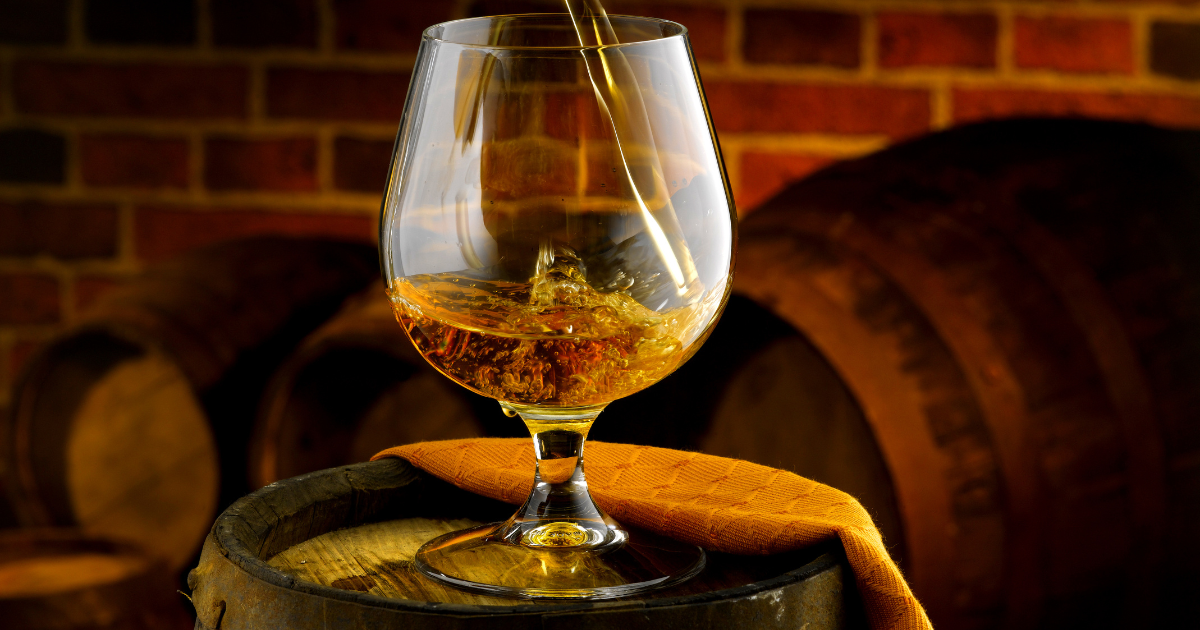 The Whisky Lover's Guide to Cognac
November 24, 2022
/ 4 mins
Ever tried Cognac? Well, if you haven't, you should put it on your 'to-drink' list. Sure, one's made of grape and the other of grain, but there's lots for Scotch drinkers to appreciate in Cognac — especially those of you who enjoy Sherry casks.
The French liquor has a lot in common with our beloved whisky — they're both liquid icons in their countries of origin, Scotland and France respectively and Cognac is governed by strict regulations the same way as Scotch whisky is to maintain and quality and integrity.

Cognac and Scotch are both highly collectible *looks at wall of whisky* and rare expressions of both can demand silly money at auction.

Here's an interesting thought to ponder. If it wasn't for a tiny yellow little beetle called Phylloxera vastatrix we might all be drinking Cognac instead of whisky.

In the 1870s, the Phylloxera vastatrix beetle was introduced to Europe from America and wiped out the entire root systems of vineyards causing the vines to die. Cognac production came to a grinding halt for nearly two decades, paving the way for whisky to become the number one aged spirit in the world.

But first, let's cover the basics.
What is Cognac?
Cognac, pronounced kon-yak, is a type or brandy made from distilled white wine that's made in the Cognac region of France.
Is all Brandy Cognac?
Nope. There's rules governing which spirits can be crowned with the coveted French moniker. Cognac must be distilled twice using copper pot stills and aged in French oak barrels for at two years. Brandy is the oldest distilled liquors, and Cognac is considered the crème de la crème of Brandy — it's the highest expression; it's the Rolls-Royce of Brandy.

When it comes to production, there's a major difference; whisky is made of grain and Cognac is made of grapes. The grains get turned into beer and the grapes get turned into wine and they continue their journeys onto our glasses.

Both are distilled in copper stills and matured in oak casks. Scotch production is regulated by the Scotch Whisky Association and Cognac is regulated by the Appellation d'Origine Contrôlée. In fact, Cognac is even more tightly regulated than Scotch.

One of the most important rules stipulates that Cognac must only be used using a certain number of grapes, most commonly the Ugni Blanc, and it must be made exclusively within the Charente and Charente-Maritime regions in South-West France.

Do Scotch and Cognac taste similar?
They're different. But there's lots for Scotch drinkers to appreciate in Cognac — especially those of you who enjoy Sherry casks — isn't that everyone? Cognac is sweet, fruity and rich and often has notes of toffee, dried fruit, wood and spice (thanks to the French oak maturation).
What do the letters on Cognac labels mean?
The letters, or designations, on Cognac labels tell you how long a Cognac has been aged
VS (Very Special) means the Cognac has been aged at least two years
VSOP (Very Superior Old Pale) has been aged at least four years
XO (Extra Old) has been aged at least six years

Best whiskies that have spent time maturing in Cognac casks you need to try

Starward Cognac Cask
Glenfiddich Grande Couronne 26 Year Old
Glenlivet Captain's Reserve
Tomatin The French Collection Cognac Finish 2008
Glenmorangie Cognac Cask Finish
Good news, if you're not a Member of the Australia's biggest whisky community, there's still time to join free now and get your hands on our Starward Cognac Cask, created exclusively for The Whisky Club
It's quiz time!
1) What is the most common grape used in Cognac?
2) What does 'VS' stand for?
3) How many times is Cognac distilled?
Ready to receive world exclusive whisky?