December 2022
Starward Cognac Cask Australian Whisky
It's Starward's first-ever release using fresh Limousin Oak French Cognac casks. At 48% and unfurling notes of baked tropical fruits, chewy jersey caramels, and Madagascan vanilla bean. And it's cleaned up on the global stage, picking up Double Gold at the prestigious 2023 San Francisco World Spirits Competition.
Australia
Nose Fresh summer berries and dewy orchard fruits, alongside cinnamon sticks, chewy jersey caramels, and Madagascan vanilla bean.
Palate Sugared almonds and mandarin, drizzles of velvety milk chocolate, and a touch of gingerbread.
Finish Rounded, balanced and sweet. Baked tropical fruits lead to thick cream, chestnuts, and a Women's Weekly classic: the coconut rough slice.
Food Match Duck confit with crispy roasted potatoes and pickled red cabbage. Old fashioned gingerbread with a dusting of icing sugar for dessert.
Overview
It's the world's best whisky from the world's best casks. Premium Limousin Oak Cognac casks have been shipped straight from France to create a showstopping Club Exclusive single malt whisky by Starward, the most awarded distillery this year at the San Francisco World Spirits Competition.
From the high end of luxury spirits, this is Starward unlike anything they've released before. Years of Cognac inside these decadent casks lifts Starward's signature single malt to entirely new heights with baked tropical fruits, chewy jersey caramels, and Madagascan vanilla bean.
Bottled at 48% and non-chill filtered, of course. This limited release is also basking in its own natural colour from spending up to 12 months amplified in fresh French Cognac casks.
Special release Starward whiskies are increasingly difficult to get your hands on, so you know that this is an absolute bargain at $135.
If you missed out on the scramble earlier this year for the now long sold out Glenfiddich Grand Couronne, the pinnacle of luxury whisky, then your time has come for this perfect Aussie rendition.
Newsflash: Our Club Exclusive Starward Cognac Cask has been awarded a highly coveted Double Gold at the 2023 San Francisco World Spirits Competition! In a blind tasting format it was awarded their highest accolade alongside Scotch heavyweights like Ardbeg 25YO, Glen Scotia 25YO, GlenDronach 21YO and Talisker 30YO.
Even better, we kept a few bottles aside and now's your chance to land one of these belters before they're gone for good.
Limited stocks of this one-off limited-edition remain and will sell out soon, so join the Club now to secure yours.
THE SPECS
Maturation: Finished in Limousin Oak French Cognac Casks
Ready to enjoy a world-class whisky collection?
Your free Club Membership gives access to exclusive single malt from Scotland, Australia and the world's best distilleries. Enjoy the unrivalled buying power of Australia's biggest whisky club.
Starward's History
Starward Distillery was established in 2007 in the Qantas Maintenance Hangar at Essendon Airport by David Vitale, and from humble beginnings and in the space of only a decade it's become the flagship of Australian craft whisky and an Australian whisky icon.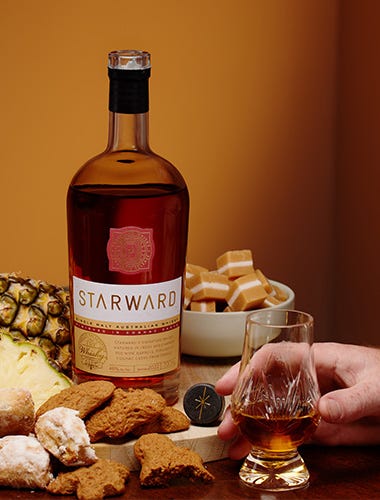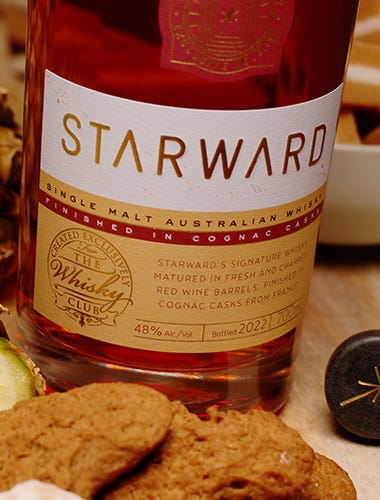 Distillery Facts
Origin: 50 Bertie St, Port Melbourne VIC 3207
Water Source: Thompson and Upper Yarra reservoirs
Washbacks: 5 x 25,000L, stainless
Stills: 1 wash and 1 spirit
Capacity: 700,000 litres per annum
Stop scrolling. Start dramming.