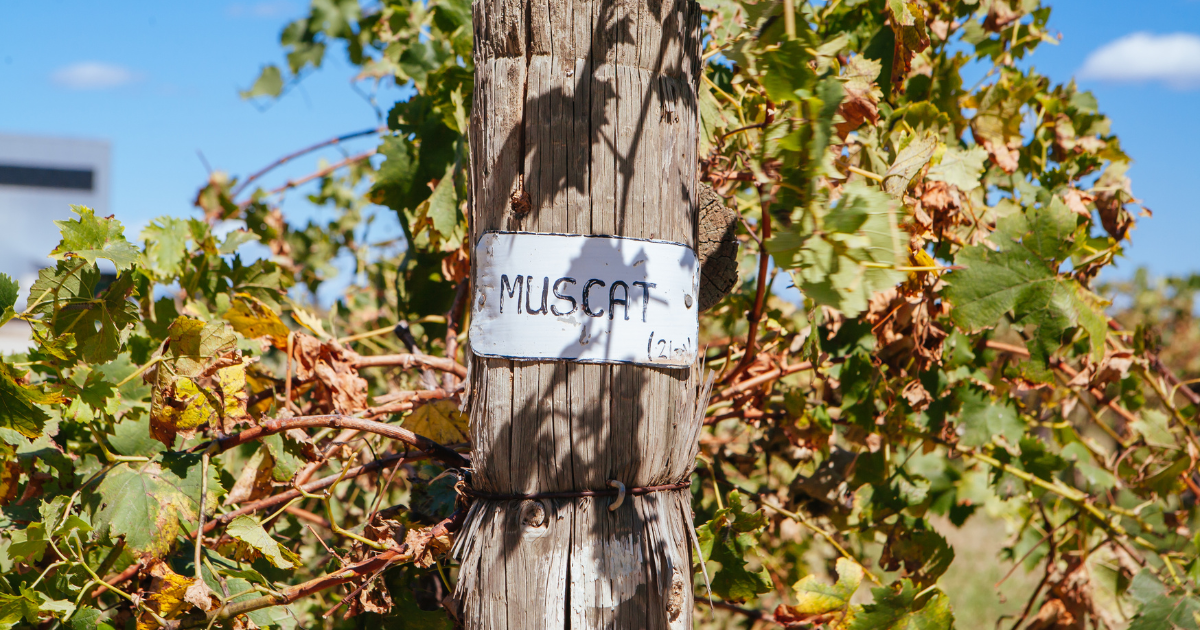 What you need to know about Rutherglen Muscat
November 16, 2023
/ 4 mins
Victoria's Rutherglen region is one of the oldest winemaking regions in Australia – some wineries were established in the 1850s. The town of Rutherglen, north of Wangaratta, west of Wodonga and just 10 kilometres from the Murray River and the NSW border, is home to just 2,000 residents.
Yet this unassuming region produces some of the most renowned fortified wines on the globe.
Before we journey into homegrown Muscat, let's take a quick look at the 101 of Muscat.
What is Muscat?
Muscat is the world's oldest known grape variety and its roots trace back to Ancient Greece. Muscat wine is a wine that's made predominantly from any of the grape varieties in the Muscat family.
And what a family – there's more than 200 varieties. The most commonly produced Muscats are Muscat of Alexandria and Muscat Blanc à Petits Grains.
Often, you'll find the name of the type of Muscat associated with a particular place, but that doesn't mean Muscat must only be grown in that region. Muscat grapes grow in many different countries and regions.
While many of these regions are better known for other wine varieties, you'll find Muscat growing in:

- Piedmont, Italy
- The Rhône Valley, France
- Pfalz, Germany
- Wachau, Austria
- Penedès, Spain
- Californian Central Coast, USA
- Mendoza, Argentina
- Rutherglen, Australia
What is Rutherglen Muscat?
Victoria's Rutherglen region is Australia's renowned Muscat region, growing some of the most prized and awarded Muscat in the world. Muscat grapes have been growing in the region for around 100 years.
Rich and complex, Rutherglen Muscat fortified wines are typically full-bodied with loads of viscosity and sweetness, with around 200 grams per litre of residual sugar in a bottle. Far from just being simple sugar bombs, these fortified wines have everything dialled up to 11 – sugar, sure, but also acidity, flavour and savoury characters. The resulting liquid is undoubtedly sweet, but also savoury, satisfying and mouth-coating. Great to enjoy on their own or with a decadent chocolatey dessert.
Rutherglen Muscat is lauded the world over. So much so that many of the best international wine shows have specific sections just for Rutherglen Muscat, and even so, you'll often find a Rutherglen Muscat topping the charts in the open fortified wines section. There's no doubt that this region punches well above its weight in terms of production size, and these liquids hold an extremely special place in the wine world and beyond.
Rutherglen Muscat classifications
Rutherglen Muscats are grouped into four classifications that indicate its progression in richness, complexity, age and intensity of flavour.
Rutherglen Muscat
Average age 3-5 years. Light and subtle richness with distinctive raisin flavour, with a sugar content between 180-240 grams of sugar per litre.
Classic Rutherglen Muscat
Average age 6-10 years. Rich and complex flavour with hints of spice and wood-aged characters, with a sugar content of around 200-280 grams of sugar per litre.
Grand Rutherglen Muscat
Average age 11- 19 years. Intense depth of flavour with dark chocolate, roasted hazelnuts, fruit cake, caramel and butterscotch, with a sugar content between 270-400 grams of sugar per litre.
Rare Rutherglen Muscat
Average age of 20+ years. Equally complex and intense with notes of dried fruit notes, sweet spice, caramel, nuts, and butterscotch with a sugar content between 270-400 grams per litre.
Stanton & Killeen
Our Westward Vintage Muscat Cask was matured in multi-award-winning Muscat from Stanton & Killeen. This family-owned independent winery is celebrating – wait for it – 148 years and seven generations of winemaking! Today, the winery is owned and managed by mother-daughter team Wendy and Natasha Killeen who continue the family's long tradition of producing award-winning Muscats, Topaques, Tawnys and vintage fortified.
Below: Stanton & Killeen in Rutherglen, Victoria and Stanton & Killeen's CEO Wendy Killeen and Managing Director Natasha Killeen, Westward Whiskey's Master Blender Miles Munroe, The Whisky Club's Head of Whisky Seamus Carroll and Whisky Specialist Jonnie Edwards.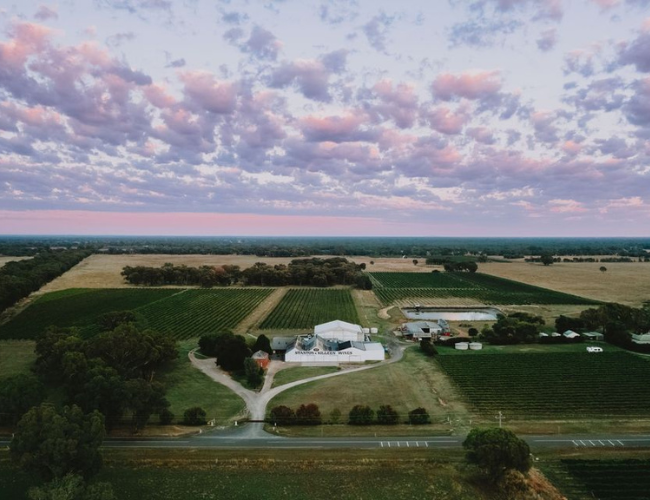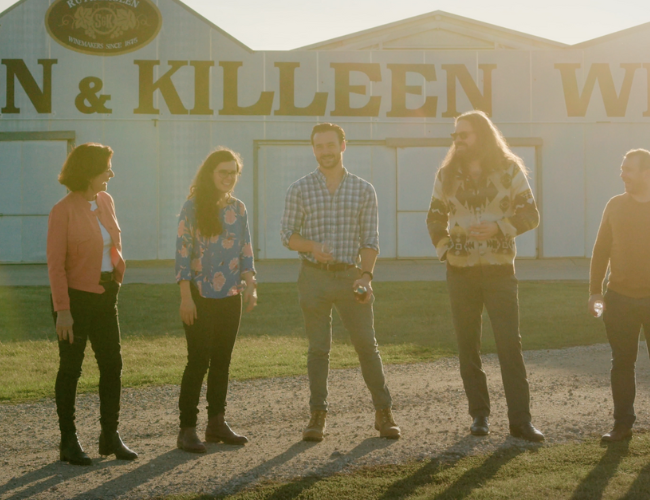 The Stanton family travelled from England to have a punt on the Victorian gold fields in the 1850s. Turning their attention to wine, the family has been handcrafting and barrel ageing fortified wine since 1875 and endured phylloxera, drought and the Great Depression and remains one of the most respected wine institutions in Australia.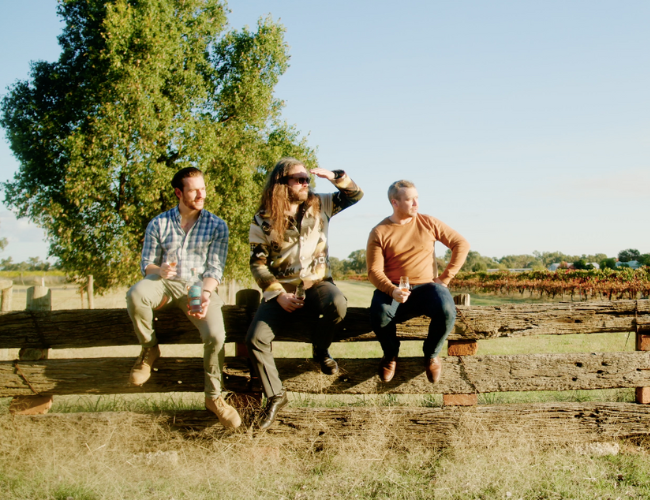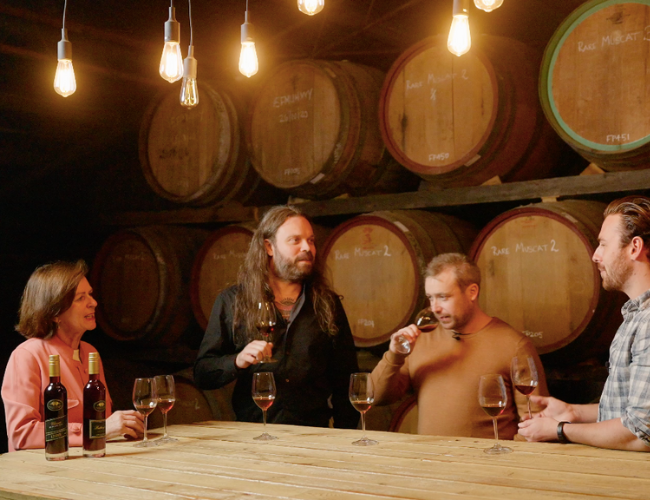 Imagine Westward's trademark big, bold spirit, rounded and wrangled by the incredible richness and complexity of those sticky Stanton & Killeen Muscat flavours. We're absolutely thrilled to bring Members the Westward Vintage Muscat Cask. After years in the making, the global search to make the ultimate whisky for Members brought us home to our own backyard. If you want to taste these two powerhouses combined, join the Club free now to secure your bottle.

Ready to receive world exclusive whisky?