September 2022
Ardbeg Refill Bourbon Single Cask No. 348
Possibly one of the most collectable single malts on the planet and one of only a handful of cask strength single casks to reach Australia, this 20 year old Ardbeg is a bucket list must-have for serious whisky fans.
United Kingdom
Nose Filled with classic herbal notes of pine and a gentle waxy aroma. A few drops of water highlight the whisky's eucalyptus and mentholic side, with sweet scents of bread.
Palate Herbal top notes mellow into chocolate sweetness, tree resin and soot.
Finish Sweet malted barley and a hint of bacon emerge in a wonderfully Ardbeggian finish.
Overview
Introducing the 20 year old Ardbeg Refill Bourbon Single Cask.
A single cask Ardbeg really is the ultimate bucket list single malt for many whisky fanatics around the globe. Only a handful are released each year, and these are snapped up quicker than Usain Bolt fleeing a swarm of angry bees.
The darling of Islay and second to only The Macallan in Single Malt collectability, Ardbegs sit proudly on many collectors' shelves where the medicinal green bottles make them instantly recognisable.
Exclusively for our Members, we have four bottles of 20 year old Refill Bourbon Cask No. 0348 at 46.6% cask strength.
Bringing the perfect balance of the famous Ardbeg peated spirit while melding with cask influence at its absolute peak, Ardbeg Refill Bourbon Single Cask No. 0348 has matured in American Bourbon barrels. If you're legend enough to crack open a bottle of this value, expect classic herbal top notes mellowing into chocolate sweetness with a finish of sweet malted barley and bacon.
Sourced from a private collection, these bottles represent the 1% of the 1% of the 1%.
Not a Member? Joy awaits when you click this link.
The Ballot:
You need to be an Active Member to enter the ballot.
The ballot opens at 12AM AEST on 02/09/2022 and closes at 11.59PM AEST on 04/09/2022.
Ballot winners will be selected at random to purchase one bottle.
THE SPECS
Maturation: Refill Bourbon Cask, Single Cask No. 0348
Ready to enjoy a world-class whisky collection?
Your free Club Membership gives access to exclusive single malt from Scotland, Australia and the world's best distilleries. Enjoy the unrivalled buying power of Australia's biggest whisky club.
Ardbeg's History
The south coast of Islay is hallowed ground for peat lovers, with the holy trinity of Laphroaig, Lagavulin and Ardbeg distilleries all within a stone's throw of each other. Despite having been making whisky since 1798, it was 1815 when John McDougall was granted a licence, making the distillery a legitimate operation. The name Ardbeg comes from the Gaelic word 'ad bheag', meaning small hill.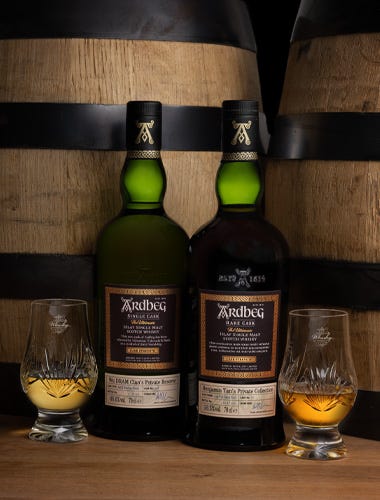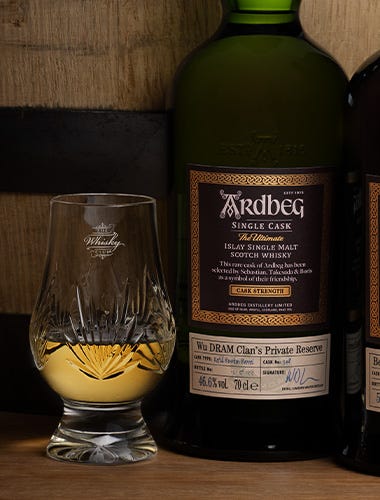 Distillery Facts
Origin: Ardbeg Distillery, Port Ellen, Islay, Argyll, PA42 7EA
Water Source: Loch Uigeadail
Stills: 2 wash and 2 spirit
Capacity: 2,400,000 litres per annum
Stop scrolling. Start dramming.